Yamaha CX-A5000/MX-A5000 review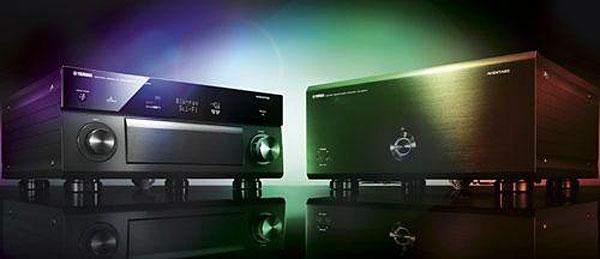 This top-of-the-line processor/power amp duo isn't for the faint-of-heart. Naturally, we love them...

We've waited a heck of a long time for Yamaha to launch a new home cinema hero to replace the venerable DSP-Z11. But rather than update that integrated design, the brand has opted to birth a pre/power combination as part of its premium Aventage line – and it's a formidable creation.
Cosmetically, the duo are spectacular. The CX-A5000, with two-tone cosmetics and a large status window, is a real head-turner, while the power amp's central cyclopean backlit power button is positively iconic. The latter tips the scales at 25.4kg and stands tall at 210mm. Both are available in titanium, black or even gold finishes – the latter a throwback to AV years gone by.
Connectivity is outstanding. Behind the processor's fascia drawbridge you'll find HDMI input and phono AV inputs, plus USB and calibration mic ports. The HDMI, for what it's worth, supports MHL connectivity. This allows users to hookup an Android phone (any of the recent Samsungs or HTCs will do), or an oddball Nokia, to deliver AV up to 7.1 audio and 1080p. Quite why anyone would want to use their mobile as an AV source eludes me, although Yamaha suggests that there are indeed folks prepared to plug their blower into an AV rig to watch content. Nutters.
The back panel is a more daunting mix of skull-pluggery. Seven HDMI inputs, four component, an Ethernet port, six digital audio inputs (three of which are optical), two 12v triggers (one of which you'll use to tether Pre to Power), remote in/out jacks, an RS232 and a selection of phono AVs make up the mix. Underscoring the lot are balanced XLR outputs for all channels. The muscular, matching MX-A5000 amplifier (11-channel) offers balanced XLR inputs and secondary unbalanced phonos should you want to partner the power amp with an older/different processor. These are sandwiched by two opposing towers of gold-plated speaker connections.
Beneath the lid of the MX-A5000 lurks a huge toroidal transformer and two high-capacity (27,000uF) block capacitors. Yamaha rates the amp's output at 150W-per-channel into 8ohms, and when powered up it happily sups some 650W off the national grid. There's an eco mode which drops the power consumption by around 20 per cent, but there will be some audio degradation at high volume levels if you opt to do this.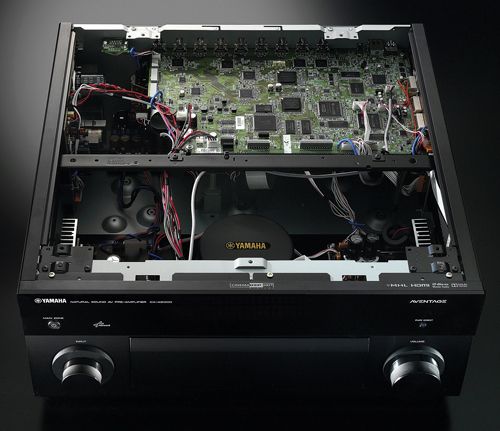 Setup challenges
The CX-A5000 processor is so complex I can only scratch the surface of what it offers in this review. Suffice to say that you can go very deep in terms of calibration and signal management – although it's fair to add that's both a blessing and a curse.
Even the initial hookup is unconventional. Rather than proffer specific labelled speakers (left, centre, surround right, etc), the amp offers channel numbers. The argument is that this approach offers superior flexibility during installation. There may be no THX post-processing here – which from an enthusiast point of view I regard as a significant omission – but there's a big upgrade to the brand's signature Cinema DSP, with two chipsets dedicated to acoustical fine-tuning.
Apparitional speaker imaging has long been a talent of Yamaha, and it's widely touted here. The CX-A5000 will fill in the rears with virtual presence speakers (VPS) if you don't have physical boxes, although frankly if you're going to splurge £5,000 on this kind of kit without a full complement of speakers, you need a virtual head examination. The company confides that people are expanding the front soundstage with presence speakers, rather than the rear – it's not a trend I'm familiar with but then perhaps I'm not on trend. Maybe it's big in Japan?
There are 33 DSP modes in total, which Yamaha insists are (probably) all based on acoustically-measured venues; for copyright and licensing reasons the company doesn't divulge their locations (I have it on good authority that Disco is in fact the Solihull Municipal Sports and Social Club, but keep that to yourself...).
More processing grunt has also been thrown at its auto calibration system, with YPAO promising greater number-crunching refinement. You can opt for a single listening position measurement, or multiple and angled measurements. These prove key to tuning this system.
The unit ships with a standard backlit button-fest with a small LCD display. You can also resort to app control.
Functionality is largely in line with the rest of the Aventage fleet. AirPlay is built-in as standard, but there's no integrated Wi-Fi or Bluetooth support. Instead, the brand offers optional aptX Bluetooth and wireless adaptors. The former works off the rear-mounted USB slot and offers a coax output that allows the DAC in the processor to handle the conversion. The set also introduces Spotify Connect, for seamless cloud playback from different devices.
Other niceties include HDMI passthrough. Cutely, when the amp is on standby, you can still switch the input without the amp itself requiring to be turned on. Unsurprisingly, 4K passthrough and upscaling are also provided, although this is only really effective on standard-def content, offering edge and detail enhancement. The video processing has been cooked up in Yamaha labs, rather than being brought in from a third-party supplier.
Streaming support from both USB and NAS reaches up to 192kHz, with FLAC and WAV. But there's no support for DSD or Apple lossless.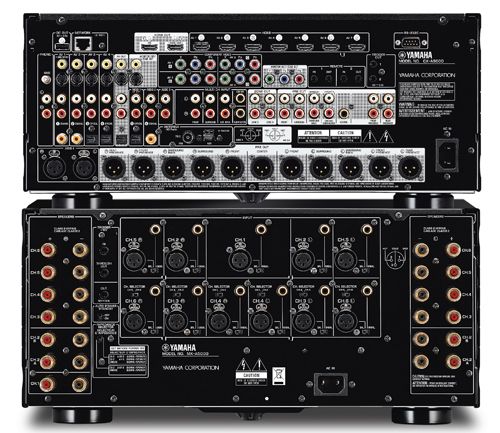 Where high-res meets low-res
The processor's UI is the same Yamaha front-end we've had for a while, and frankly it doesn't really cut the mustard here. For a box dedicated to high-resolution audio and video, the interface is embarrassingly low-fi, with almost incomprehensible artwork icons. The brand's insistence on a jumble of jumping on points also makes for an unintuitive user experience.
Yamaha's Scene macro presets, which allow various commands to be strung together under a CEC umbrella, can be used to simplify operation if you're prepared to put in the legwork setting them up.
Build quality refinements are many and luxurious. Both components feature Yamaha's favoured ART Wedge (a centred fifth foot) which shortens any potential chassis flex points, thereby reducing unwanted vibration. Not only does the processor employ a symmetrical layout to separate audio and video, even digital and analogue boards are kept apart because they apparently vibrate at different frequencies.
Multi-zone options are solid. The combo can serve four rooms, two with 5.1 audio and 1080p video, and the remainder with stereo. Quite how this is implemented depends on the configuration chosen, but there's some flexibility for pro-installers depending on if they opt to distribute digital or analogue sources. It's perhaps disappointing, though, that there are only two HDMI outputs; given that two are standard requirements in many theatres (for screen and projector), there's no real option to run HDMI to an additional zone.
Unleashing the magic
The CX-A5000/MX-A5000 is both magnificent and challenging. Depending on content, I found myself forever going back, tweaking and manipulating, not least because the system encourages it. Although the power amp runs to 11 channels, I initially used it in a standard configuration 7.2, although I eventually added a third sub, which naturally complicated the whole process. Subwoofer management includes an adjustable filter roll-off that can be used to shave bass from content, typically dialogue, that shouldn't be leaking out of your woofer.
Those with centre channels placed low down can utilise a virtual dialogue lift – personally, I've always located my centre speaker high because I rather like the auditorium vibe that creates. Interestingly, there's also a dialogue level adjustment. While this doesn't boost the entire centre, it can be used to raise the level of dialogue in the mix. While effective, this also acerbates the sometimes acerbic nature of the MX-A5000 power amplifier, so employ with care.
Yamaha's flagship two-piece is frankly powerful enough to bring a small hall to the brink of sonic meltdown, and is ideally used in a dedicated theatre with all the construction finesse which that implies.
Tonally, the system is peanut brittle rather than chocolate Gü. Even after days of Rammstein's Völkerball, it refused to substantially mellow. Unlike some of Yamaha's more mainstream offerings, this pre/power is not a UK-tuned product. Instead it's described as a 'collaboration' between different Yamaha territories and Japan. You would hope it's in good hands, though. Yamaha has reputedly recalled its senior engineers from boardroom duties and given then responsibility for prestige hardware launches like the CX-/MX-A5000.
The good news is that the sheer wealth of calibration on offer ultimately allows the system to be carved into something very special indeed. After some experimentation, I found that to get the best from the YPAO I absolutely had to include angle measurements, which seem to make a massive difference to the calibration process. But even after that some manual adjustment was required. In my listening room, with Definitive Technology Reference in-walls, I took the crossover of the centre channel down to 60Hz, the left/rights to 80Hz, and left the four surrounds set Large. After a little more massaging, this 7.3 system really began to gel.
The power and directionality on tap is astonishing. When Katniss Everdeen flees a forest of fireballs in The Hunger Games, the resulting destruction is positively holographic. From the ambience of the canopy to splintering trees, the soundstage is immense. Helping defining this are ES9016 SABRE (32) Ultra DACs capable of 128dB dynamic range and infinitesimal 0.0003 per cent total harmonic distortion.
Similarly, looping the opening car race to Fast & Furious 6 proves to be the next best thing to a free pass to the Paddock Club on Silverstone race day. The articulation of this system is extraordinary; the sound mix that makes up the roaring car notes reveals itself in tantalising layers. Then the 2 Chainz And Wiz Khalifa theme song kicks in and the grin across my face spreads wider than Dwayne Johnson's biceps.
Of course, there's musicality to the combo too; the system is as sprightly and rhythmic as it is insanely dynamic. But I wouldn't buy it to play music, this is an AV thoroughbred and proud of it. It does what all great home theatre components do: makes you want to watch your favourite movies time and again.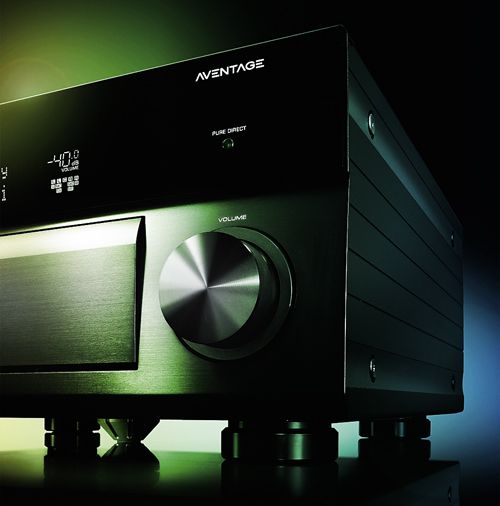 Worth waiting for
Yamaha's CX-A5000/MX-A5000 Aventage combo may not be for the faint-hearted, but this long-awaited flagship will fast-track you to the best AV thrill ride in town. In terms of sheer might and depth, no other home theatre product I've used has come close. And I've little doubt that it has the chops to be partnered with some deliciously high-end hardware. Given that, the £2,500-a-piece price tag seems entirely reasonable.
Of course, it's not perfect. The low-res user interface isn't fit for polite company, THX post-processing is noticeable by its absence, file format support could be more comprehensive and, inevitably, it's terrifyingly complex – buyers should perhaps consider it as part of a professional installation.
But all that aside, the sheer rush of running this system at -15dB more than compensates. Yamaha has taken far too long to remind us of just what it's capable of, but this glorious package certainly delivers the message.
Specification
CX-A5000
Dolby TrueHD: Yes
DTS-HD MA: Yes
THX: No
Multichannel input: Yes. 7.1
Multiroom: Yes. Three additional zones
AV inputs: 4 x composite; 4 x S-Video; 7 x digital audio (4 x optical and 3 x coaxial)
HDMI: 8 x inputs; 2 x outputs, v1.4
Video upscaling: Yes. To 2160p
Component video: 4 x inputs; 1 x output
Dimensions: 435(w) x 192(h) x 448(d)mm
Weight: 13.6kg
Also featuring: XLR output; Cinema DSP; Virtual Rear Presence Speakers; dialogue lift;
12 Scene presets; MHL support; HDMI passthrough; Apple OS and Android control apps; multi-point YPAO RoomEQ; audio file playback via DLNA; high-resolution music enhancer; Ethernet; USB; AirPlay; Spotify Connect; integrated setup web browser; Bluetooth and Wi-Fi via optional dongles
---
MX-A5000
Power output (claimed): 11 x 150W
Connections: Balanced XLR inputs for all channels; phono inputs; eleven speaker channel outputs; 12v trigger
Dimensions: 435(w) x 210(w) x 463.5(d)mm
Weight: 25.4kg
Also featuring: ART (Anti-Resonance Technology) wedge; H-frame with double-bottom construction; three-stage Darlington circuit; Auto-Power standby

SPONSORED VIDEO

SPONSORED VIDEO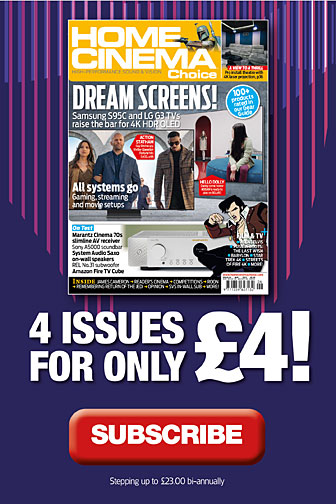 Home Cinema Choice #332

is on sale now, featuring: Samsung's 8K flagship; Anthem AVM 90 processor; B&W 800 Series Diamond; LG smart projector; Hollywood box office bombs; Hitchcock 4K; and more
Want to see your home cinema system featured in the pages of HCC? Click
here
for more info.