Trinnov Altitude16 home cinema processor review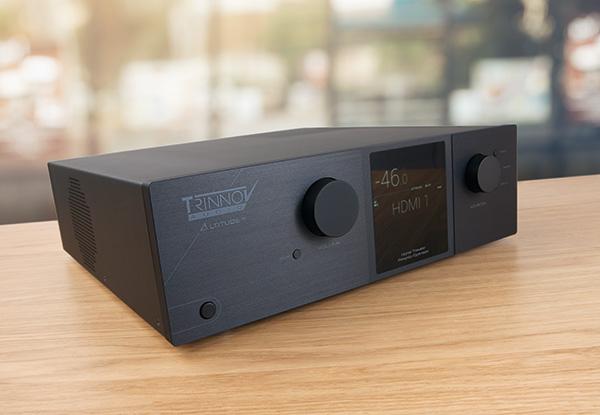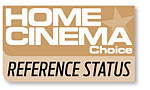 In these days of 3D audio can you have too many channels? French company
Trinnov
doesn't seem to think so, judging by its flagship Altitude32 32-channel home cinema processor. But what if you're not a lottery winner, and your AV aspirations are a bit more practical?
That's where the Altitude16 comes in, offering the same processing power and room optimisation features as its larger sibling but based around a slightly more manageable 16 channels. Of course, this kind of high-end performance isn't cheap, and the Trinnov will cost you a wallet-busting £13,000. So what do you get for the cost of a family car?
In a nutshell, one of the most sophisticated home cinema processors on the planet. The Altitude16 not only decodes Dolby Atmos, DTS:X and Auro-3D using up to 16 channels, but also applies a level of room equalisation rarely seen outside of a professional studio. Trinnov uses a software-based platform rather than the usual off-the-shelf DSPs, allowing upgrades to the processor via internet firmware updates. That's a key feature in our rapidly changing digital world.
Pump up the volume
The Altitude16 certainly looks the part, with the kind of minimalist design and tank-like construction that screams high-end. There are rack mounts if you need them, a matt-black finish and a big display on the aluminium front panel. The volume dial not only feels pleasingly smooth as you turn it, but offers incredibly fine volume adjustments.
A second dial doubles as an input selector and a control for navigating the menu system. The only other controls on the front are power, mute, back, select and menu buttons.
The rear panel is dominated by the 16 channels of outputs, all of which use XLR balanced connectors – no phono outputs on this baby. There are eight HDMI inputs, with the first three using HDMI 1.4, and the remaining five using HDMI 2.0b: use these for 4K/60p, high dynamic range (HDR10, HLG and Dolby Vision), REC.2020 and HDCP 2.2. There are also two HDMI outputs, and again one is HDMI 1.4, which could be a bit irritating. Ethernet ports, coaxial and optical digital inputs and outputs, and analogue inputs using phono and XLR, round off the connections, along with a host of custom install features like 12V triggers and an RS-232 serial port.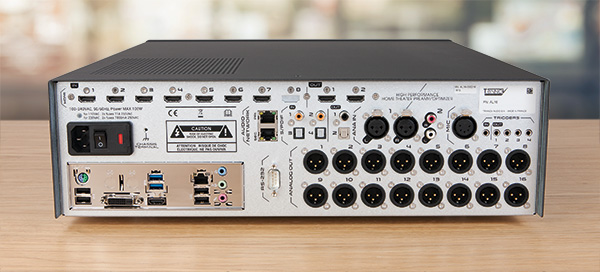 The presence of connections more commonly found on the back of a PC reveals the secret of the Altitude16's scalable processing platform: it's a highly-specified computer with audio capabilities, which is what makes the processor flexible, powerful and upgradable.
The PC heritage of the Altitude16 extends to a fairly noisy cooling fan that I could distinctly hear during the quieter moments in movies. Yet it's almost certainly not going to be an issue for most people, as this is the kind of AV hardware that goes into a dedicated equipment rack, or even a separate room.
As well as decoding Atmos, DTS:X and Auro-3D, the processor supports their respective upmixers. In the case of Dolby Atmos, the Trinnov can deliver 16 discretely rendered channels up to 9.1.6, with additional wide channels and top middle channels. For DTS:X it can decode all configurations up to 11.1 channels, which is the current maximum the format allows. In the case of Auro-3D, it can decode the format's full-monty 13.1 layout.
The Altitude16 comes with a fairly basic remote that is solidly made and, once the processor has been set up, provides a reasonable level of control. But the chances are it won't get much use, because this product is aimed squarely at the custom install market and is more likely to form part of an overall control system. The Trinnov supports automation via IP and RS-232 protocols, and also has a built-in UPnP/DLNA digital media renderer.
The front display and remote provide access to a basic menu system, which allows simple tasks like selecting different decoders and presets. The hardcore setup is performed via a graphical user interface that can be accessed one of two ways; directly using a display, mouse and keyboard connected to the Altitude16, or remotely using a VNC client. You can also control the processor remotely using an internet browser, but this is a light version with limited access.
I connected the processor to my home network via an Ethernet cable, and within seconds I had total control thanks to a VNC client link via a MacBook Pro. If you prefer, you can also control the Trinnov using a tablet or smartphone.
I love the fact that since you're controlling the processor remotely, you don't even need to be in the room while you set it up and run measurements. The user interface is also surprisingly easy to follow considering the complexity of this platform, with plenty of helpful sidebars that explain what to do and why.
In most cases a dealer will install and set up the Trinnov, but if you fancy having a crack at it yourself then I recommend you make a strong cup of coffee and actually read the 162-page manual. A wizard does take you through the optimisation process though, and if you get really stuck someone at Trinnov can remotely access your processor and help you out. I installed the Altitude16 in my dedicated cinema room, and employed a Trinnov Amplitude8m power amplifier (eight-channel), provided by Trinnov, for the front, centre, side and rear speakers. I used my own Arcam P429 four-channel power amp to drive the overhead channels.
I also have two active subwoofers at the front of the room. That's thirteen channels if you're counting, which were all connected using XLR cables. By the time I'd finished, the back of my equipment rack looked like the proverbial half a plate of spaghetti.
'He'll save every one of us!'
The Altitude16's big selling point is Trinnov's Optimizer, an advanced speaker/room equalisation technology. It uses a custom designed 3D microphone that looks more like a prop from a Flash Gordon movie. The optimisation process itself involves initially placing this mic at the 'reference point' (sweet spot), ensuring that it's completely level, and aiming the LED light on the front at the centre speaker.
Using the setup wizard, you initially select the layout (which in my case was 7.1.4) and allocate each of the processor outputs to the relevant speaker or subwoofer. You can input the dimensions of your room, and the processor shows you a three-dimensional image with speaker and sub placements. You then set crossovers using Trinnov's comprehensive bass management system, which allows separate crossovers for each individual speaker.
After that you just run the measurements, and let the Optimizer work its acoustical magic. The 3D microphone takes spatial measurements of your speakers, subwoofers and the room itself, after which you move the mic to a different position, ensuring that it remains level and is still aimed at the centre speaker. You then take a second set of measurements and so on. The more measurements you take, the more accurate a spatial representation of your system the Trinnov can calculate.
The key to a seamless 3D soundfield are speakers that are well-matched in terms of their amplitude and time domains, and this is where Trinnov's Optimizer comes in. It ensures that the presence of the room has been removed from the acoustical signature, that bass is perfectly integrated, and that the speakers are tonally balanced.
The Altitude16 can also re-map your speakers to virtually place them in their ideal positions, a very cool feature.
Once completed, the Optimizer shows you all the results graphically, including three-dimensional representations of the positions and heights of your speakers and subs. There are also graphs of their response, amplitude, reflections, phase and impulse measurements. You can create different presets for different speaker configurations, seating positions and audio formats, and can save up to 29 presets.
There's so much you can actually do with the Altitude16 that I can barely scratch the surface here. It really is a tweaker's delight, and you could spend yonks fiddling about with different settings, layouts and crossovers.
Fiendishly flexible
Having tested every room equalisation system available, I can say with some confidence that Trinnov's Optimizer is the best example I've come across. Its closest competitor is Dirac Live and while that takes a similar approach, the Optimizer offers more nuanced control, greater subtlety and infinitely more flexibility.
There's always a worry that the law of diminishing returns will apply to these high-end systems. Do they really make a difference and can they justify the cost? In the case of the Altitude16 I'd say it does. This processor has a sense of cohesion and transparency that simply amazed me. When you consider the processing and amplification involved, it was always going to sound good, even with the optimisation turned off. But as soon as you turn it on, the soundfield is transformed, the room itself disappears, and the audio displays a complete sense of realism.
I've heard the Amaze Dolby Atmos trailer in Dolby's own screening rooms, so I know exactly how it's supposed to sound. The Trinnov rendered it perfectly, with a bird fluttering seamlessly across the ceiling, rain falling around me and thunder rolling smoothly through the room thanks to tight and controlled bass. It sounded exactly the same as it did when Dolby played it to me, and I can't think of higher praise than that.
Since Trinnov's Optimizer is supposed to perfectly match a disparate set of speakers, the obvious test was Gravity (Blu-ray) with its highly directional Dolby Atmos soundtrack. The Altitude16 aced this test, and George Clooney's voice remained tonally identical as he zoomed around the room on his jetpack during the film's opening sequence.
Another key aspect of the optimisation process is bass management, and what better test than Blade Runner 2049 (4K Blu-ray). The bass here is terrifyingly deep, and I've had lesser systems throw in the towel before the opening credits have rolled. Not so with the Trinnov, which handled the bass like a champ, keeping it taut, smooth and controlled but also deep enough to liquify your insides.
Next up was the 4K platter of Saving Private Ryan, with its Dolby Atmos remix. I've watched the Omaha Beach opening countless times but the Altitude16 simply blew me away, if you'll pardon the pun. I was there on that soggy sand and the experience was utterly visceral, putting me as close to battle as I ever want to get. Machine-gun fire strafed my home cinema, shells flew overhead, explosions hit with a perfectly timed percussive impact, and the processor created a completely believable hemisphere of sound. There was a precision and timing to the placement of effects that was breathtaking, but within the fog of war, dialogue remained clear and focused onscreen.
Lest you think it's all about Dolby Atmos, I had another Steven Spielberg classic to hand in the shape of Jurassic Park (4K Blu-ray) with its new DTS:X soundtrack. The T-Rex attack was the go-to demo scene before Tom Hanks hit the Normandy beaches, and its dino-mayhem remains a masterclass in sound design.
The bass that heralds the approaching threat was sublime, building from nothing more than a sensation to a room-shaking thud. The high-frequency twang of the breaking fencing was delivered with precise transients, and the T-Rex's roar could burst your eardrums without ever sounding harsh or losing definition. The overall soundfield was so spacious that the ceilings of my demo room seemed to collapse, leaving the sound of rain falling all around.
I don't have many Auro-3D discs [who does – Ed?], but since the Altitude16 can decode the format, I created a second preset just for testing it. Auro-3D uses height, rather than overhead speakers, but thanks to some cheeky realignment and Trinnov's remapping feature, I was quickly in business. I put on the WW2 fighter pilot flick Red Tails (Blu-ray) and the aerial dogfights revealed the processor's incredible ability to seamlessly move sounds from channel to channel.
As for its ability to upmix normal 5.1 and 7.1 tracks, I popped Interstellar into my player and used Dolby Surround – because of the three upmixers, it's the one that uses the most channels. I certainly didn't regret that decision, and in the scene where Endurance tries to escape the gravitational pull of a black hole, the soundstage became alive with effects emanating from… everywhere.
Trinnov's got talent
Trinnov has been at the forefront of 3D audio since the beginning, and that shows with the Altitude16. It's the most sophisticated and flexible processor I've encountered, and while not cheap it certainly delivers the goods, creating a seamless immersive audio experience thanks to its 16-channel talents.
It's obviously aimed at the custom installation market, where its £13,000 price will be less of an issue, and to get the best out of this processor you really need a dedicated home cinema and a professional setup. However, if you're lucky enough to be thinking of the Altitude16 as a viable option, then I guarantee you won't be disappointed.
HCC Verdict
Trinnov Altitude16, £13,000 www.trinnov.com
Rating: 5/5

We say: Trinnov takes multichannel audio to another level of immersion with a high-end home cinema processor that is as sophisticated as it is flexible.
Specification
DOLBY ATMOS: Yes (up to 9.1.6)
DTS:X: Yes (up to up to 11.1)
MULTICHANNEL PRE-OUT: Yes. 16-channel XLR
CONNECTIONS: 8 x HDMI inputs (5 x 2.0b); 2 x HDMI outputs (1 x 2.0b); 4 x digital audio inputs (2 x optical and 2 x coaxial)
VIDEO UPSCALING: No
DIMENSIONS: 438(w) x 138(h) x 439(d)mm
WEIGHT: 11.3kg
FEATURES: Trinnov Speaker/Room Optimizer; 3D measurement microphone; multi-subwoofer management and active crossover calibration; 24-bit/96kHz native processing; wizard for setup and calibration; VNC remote control; software-based upgrades over internet; UPnP/DLNA renderer; Roon ready; Auro-3D

SPONSORED VIDEO

SPONSORED VIDEO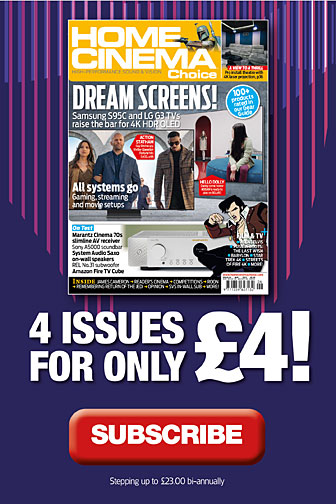 Home Cinema Choice #332

is on sale now, featuring: Samsung's 8K flagship; Anthem AVM 90 processor; B&W 800 Series Diamond; LG smart projector; Hollywood box office bombs; Hitchcock 4K; and more
Want to see your home cinema system featured in the pages of HCC? Click
here
for more info.