EISA Awards 2018-2019 - The Winners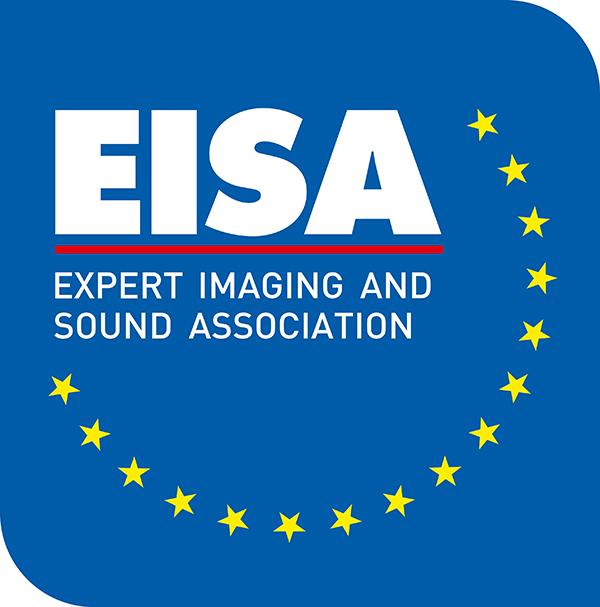 The Expert Imaging and Sound Association celebrates the year's most desirable AV hardware
The Expert Imaging and Sound Association (EISA) is the technology world's largest independent awards panel, incorporating 53 specialist magazines from across the globe – including Home Cinema Choice. Its goal is simple: to celebrate the most desirable, highest-performing home entertainment hardware that you – the AV enthusiasts – will be spending your hard-earned pennies on.
We've rounded up the awards covering Home Theatre Video and Home Theatre Audio, featuring everything from 4K/HDR TVs to Ultra HD Blu-ray players, multichannel speaker packages, home cinema projectors, AV receivers, soundbars and more. The winners can be considered the cream of the consumer electronics crop...
For more about EISA, visit www.eisa.eu
EISA HOME THEATRE TV 2018-2019
Philips 65OLED903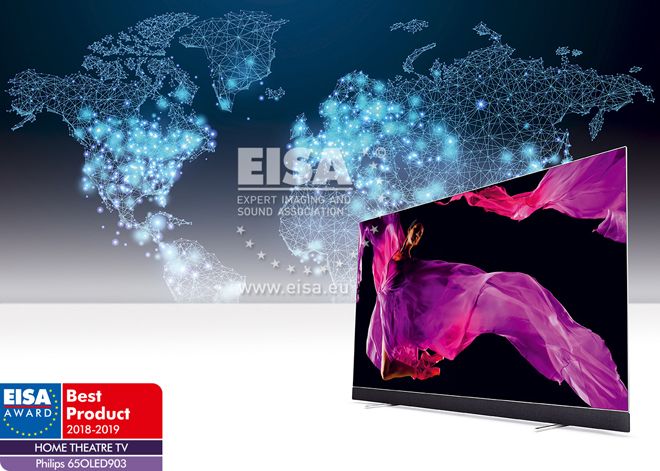 Home theatre enthusiasts demand a genuinely cinematic experience that marries immersive visuals with dynamic sound, and Philips' 65in OLED flagship delivers. A new, exclusive partnership with hi-fi specialists Bowers & Wilkins results in a bespoke in-built soundbar featuring dedicated midbass and treble drivers in isolated chambers, crafting a soundfield that's rich in detail and depth. Philips' powerful P5 engine with its new 'Perfect Natural Reality' image processing and extensive user calibration tweaks ensure superb UHD (and upscaled SDR) HDR pictures with deep black levels, fine shadow detail, outstanding contrast and a wide color gamut. Overall, the 65OLED903 offers a class-leading performance, topped off by Ambilight-enhanced atmosphere, which gets the best from Ultra HD Blu-ray and streamed sources.
---
EISA PREMIUM OLED TV 2018-2019
LG OLED65E8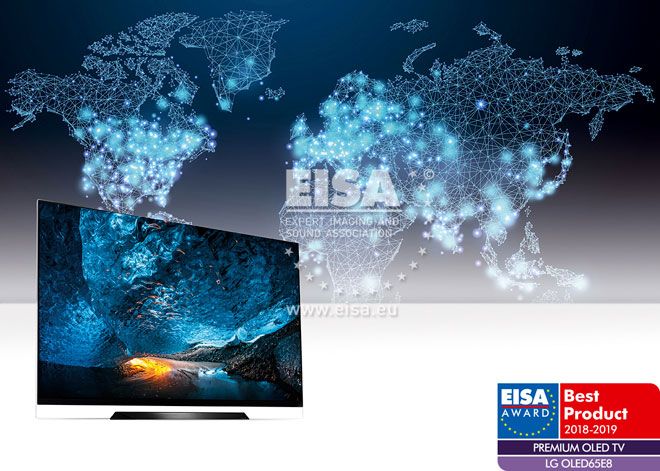 With the 65in E8, LG has unleashed a superior and hugely versatile UHD HDR TV where stunning image quality is only part of the story. For example, smart interaction and video-on-demand via its excellent WebOS interface is further boosted by LG's ThinQ A.I. processing. Onboard Dolby Atmos decoding/playback brings extra sonic immersion, while the picture-on-glass design blends into any environment. As for its all-important picture performance, a new, brighter OLED panel design and Alpha 9 engine combine to deliver contrast-rich, wide-colour visuals. Dolby Vision material from disc and streaming platforms is supported, while HDR10 material is polished via LG's impressive image processing. This is a worthy winner in our premium OLED TV category.
---
EISA PREMIUM LCD TV 2018-2019
Samsung 65Q9FN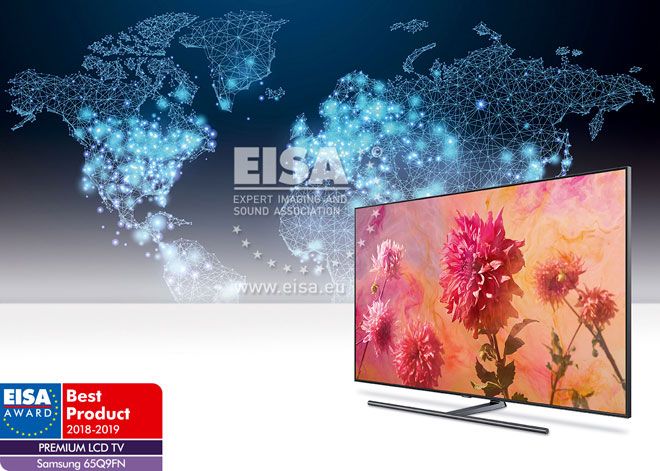 The first thing you notice about Samsung's top-of-the-range QLED TV is its gorgeous design and discreet installation potential. Its 65in UHD display is freed from all cables except a single, sleek connection with the One Connect Box, which houses the electronics and inputs. Then, via Samsung's Ambient mode, the TV can display artwork, widgets or your own images while still in standby mode, and thanks to 'Smart Things' technology can also form part of a smart home ecosystem. Picture quality is even more impressive, with the 65Q9FN's use of Full Array Local Dimming (FALD) technology, driven by Samsung's Q-Engine image processing, resulting in images of breathtaking beauty. SDR and HDR content, including HDR10, HDR10+ and HLG, dazzles with its super-wide colour gamut, high brightness and deep blacks.
---
EISA MONITOR INNOVATION 2018-2019
Sharp Aquos LV-70X500E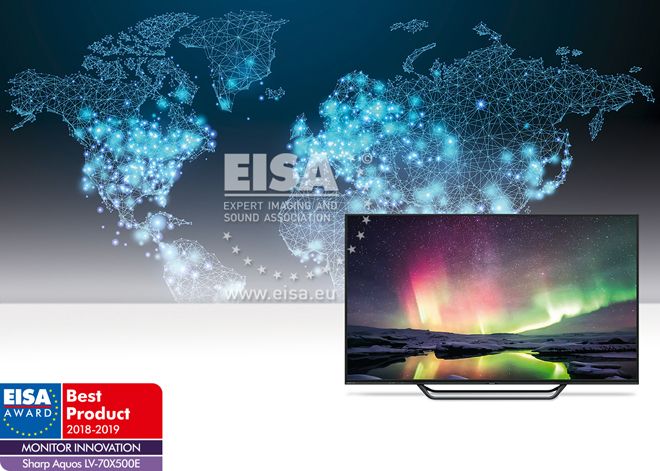 8K isn't the future – it's already here. Featuring a native 7680x4320px display (16 times the resolution of Full HD), this 70in LCD monitor from panel manufacturer Sharp delivers a level of definition that has to be seen to be believed. Among its eight HDMI inputs, four are used in parallel to deliver an 8K video signal, and there are two USB ports supporting 8K still pictures. But there's no need to wait for such content – the LV-70X500E features powerful 8K upscaling technology and Full Array Local dimming for high-contrast and razor-sharp reproduction of your UHD HDR movie collection. This a stunning proposition from Sharp that heralds the dawn of a new era.
---
EISA BEST BUY OLED TV 2018-2019
Philips 55OLED803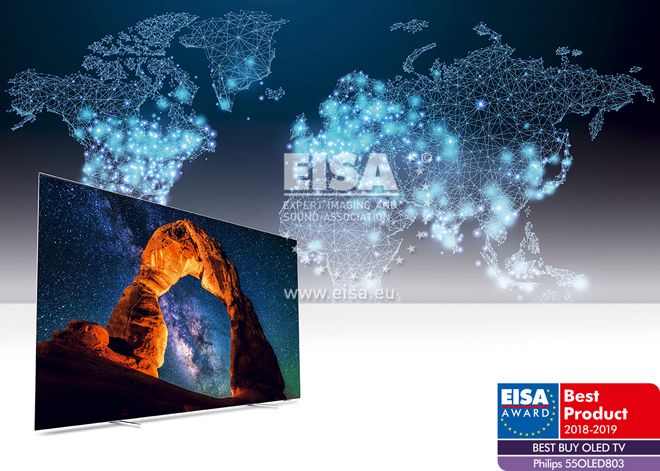 Philips combines the latest 2018 OLED panel with its revised P5 picture engine for truly stunning results with this 55in model, while still hitting a tempting price. This UHD OLED TV lets you experience standard dynamic range content in near-HDR quality through Philips' latest innovation, 'Perfect Natural Reality'. Meanwhile, its rich, natural colours, true blacks and excellent motion sharpness – plus support for the latest HDR10+ standard – also make this an excellent choice for HDR material. Furthermore, Philips' unique Ambilight technology creates a striking visual addition to the onscreen experience while the powerful 50W sound system and Android TV with Google Assistant all add to an outstanding all-round TV.
---
EISA BEST BUY LCD TV 2018-2019
TCL 55DC760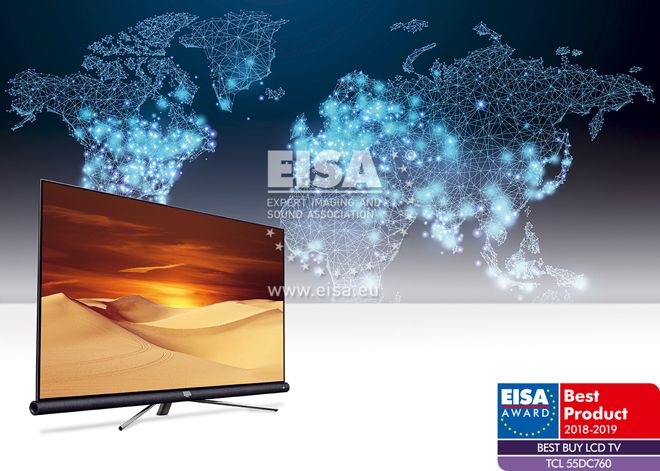 TCL's midrange 55in UHD television has genuine all-round appeal, adding the new Android 8.0 operating system to a feature set that includes HDR playback and an integrated two-way JBL soundbar to give pictures a sonic boost. Its extended color gamut reaps rewards with sports, movies and games content, and a wide viewing angle helps it retain its high picture performance when watching off-axis. The user interface provides options to adjust images to your personal taste, while Android TV integrates Chromecast and Google Assistant for slick control and access to your online content. The 55DC760 is a great value-for-money TV, particularly when you consider its roster of added features, elegant design and connectivity options.
---
EISA ARTIFICIAL INTELLIGENCE TV 2018-2019
LG 65SK9500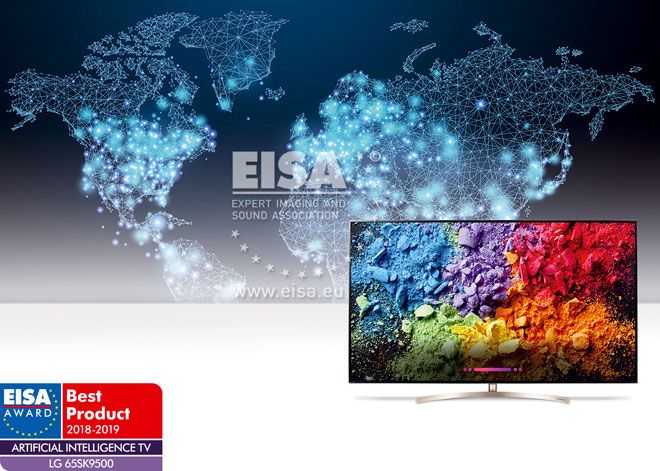 Artificial Intelligence is transforming the smart operations of televisions, and the SK9500 from LG leads from the front. Heading up LG's 2018 Super UHD range, it delivers a fine Ultra HD image (with Dolby Vision support) from IPS Nano-Cell technology with Full Array LED Dimming Pro, while adding a powerful artificial intelligence backbone called 'AI ThinQ' that combines with Google Assistant. This system works with existing Google Assistant and Amazon Alexa-enabled devices, making channel, input and other adjustments possible via voice command. The latest webOS platform and Magic Remote make navigating the TV's vast number of streaming apps a pleasure. This is an A.I. TV with excellent connections and intuitive features that are receptive to the individual user's needs.
---
EISA PREMIUM PROJECTOR 2018-2019
Sony VPL-VW760ES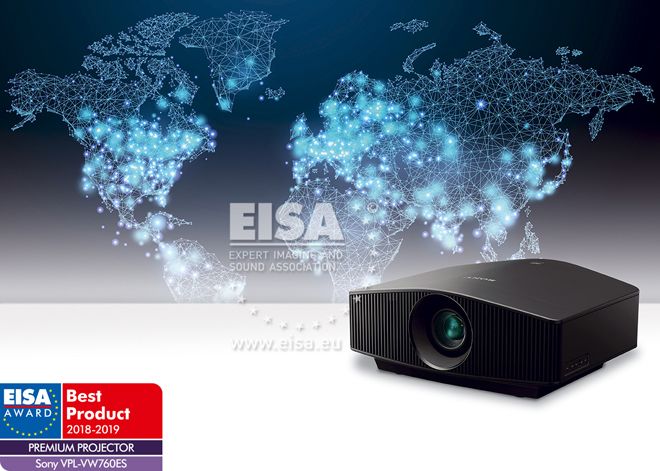 Sony adds to its home theatre projector lineup with this laser-illuminated native 4K HDR flagship that delivers an outstanding movie performance. Using SXRD panels filtered down from the company's digital cinema division, the VPL-VW760ES creates refined, super-sharp largescreen visuals, combined with an HDR10 and HLG delivery bolstered by the projector's skilful light-handling and 2000-Lumen brightness. A wide-colour presentation thanks to the laser, Reality Creation upscaling of Full HD sources and immersive 3D playback complete a package that's destined for the finest of home theatres. Finally, the curved chassis design, a 2.06x zoom and expansive throw ratio mean installation is painless. Simply put, this 4K projector is best-in-class.
---
EISA BEST BUY PROJECTOR 2018-2019
BenQ W1700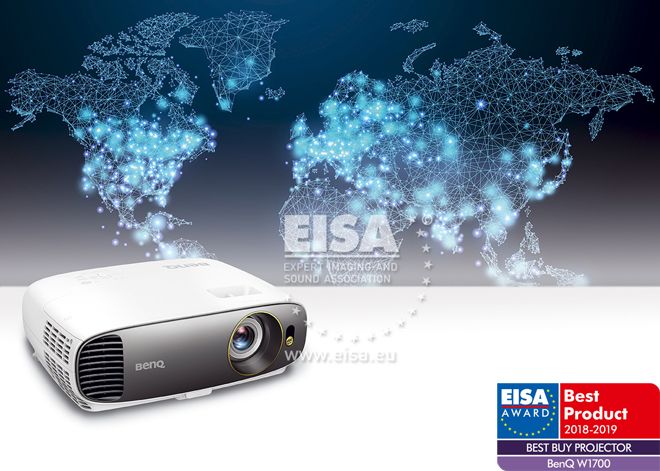 The W1700 (HT2550 in the USA) from BenQ brings UHD HDR qualities to bigscreen projection in the home at a price which previously only delivered Full HD. BenQ's optical system leverages a DLP Digital Micromirror Device, in which the pixels of a Full HD array are shifted to four positions per frame, giving a UHD experience with crisp, bright and brilliant images. Colours are impressively accurate straight out of the box, and 3D playback is offered for that extra level of cinematic immersion. The compact cabinet makes the W1700 easy to install, while its onscreen menus are packed with tools and adjustments. As a way to upgrade to UHD projection, the W1700's combination of quality and value is irresistible.
---
EISA HIGH-END UHD BLU-RAY PLAYER 2018-2019
Panasonic DP-UB9000 series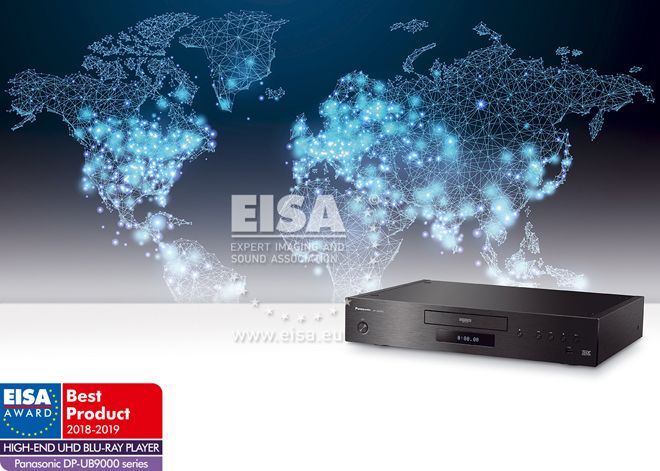 Panasonic adds to its illustrious Blu-ray history with the DP-UB9000 disc-spinner, a gloriously engineered high-end machine compatible with Ultra HD Blu-ray (including both Dolby Vision and HDR10+ grades), DVD, CD and hi-res audio – including DSD. Custom processing, high-spec components and advanced user adjustments mean every last drop of performance detail is squeezed from movies and music alike – Panasonic's user-adjustable HDR Optimiser tool improves the delivery of UHD HDR10 content, while a 768kHz/32-bit DAC serves up a premium stereo audio experience. And then there's the DP-UB9000's sumptuous design and build. Double-layer base and top plates, an aluminium chassis and a new, rigid drive mechanism ensure this master of Blu-ray is ready for action.
(Combined Award with Home Theatre Audio)
---
EISA BEST BUY UHD BLU-RAY PLAYER 2018-2019
Sony UBP-X700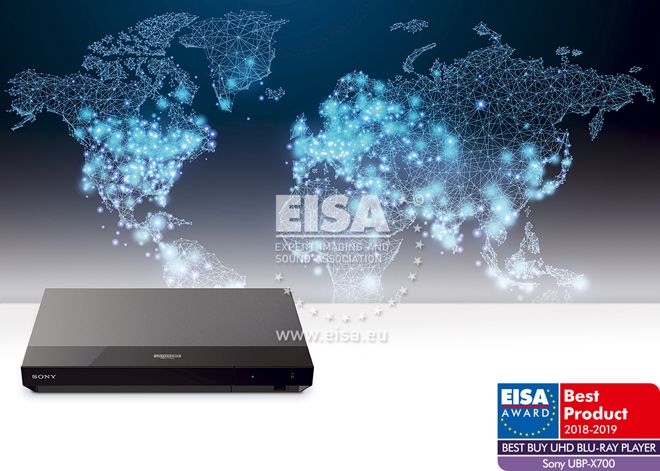 From Sony's second generation of Ultra HD Blu-ray players, the UBP-X700 delivers everything you need to enter the new UHD HDR world without leaving the past behind, as it also handles DVD, BD and even SACD audio discs. If needed, the second ΗDMI output can send audio only, while the main output carries the video signal (including HDR10 and Dolby Vision) directly to a television. It offers a major bonus with its wireless networking abilities, able to access online video and audio services including Netflix and YouTube, plus high-res DLNA playback. Every 4K TV should have an Ultra HD Blu-ray player as a high-quality video source, and the UBP-X700's keen pricing makes it a high-value overachiever.
(Combined Award with Home Theatre Audio)
---
EISA PHOTO VIDEO CAMERA 2018-2019
Panasonic LUMIX DC-GH5S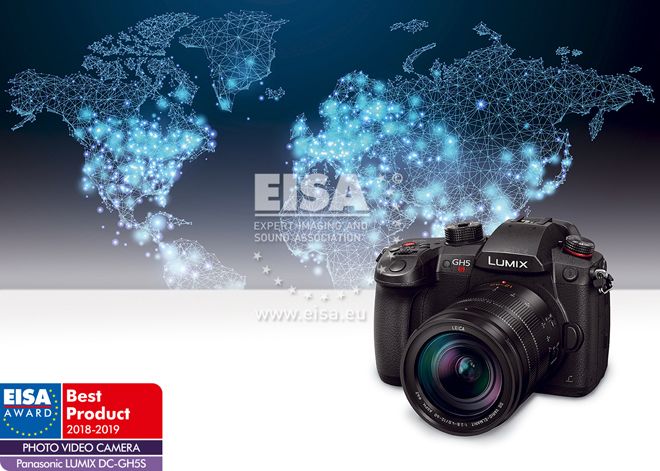 This camera is specially designed for demanding videographers. The 10.2-megapixel Four Thirds sensor offers dual native ISO sensitivities for the best picture quality when working in low light. It also offers many different recording formats, including 4K/30p 4:2:2 10-bit direct to card without any time limit, or high frame rates (240fps in Full HD) for smooth slow motion. It also offers V-Log and HDR mode for wide dynamic range and better tonal rendering. Other useful facilities include a zebra pattern display, time code in/out function as well as a waveform and Vector Scope monitor.
(Combined Award with Photography)
---
EISA HOME THEATRE AMPLIFIER 2018-2019
Denon AVC-X8500H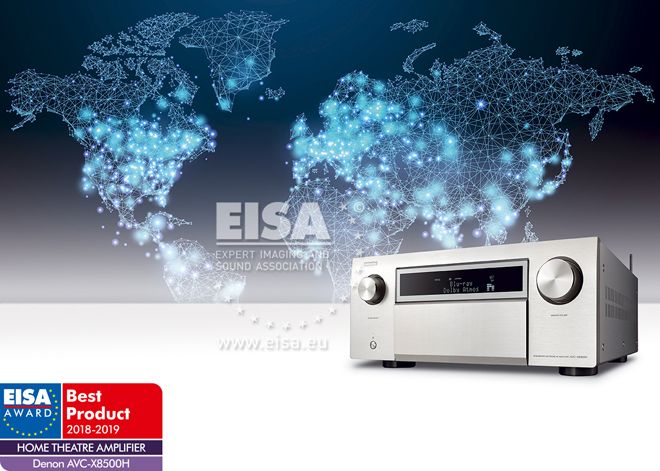 Denon's flagship AV amplifier is perfect for those seeking the highest levels of home entertainment. Rated at 210W per channel with no fewer than 13 discrete amplifiers, it's potently powerful and capable of driving demanding speakers, delivering a dynamic performance regardless of whether you are running a 9.1.4 array, or 7.1.6 setup with six ceiling channels. Able to decode Dolby Atmos, DTS:X and Auro-3D movie soundmixes, as well as hi-res audio files up to 192kHz/24-bit, the AVC-X8500H also packs an extensive range of inputs plus networking/streaming functionality to offer borderless comfort. A heavyweight construction, immense power supply and Audyssey's top-tier MultEQ XT32 EQ/calibration suite help engineer its superb, cinematic sound. Standing clear of its rivals, it delivers the ultimate home theatre experience.
---
EISA HOME THEATRE RECEIVER 2018-2019
Pioneer VSX-933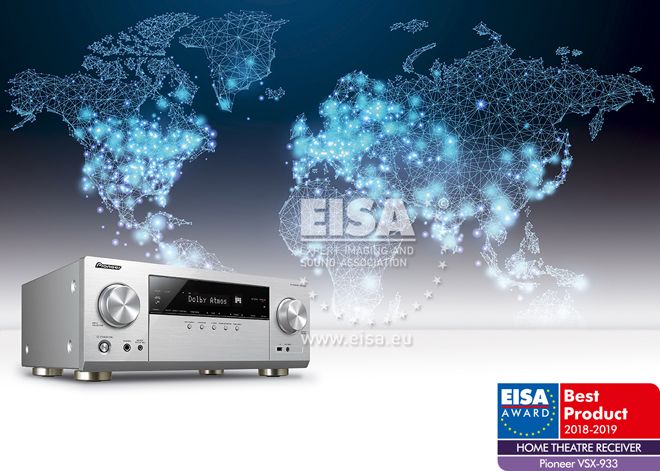 In direct contrast to its reasonable price, Pioneer's seven-channel VSX-933 AV receiver comes with a suitably high-spec feature list, allowing it to operate as the centerpiece of a home theatre with up to 7.2 channels. Onboard decoding includes the object-based Dolby Atmos and DTS:X formats, while a bespoke 'reflex optimiser' is on hand to calibrate any upwards-firing speakers in even the most challenging rooms. The powerful and well-constructed VSX-933 adds to its movie playback credentials with wireless multiroom, hi-res audio support, streaming services including Tidal, Spotify and Deezer, plus Chromecast. Immersive sound quality is fine-tuned by Pioneer's MCACC auto-calibration system, ensuring this receiver delivers films and music to a far higher level than you might expect given the price.
---
EISA HOME THEATRE SPEAKER SYSTEM 2018-2019
KEF Q Series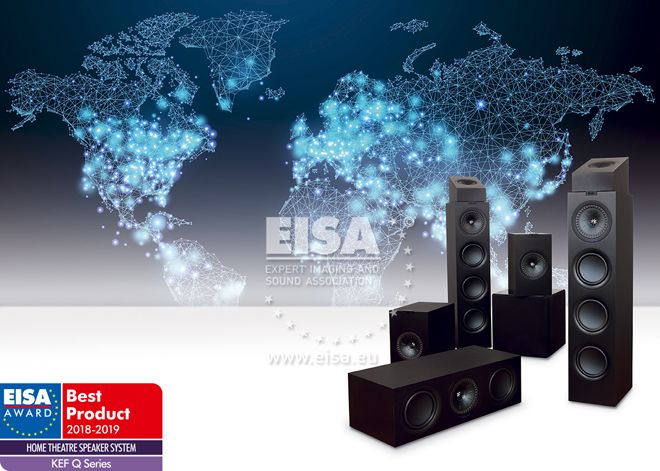 KEF's Q Series has a legendary status stretching back decades, but has now been re-invented for today's user. A robust, stylish cabinet design is matched by an impressive performance bolstered by the latest version of KEF's Uni-Q concentric driver, where midrange and treble information is treated as a single source. For largescale bass delivery, an active driver is combined with two passive radiators in the Q750 floorstanders. These are joined by the Q650c centre and Q350 surround speakers to provide an accurate, wraparound soundstage with incredible neutrality. Extra bass depth comes via the Kube12b active subwoofer, while the Dolby Atmos-enabled Q50a upfiring speakers ensure that movie enthusiasts can enjoy up to 5.1.4 channels of unbeatable home cinema sound.
---
EISA BEST BUY HOME THEATRE SPEAKER SYSTEM 2018-2019
Jamo S 809 HCS / S 810 SUB / S 8 ATM
When it comes to captivating home theatre audio from a smart, stylish system, Jamo's Studio 8 series ticks all the boxes. An ideal starting point for a multichannel setup, the S 809 HCS package of two floorstanders, centre speaker and pair of bookshelf surrounds can be strengthened by the addition of the compact but powerful S 810 SUB for extra low-end grunt. Meanwhile, Jamo's S 8 ATM upfiring speakers, which integrate seamlessly with floorstanding models, provide a Dolby Atmos upgrade path. The performance here is accurate, well-balanced and enveloping, and the slim, elegant cabinets with grey fabric grilles result in 5.1.2 package that looks every bit as good as it sounds.
---
EISA HOME THEATRE IN-WALL SPEAKER 2018-2019
Focal 300IWLCR6 / 300IW6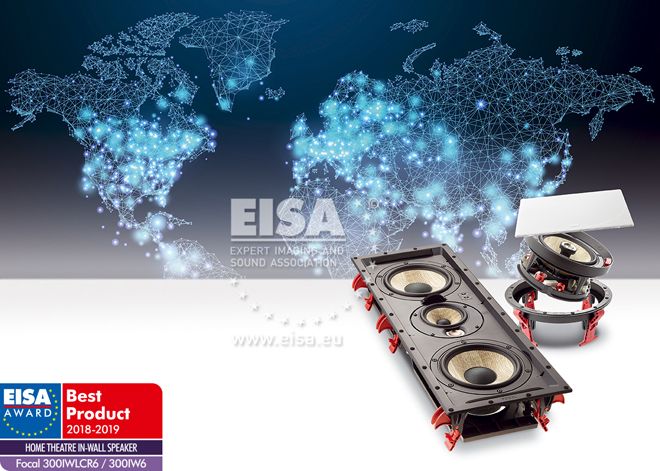 For those that don't want speakers cluttering their room, Focal's 300 In-Wall series offers an elegant solution without compromising performance. Installation is made easy by the smart clamping mechanism, and the frameless magnetic grilles result in a near-invisible finish. Through their Flax drivers and glassfibre cones, these Focal in-wall speakers provide a neutral midrange, accurate bass and precise vocal definition, while clear and vibrant harmonics are delivered by the inverted dome tweeter – performance can adjusted via treble and midrange switches. With the three-way 300IWLCR6 speakers bringing impressive dynamics and low-frequency response to the front/centre soundstage, the smaller two-way 300IW6 is perfect for surround channel use. Simply cut a hole, click in and you're ready to go.
---
EISA SOUNDBAR 2018-2019
LG SK10Y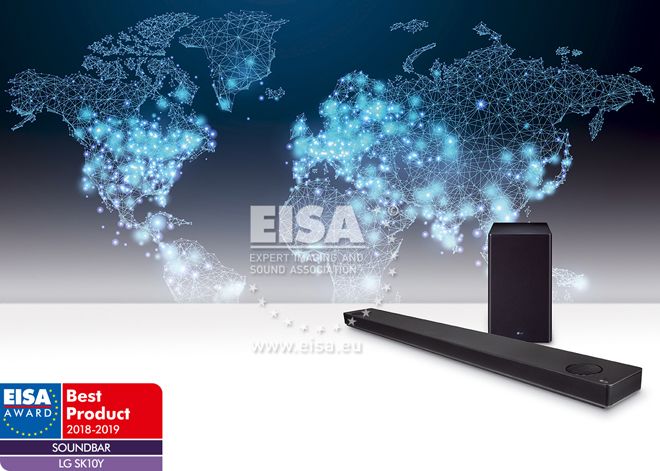 Designed to partner screens up to 65in and above, LG's SK10Y Dolby Atmos soundbar is a thrilling home theatre solution for when space is at a premium, and comes fully equipped with network functionality, hi-res audio compatibility, Chromecast and a wireless subwoofer. Slim and beautifully constructed, this 5.1.2-channel model features 4K HDR passthrough via its HDMI connectivity, and can be combined with LG's SPK8-S wireless speaker upgrade package to expand to a 7.1.2 soundfield. Audio performance, boosted by Meridian Audio technology and preset EQ modes, is rich in bass and huge in scale, with the in-built upfiring drivers adding impactful height-layer detail. It's a stunning home cinema sound from a well-featured package.
---
EISA BEST BUY SOUNDBAR 2018-2019
Polk Audio MagniFi MAX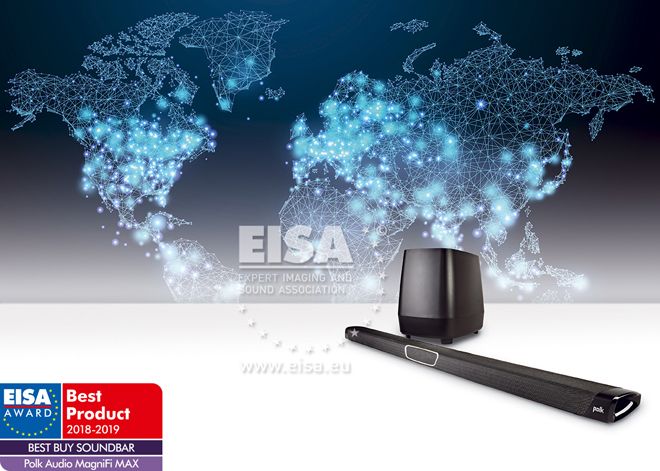 The MagniFi MAX soundbar packs a lot of functionality into its living-room friendly design. Dolby and DTS decoding are allied to Polk Audio's patented 'Stereo Dimensional Array' digital surround processing, giving an expansive performance to movies, TV and music playback, while voice adjust technology boosts dialogue delivery, making it easy to understand at all times. The additional subwoofer, which connects wirelessly, offers powerful and well-controlled bass. HDMI connectivity simplifies installation, and music streaming from your favorite apps is achieved over Wi-Fi or Bluetooth. And if that's not enough, you can even hook up a Google Assistant speaker to control music playback with voice commands. It's an excellent soundbar all-rounder.
---
EISA HOME THEATRE SUBWOOFER 2018-2019
SVS SB-4000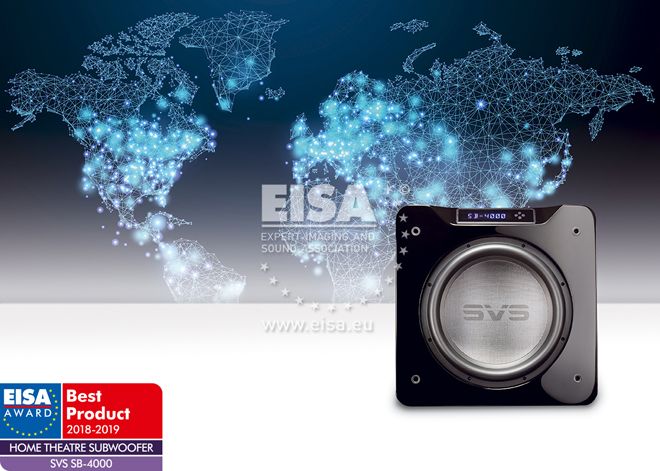 When it comes to a bass performance you can feel as well as hear, the SB-4000 is in a class of its own. Borrowing technology from SVS's 16-Ultra reference-grade range, this breathtaking subwoofer is equipped with a 'Sledge' amplifier boasting a mighty 4000W peak delivery. Its long-throw, 13.5in driver – bolted inside a solid closed cabinet – is capable of unleashing pure dynamics even with the very lowest subsonic frequencies. SVS's advanced DSP offers impeccable room correction with full parametric equalisation, letting the SB-4000 provide pinpoint LFE precision from any location, while all its settings can be easily altered via remote control or smartphone app. Offering maximum SPL, massive slam and an incredible low-frequency extension, this sub will shake, rattle and roll your home theatre.
---
EISA SLIM INSTALLATION COMPONENT 2018-2019
Morel Virtus Nano Integra 602 & SoundWall PowerSlim PMC600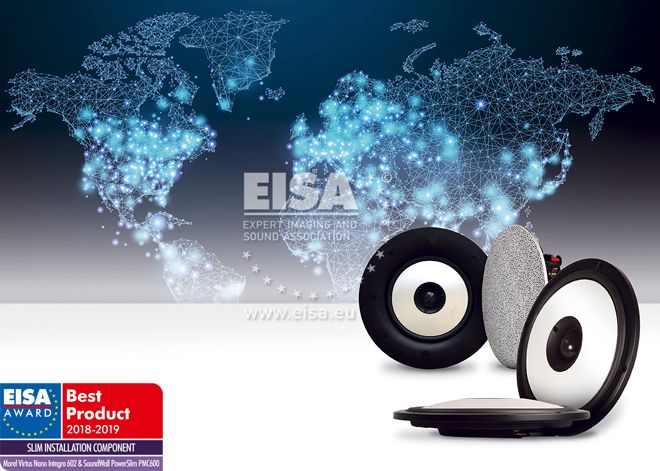 Designed for easy installation where space is limited, this Morel Integra driver is used for both in-car audio and in-wall products under different names. Thanks to its limited depth, it can be installed in-wall using proper frames with almost no space behind as well as in shallow places in the car, as the mounting depth is a mere 0.67in (17mm). An 'Endumax' multilayer sandwich cone, with convex geometry, and 'Acuflex' soft dome with 2.1in and 1.1in voice coils, respectively, provide precision and control. The speaker cleverly uses the same magnet for woofer and tweeter voice coil, which not only saves space but also provides an almost perfect phase alignment. This 'Zero-Point' dual-concentric technology assures that limited space need not affect the speaker's sonic prowess.
(Combined Award with In-Car Electronics)
---
And the rest of the awards...
​HI-FI
EISA ANALOGUE MUSIC SYSTEM 2018-2019
Pro-Ject Juke Box S2
EISA COMPACT MUSIC SYSTEM 2018-2019
Denon CEOL N10
EISA ALL-IN-ONE SYSTEM 2018-2019
Naim Audio Uniti Atom
EISA WIRELESS SYSTEM 2018-2019
DALI Callisto 6C & Sound Hub
EISA STEREO SYSTEM 2018-2019
Marantz ND8006/PM8006
EISA STEREO RECEIVER 2018-2019
Yamaha R-N803D
EISA AMPLIFIER 2018-2019
Primare I15 Prisma
EISA BEST BUY AMPLIFIER 2018-2019
Pioneer A-40AE
EISA HIGH-END AMPLIFIER 2018-2019
NAD M32
EISA STREAMER 2018-2019
Pro-Ject Stream Box S2 Ultra
EISA DAC 2018-2019
Chord Electronics Hugo 2
EISA TURNTABLE 2018-2019
Technics SL-1200GR
EISA LOUDSPEAKER 2018-2019
ELAC Adante AS-61
EISA BEST BUY LOUDSPEAKER 2018-2019
Q Acoustics 3050i
EISA SMART LOUDSPEAKER 2018-2019
Harman Kardon Citation 500
EISA HEADPHONE 2018-2019
Sennheiser HD 660 S
EISA HIGH-END HEADPHONE 2018-2019
Focal Clear
EISA HI-FI INNOVATION 2018-2019
Micromega M-One M-150
EISA PORTABLE DAC/HEADPHONE AMPLIFIER 2018-2019 (Combined Award with Mobile Devices)
iFi Audio xDSD
PHOTOGRAPHY
EISA CAMERA OF THE YEAR 2018-2019
Sony α7 III
EISA PROFESSIONAL DSLR CAMERA 2018-2019
Nikon D850
EISA DSLR CAMERA 2018-2019
Canon EOS 6D Mark II
EISA BEST BUY CAMERA 2018-2019
Canon EOS M50
EISA SUPERZOOM CAMERA 2018-2019
Sony Cyber-shot RX10 IV
EISA MIRRORLESS CAMERA 2018-2019
Fujifilm X-H1
EISA PROFESSIONAL MIRRORLESS CAMERA 2018-2019
Sony α7R III
EISA DSLR ZOOM LENS 2018-2019
SIGMA 14-24mm F2.8 DG HSM | Art
EISA DSLR TELEZOOM LENS 2018-2019
Tamron 70-210mm F/4 Di VC USD
EISA DSLR PRIME LENS 2018-2019
Canon EF 85mm f/1.4L IS USM
EISA PROFESSIONAL LENS 2018-2019
Nikon AF-S NIKKOR 180-400mm f/4E TC1.4 FL ED VR
EISA MIRRORLESS WIDEANGLE ZOOM LENS 2018-2019
Sony FE 16-35mm F2.8 GM
EISA MIRRORLESS STANDARD ZOOM LENS 2018-2019
Tamron 28-75mm F/2.8 Di III RXD
EISA MIRRORLESS TELEZOOM LENS 2018-2019
Sony FE 100-400mm F4.5-5.6 GM OSS
EISA PHOTO INNOVATION 2018-2019
Canon Speedlite 470EX-AI
EISA PHOTO SERVICE 2018-2019
CEWE Photobook Pure
EISA BEST SMARTPHONE 2018-2019 (Combined Award with Mobile Devices)
Huawei P20 Pro
MOBILE DEVICES
EISA CONSUMER SMARTPHONE 2018-2019
Nokia 7 Plus
EISA LIFESTYLE SMARTPHONE 2018-2019
Honor 10
EISA BEST BUY SMARTPHONE 2018-2019
NOA Element N10
EISA NOISE CANCELLING HEADPHONES 2018-2019
AKG N700NC
EISA MOBILE LOUDSPEAKER 2018-2019
JBL Xtreme 2
EISA WIRELESS IN-EAR HEADPHONES 2018-2019
JBL Endurance DIVE
EISA ARTIFICIAL INTELLIGENCE LOUDSPEAKER 2018-2019
LG XBOOM AI ThinQ WK7 / LG ThinQ Speaker WK7 (in the USA)
EISA MOBILE AUDIO PLAYER 2018-2019
Pioneer XDP-02U​
EISA BEST SMARTPHONE 2018-2019 (Combined Award with Photography)
Huawei P20 Pro
EISA PORTABLE DAC/HEADPHONE AMPLIFIER 2018-2019 (Combined Award with Hi-Fi)
iFi Audio xDSD
IN-CAR ELECTRONICS
EISA IN-CAR HEAD UNIT 2018-2019
Pioneer AVIC-Z910DAB
EISA IN-CAR HIGH-END COMPONENT 2018-2019
Audison TH K2 II A Coro
EISA IN-CAR SMART UPGRADE 2018-2019
Match UP 7BMW
EISA IN-CAR SUBWOOFER 2018-2019
Audison APBX 10 AS
EISA IN-CAR PROCESSOR 2018-2019
Helix DSP MINI
EISA IN-CAR AMPLIFIER 2018-2019
Ground Zero GZPA 4SQ
EISA IN-CAR DSP AMPLIFIER 2018-2019
JL Audio VX800/8i
EISA IN-CAR INTEGRATION 2018-2019
Mosconi Gladen Pico 8|12 DSP
EISA IN-CAR INNOVATION 2018-2019
Gladen Aures
EISA SLIM INSTALLATION COMPONENT 2018-2019 (Combined Award with Home Theatre Audio)
Morel Virtus Nano Integra 602 & SoundWall PowerSlim PMC600

SPONSORED VIDEO

SPONSORED VIDEO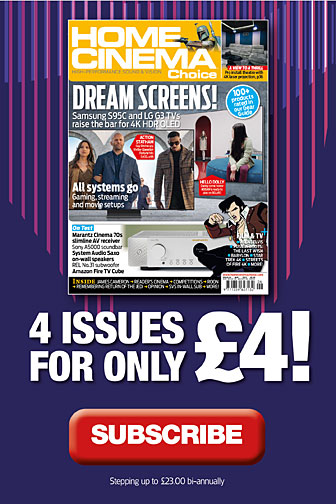 Home Cinema Choice #332

is on sale now, featuring: Samsung's 8K flagship; Anthem AVM 90 processor; B&W 800 Series Diamond; LG smart projector; Hollywood box office bombs; Hitchcock 4K; and more
Want to see your home cinema system featured in the pages of HCC? Click
here
for more info.