EISA Awards 2019-2020 - The Winners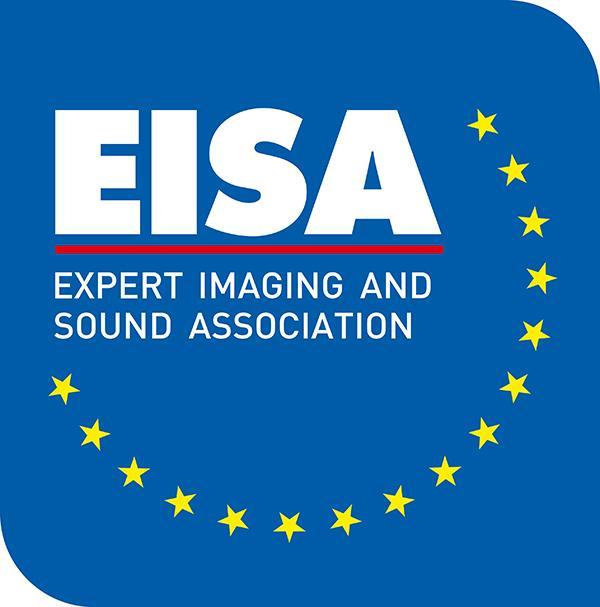 The Expert Imaging and Sound Association (EISA) is the technology world's largest independent awards panel, incorporating specialist magazines from across the globe – including Home Cinema Choice. Its goal is simple: to celebrate the most desirable, highest-performing home entertainment hardware that you – the AV enthusiasts – will be spending your hard-earned pennies on.
We've rounded up the awards covering Home Theatre Video and Home Theatre Audio, featuring everything from 4K/HDR TVs to Ultra HD Blu-ray players, multichannel speaker packages, home cinema projectors, AV receivers, soundbars and more. The winners can be considered the cream of the consumer electronics crop...
For more about EISA, visit www.eisa.eu
EISA AV RECEIVER 2019-2020
Denon AVR-X2600H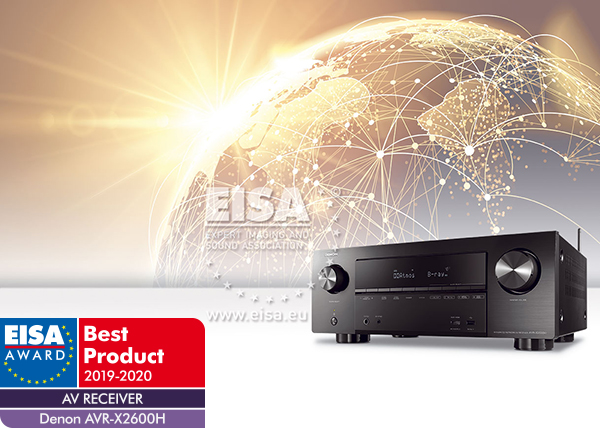 Ease-of-use and sheer power come together in the affordable Denon AVR-X2600H. With support for Dolby Atmos, DTS:X and virtual height options, this 7.2-channel receiver is a modern update on a classic home theatre design. Regular Denon features including HEOS multiroom streaming and the user-friendly Setup Assistant are joined by compatibility with AirPlay 2 and eARC in this model. There's also Bluetooth headphone support and forward-looking features including HDCP 2.3 and ALLM (Auto Low Latency Mode) for console gamers. Voice commands through Google Assistant and Siri are featured too. Most importantly of all, however, the AVR-X2600H is an accomplished sonic performer, offering an equally engaging experience whether you're watching blockbuster movies or enjoying your favourite tunes.
---
EISA BEST BUY HOME THEATRE SPEAKER SYSTEM 2019-2020
DALI OBERON Series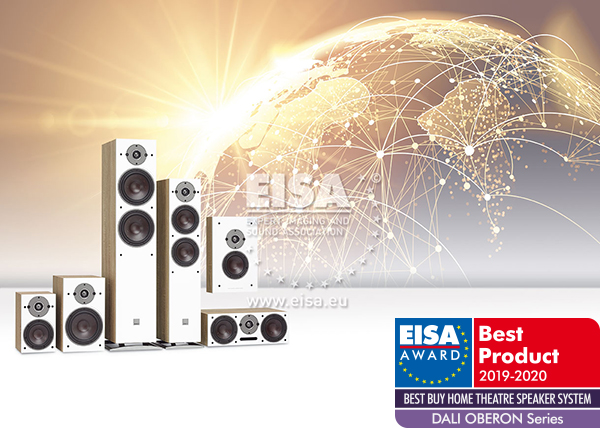 DALI's OBERON range proves that combining stunning Scandinavian design with an engaging sound experience is a winning proposition. From the ultra-compact OBERON 1 and small OBERON 3 bookshelf, to the slender OBERON 5 and the flagship OBERON 7 floorstanders, the series offers top-notch performance from very attractive enclosures. Add in the OBERON On-Wall and VOKAL centre speaker options, and you have the flexibility to establish an impressive (and affordable) home theatre. Borrowing driver technologies (including DALI's SMC magnet system) from its high-end EPICON and RUBICON series reaps rewards – with music or movies these speakers have a wide dispersion and a clear, balanced and convincing presentation. They look great, and sound even better…
---
EISA HOME THEATRE HIGH-END 2019-2020
Focal Astral 16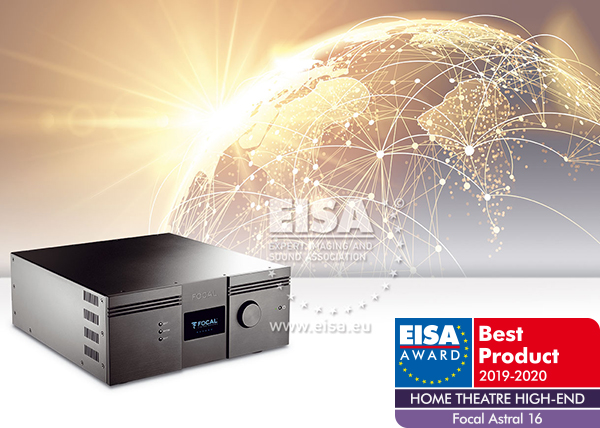 Mixing 12-channel power with 16-channel processing, the Astral 16 is a one-box solution for high-end theatre systems offering comprehensive calibration possibilities and a reference-grade performance. A 200W-per-channel Class D amplifier stage provides the foundation for a muscular multichannel delivery, whether it's an immersive Dolby Atmos, DTS:X or Auro-3D mix or traditional surround format, while Dirac Live EQ tackles room/speaker optimisation across the full audio range. And it is flexible to the extreme. System builders will appreciate its multizone capabilities, integration with smart home control systems, the peace of mind 'Remote Monitoring' tool, and 4K HDMI implementation. End users will just love its expressive, detailed and enveloping audio quality.
---
EISA HOME THEATRE SPEAKER SYSTEM 2019-2020
Arendal Sound 1723 Monitor S THX 5.1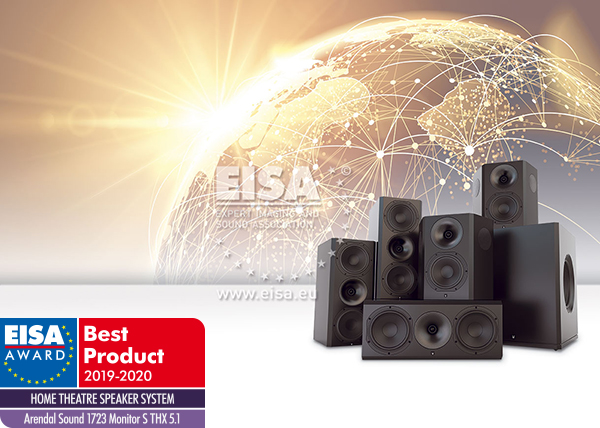 Offering a powerful performance from easy to accommodate cabinets, Arendal Sound's THX Ultra-certified multichannel package brings Hollywood to your home theatre. The two-way 1723 Monitor S THX standmounts, with 6.5in midbass drivers and waveguided tweeters, showcase a transparent sound, with excellent dispersion and extreme dynamics. This standard of performance is replicated by the centre channel enclosure, while Arendal Sound's Tri-Axial Surround S THX models produce an expansive rear soundfield. Dramatic, deep bass comes courtesy of the 1723 Subwoofer 2, which maintains a tight grip on deep bass effects via a push-push dual 13.8in driver array and 1kW power plant. Design and build quality are exceptional for the price.
---
EISA HOME THEATRE SUBWOOFER 2019-2020
SVS SB-3000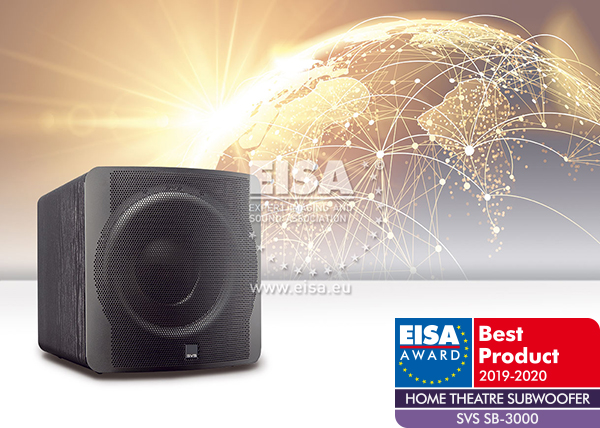 For its SB-3000 subwoofer, SVS takes the performance-first ethos of its higher-end models and brings it to a new, lower price point. Featuring a freshly designed 13.5in driver in a compact, sealed cabinet, allied to an 800W Sledge DSP amplifier, this dedicated bass-maker excels when it comes to depth, speed, control and slam. Movie soundtracks hit hard, while music playback benefits from nuanced, tight bass. It's a tweaker's delight too, with SVS's Bluetooth control app offering parametric EQ to match its performance to your listening room, in addition to quick adjustments of level, and sound preset selection. For those seeking a sub offering both power and precision, the SB-3000 is difficult to resist.
---
EISA PREMIUM HOME THEATRE RECEIVER 2019-2020
NAD T 758 V3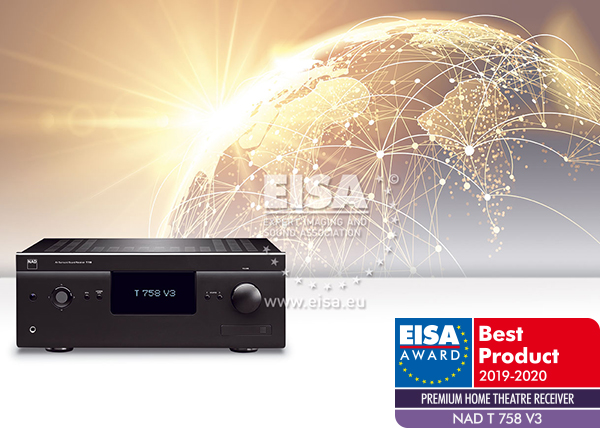 For premium features without the premium price, look no further than NAD's T 758 V3 AV receiver. A seven-channel Dolby Atmos/DTS:X design expandable to 7.1.4 via external amplification, it implements Dirac Live automatic room correction for best-in-class calibration, plus NAD's Modular Design Construction (MDC) to offer a pathway to future specification upgrades, avoiding obsolescence. There's BluOS integration, too, introducing access to streaming music platforms and multiroom compatibility with Bluesound products, not to mention MQA playback. But it's how this receiver sounds in full flight that really impresses. Its performance is naturalistic and full of subtlety, yet blessed with a dynamic punch from its PowerDrive amplification. With both movies and music, this delivers.
---
EISA PREMIUM SOUNDBAR 2019-2020
Sennheiser AMBEO Soundbar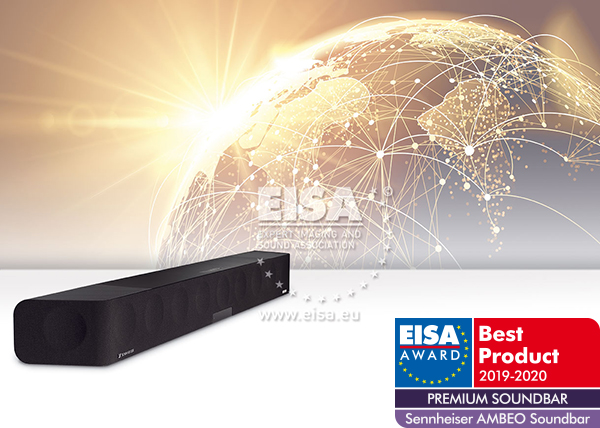 With its debut soundbar, Sennheiser has effectively rewritten the immersive audio rulebook. Handling Dolby Atmos and DTS:X, and introducing proprietary AMBEO 3D upmixing for stereo and 5.1 content, this large-scale one-box system ensures an enveloping, cinematic performance from any source. Its 13 drivers, including six 4in woofers and twin upfiring units, work to create an astonishingly realistic soundstage with crisp highs and room-shaking bass, while Sennheiser's microphone-assisted room calibration results in a precise presentation. Three HDMI inputs, an eARC-enabled output, plus Bluetooth, Chromecast and networking talents allow the AMBEO Soundbar to become your system hub, and the companion smartphone app make it easy to use. Most importantly, once heard it's never forgotten…
---
EISA SOUNDBAR 2019-2020
LG SL8YG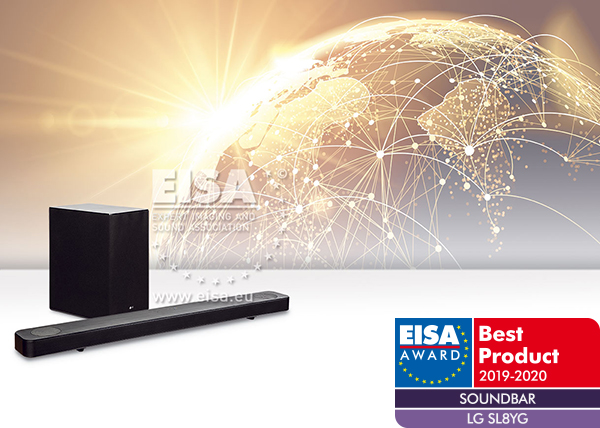 Designed for TVs of 49in and above, LG's SL8YG aims to bring a cinematic experience to your living room – and succeeds. A 3.1.2-channel design partnering a smart-looking soundbar with a wireless subwoofer, it employs upfiring drivers and Dolby Atmos and DTS:X decoding to add tangible height, depth and scale to movie/TV soundmixes, in conjunction with DSP developed by Meridian Audio. It's a dynamic, large-scale performer (and its soundstage can be expanded to 5.1.2 via LG's optional wireless rear speakers), and ready for music playback too – just use Bluetooth 4.2 or Chromecast to start the party. Other features include HDMI connectivity allowing passthrough of 4K HDR sources, Google Assistant (where available) for smart home integration, and dedicated sound modes. It's a superior all-rounder.
---
EISA TV SOUND SYSTEM 2019-2020
DALI KATCH ONE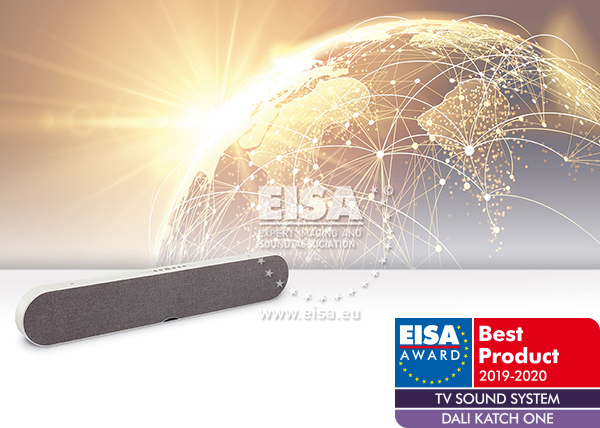 How to improve on DALI's KATCH wireless speaker? By expanding the form factor and functionality to target both TV addicts and music fans. Mirroring the design of its smaller stablemate, but introducing an innovative wall-mount solution and optional desktop feet, the KATCH ONE tucks a 10-driver speaker array, 4x50W amplifier and DSP engine into a stylish cabinet. Fed either TV audio or music (through HDMI ARC, digital optical audio or aptX Bluetooth), this soundbar conjures a full-range performance with powerful but nuanced bass, wide stereo imaging and excellent dialogue/vocal clarity. It's easy to use too, with DALI's compact remote offering quick control over source and Wide/Focused EQ modes, or operation via a TV handset. This is an elegant, refined two-channel audio solution.
---
EISA UNIVERSAL PLAYER 2019-2020
Pioneer UDP-LX500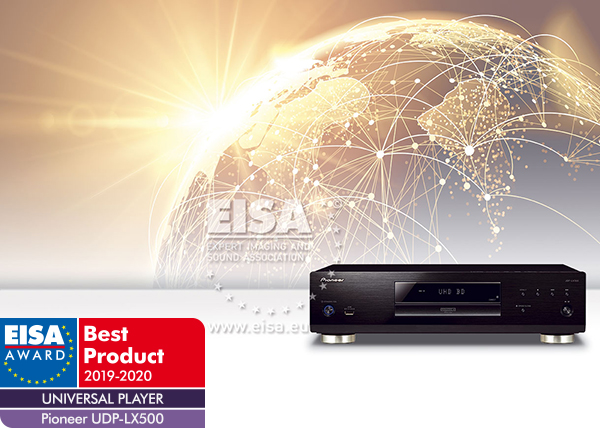 The UDP-LX500 is a machine of many talents. Both a state-of-the-art 4K Blu-ray spinner and a high-performance audio player, it will improve any home theatre setup. On the video side, format support covers both the HDR10+ and Dolby Vision dynamic HDR formats, with features including metadata information and display type selection to enable fine-tuned playback. For audiophiles, it offers compatibility with CD, SACD and DVD-Audio discs, plus hi-res files including DSD. Sound quality is precise and detailed, while UHD discs dazzle with sharpness and colour rendering. Moreover, its premium nature extends to design and build – the LX500 is whisper quiet in operation, while its gorgeous chassis design means you won't want to hide it away.
(Home Theatre Audio and Home Theatre Video combined award)
---
EISA AV ACCESSORY 2019-2020
IsoTek SMART Delta
Every AV system needs power – and lots of it – but only clean power will let all of your components, audio and video, deliver their very best performance. IsoTek's SMART Power range takes things even further, for as well as cleaning the power line, removing extraneous noise, and protecting against power surges and spikes, it offers fully programmable system power-up and shutdown. Using control over LAN or Wi-Fi, you can sequence the order of power on/off, assign names to each of the unit's outlets, and even set it all up and 'drive' it from an app on your phone. They don't call it 'SMART' for nothing – and its effect on your system's performance will be just as impressive.
(Home Theatre Audio, Home Theatre Video and Hi-Fi combined award)
---
EISA 8K TV 2019-2020
Samsung QE82Q950R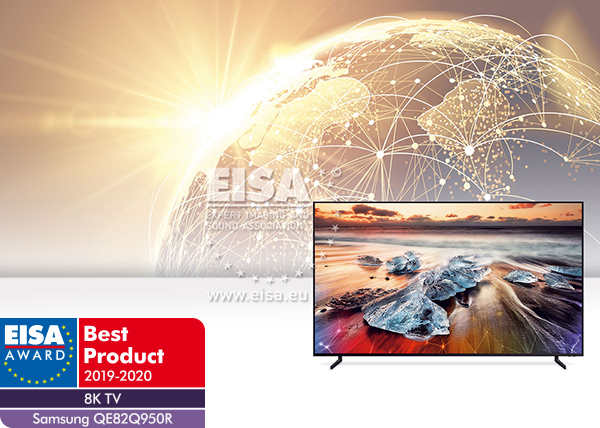 Sporting a native 7680x4320 pixel display, this 8K TV offers four times the detail of Ultra HD 4K. Play an 8K source via its USB media player or HDMI input to witness images with astonishing depth, clarity and sense of realness, while AI upscaling converts any HD and 4K source to fit the 82in screen. And its picture quality is about more than just resolution. Samsung's direct LED backlight and bespoke local dimming engine results in a precise HDR performance (including HDR10+) and its QLED panel ensures maximum colour volume. The introduction of Ultra Viewing Angle technology brings huge improvements to off-axis viewing, too. The QE82Q950R is a TV that's both ready for the future – and brilliant today.
---
EISA BEST BUY OLED TV 2019-2020
Philips 55OLED804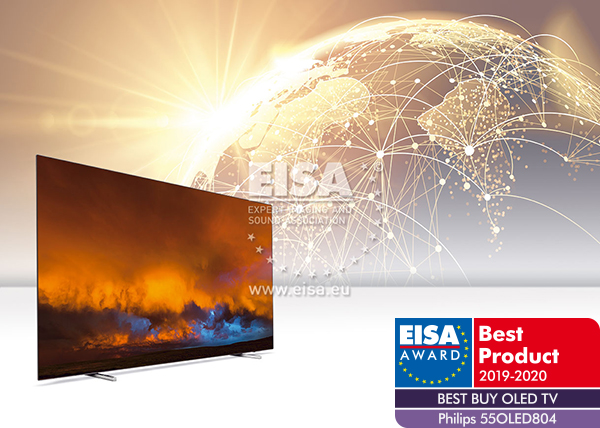 Philips brings its OLED image expertise and design flair to an affordable price point with the 55OLED804. At its heart beats a new iteration of the brand's P5 processor, now a dual-chip design delivering improvements to shadow detail and colour handling – this 55in model is a superb performer with native HDR sources (format support includes both HDR10+ and Dolby Vision), while Perfect Natural Reality introduces an HDR experience to any source. Add in Philips' exclusive Ambilight illumination for a more immersive experience, Dolby Atmos audio decoding and the content-rich Android TV smart system, and you have a television that simply oozes value for money.
---
EISA BEST BUY PROJECTOR 2019-2020
BenQ CinePrime W2700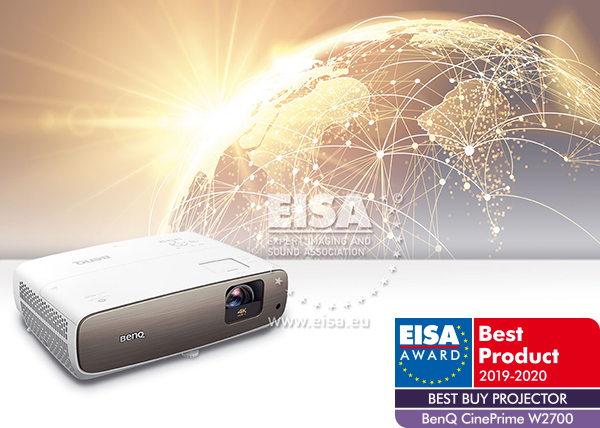 This compact 4K HDR projector brings largescreen home entertainment to the living room without compromising on performance or emptying your wallet. Instead, BenQ's CinePrime W2700 utilises the latest DLP chip design for 4K detail and couples it with a bespoke colour wheel and factory calibration to introduce DCI-P3 wide colour capacity to the market for the first time. In short, it ensures images that perfectly capture the creator's intent. User-friendly features include a 1.3x zoom and 12V trigger for installation flexibility, a powered USB port for firing up a streaming HDMI player, and intuitive on-screen menus giving control over its advanced image adjustments. Combine this with its sharp, colour-rich pictures and punchy integrated stereo sound system, and you have a projector that's the best in its class.
---
EISA HOME THEATRE PROJECTOR 2019-2020
BenQ CinePrime W5700
Colour accuracy, image detail, HDR playback and install flexibility – BenQ's W5700 flagship projector is an easy recommendation for a dedicated home theatre. The 11-element all-glass lens is optimised for 4K and delivers crisp, sharp images. Similarly, BenQ's customised colour wheel and lamp system delivers a remarkable 100% of DCI-P3 colour, making it an ideal match for HDR content. The projector is easy to install in your movie room too, with a large 1.6x zoom creating an expansive throw ratio, and horizontal and vertical lens shift to ensure accurate image alignment. Completing an impressive package is the attention to design – the anti-reflective matte chassis, and patterned lens ring to soak up stray light, leaving you focused on nothing but the pristine visuals.
---
EISA HOME THEATRE TV 2019-2020
Philips 65OLED984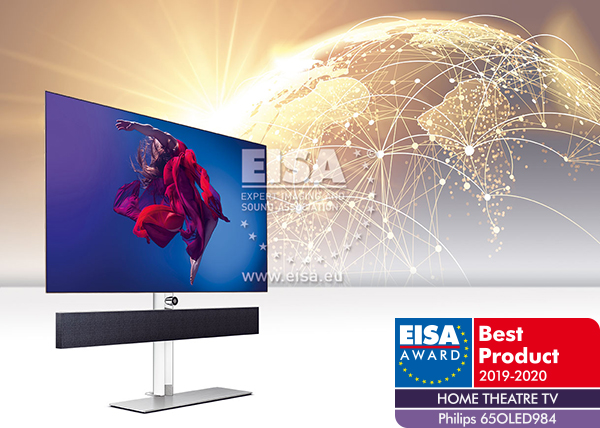 With its 65in screen and show-stopping audio, Philips' top-of-the-range OLED TV delivers an irresistible cinematic experience. Key to its impact is the Bowers & Wilkins-designed sound system, which utilises the brand's bespoke tweeter-on-top technology in conjunction with a left/centre/right driver array to produce dynamic, full-range sonics expanded by Dolby Atmos processing. No other flatscreen TV sounds quite like it! Joining this groundbreaking sound performance is Philips' refined picture quality, courtesy of its 3rd generation P5 processor, with support for both Dolby Vision and HDR10+ formats, and the OLED984's unique styling, which mounts the soundbar on a brushed aluminium stand to make a real design statement. In a word? Stunning.
---
EISA BEST PREMIUM OLED TV 2019-2020
LG OLED65E9PLA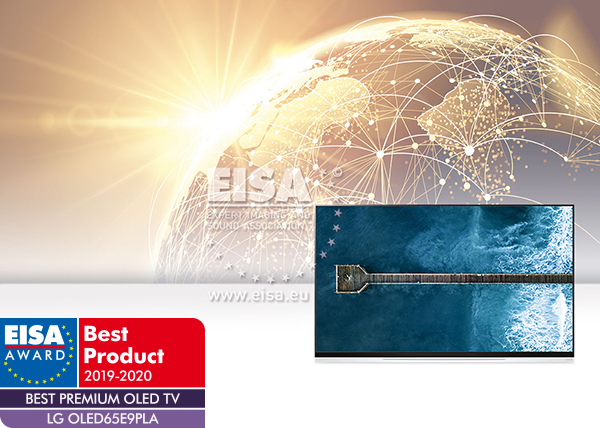 LG's Dolby Vision-enabled 65in OLED TV offers remarkable video performance combined with a captivating 'picture on glass' design. To get the best from 4K HDR sources, the set's second-generation Alpha 9 processing engine deploys AI Brightness and Dynamic Tone Mapping features, which build upon the deep black levels, rich colours and precision illumination for which OLED technology is renowned. Joining these premium pictures is an immersive sound performance with extensive flexibility – Dolby Atmos playback, unique AI Sound processing and room optimisation guarantee an experience tailored to the user's preference. Completing an impressive all-round package is the TV's intuitive operation via LG's WebOS platform and comprehensive smart talents.
---
EISA SMART HOME TV 2019-2020
LG 65SM9010PLA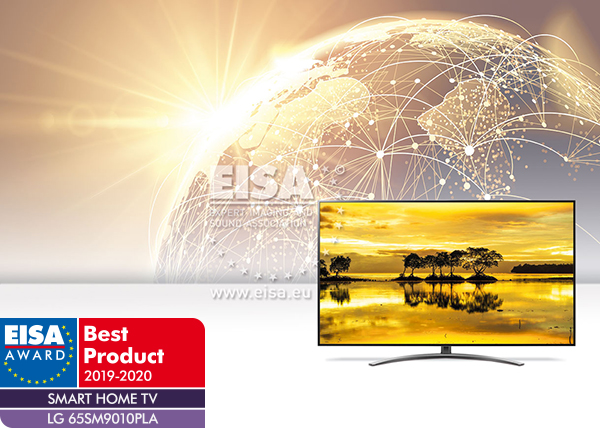 Offering intelligent smart skills, a slim bezel design, bright 4K HDR images and advanced audio features, LG's 65SM9010 meets the brief for an all-round entertainment solution. Forward-thinking specifications include HDMI 2.1 connectivity on all inputs, Dolby Atmos and Dolby Vision support, and a NanoCell LCD panel with direct LED backlight and local dimming. Picture performance, boosted by AI processing and wide angle delivery, is suited to movies, streaming, gaming and sports. And then there's the TV's slick operation and usability. The new WebOS 4.5 user interface, integration of Amazon Alexa and Google Assistant, plus LG's Home Dashboard smart home monitoring function, make this the perfect partner for a modern home.
---
EISA PHOTO/VIDEO CAMERA 2019-2020
Sony α6400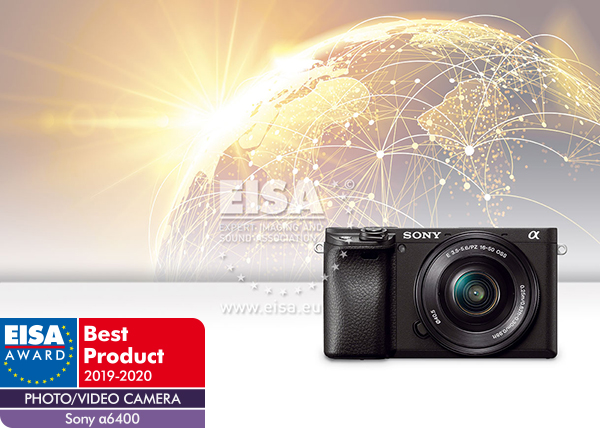 For content creators who shoot as much video as stills photography, the α6400 packs an impressive array of tools into its compact, portable body. The highlight is undoubtedly Sony's innovative Real-time Tracking and Real-time Eye AF, that keeps your subject sharp and in-focus no matter how it moves around the scene. Other advanced video options include 4K high dynamic range recording, S-Log profiles for pro-level colour grading, a flip-up screen that can face forwards for vlogging and a microphone socket for high-quality sound recording. Meanwhile photographers will appreciate the excellent quality of its 24-megapixel image files.
(Home Theatre Video and Photography combined award)
---
And the rest of the awards...
​HI-FI
EISA ACTIVE STEREO LOUDSPEAKER 2019-2020
ELAC Navis ARB-51
EISA ALL-IN-ONE SYSTEM 2019-2020
Naim Audio Mu-so 2nd Generation
EISA BEST BUY AMPLIFIER 2019-2020
Rotel A11
EISA BEST BUY TURNTABLE 2019-2020
Pro-Ject X1
EISA BOOKSHELF LOUDSPEAKER 2019-2020
Monitor Audio Gold 100
EISA COMPACT STEREO SYSTEM 2019-2020
Marantz Melody X (M-CR612)
EISA DAC 2019-2020
Chord Electronics Qutest
EISA DIGITAL SOURCE 2019-2020
Pro-Ject CD Box RS2 T/Pre Box RS2 Digital
EISA HEADPHONE 2019-2020
Focal Elegia
EISA HI-FI UPGRADE 2019-2020
IsoAcoustics GAIA
EISA HIGH-END AMPLIFIER 2019-2020
Hegel H390
EISA HIGH-END LOUDSPEAKER 2019-2020
KEF R11
EISA LOUDSPEAKER 2019-2020
Bowers & Wilkins 603
EISA SMART AMPLIFIER 2019-2020
NAD M10
EISA STEREO SYSTEM 2019-2020
Primare CD35/I35 Prisma
EISA STREAMING DAC 2019-2020
Mytek Brooklyn Bridge
EISA TURNTABLE 2019-2020
MoFi UltraDeck+M
EISA WIRELESS STEREO LOUDSPEAKER 2019-2020
KEF LSX
PHOTOGRAPHY
EISA CAMERA OF THE YEAR 2019-2020
Nikon Z 6
EISA ADVANCED CAMERA 2019-2020
Fujifilm X-T3
EISA ADVANCED FULL-FRAME CAMERA 2019-2020
Panasonic LUMIX DC-S1R
EISA BEST BUY FULL-FRAME CAMERA 2019-2020
Canon EOS RP
EISA BEST BUY ZOOM LENS 2019-2020
Tamron 35-150mm F2.8-4 Di VC OSD
EISA CAMERA INNOVATION 2019-2020
Fujifilm GFX100
EISA COMPACT CAMERA 2019-2020
Sony Cyber-shot RX100 VI
EISA LENS INNOVATION 2019-2020
Canon RF 28-70mm F2L USM
EISA PHOTO INNOVATION 2019-2020
Sony Real-time Eye AF
EISA PHOTO SOFTWARE 2019-2020
Skylum Luminar
EISA PORTRAIT PRIME LENS 2019-2020
Sony FE 135mm F1.8 GM
EISA PROFESSIONAL STANDARD ZOOM LENS 2019-2020
Nikon NIKKOR Z 24-70mm f/2.8 S
EISA PROFESSIONAL TELEPHOTO ZOOM LENS 2019-2020
SIGMA 70-200mm F2.8 DG OS HSM | Sports
EISA STANDARD PRIME LENS 2019-2020
Canon RF 50mm F1.2L USM
EISA STANDARD ZOOM LENS 2019-2020
Canon RF 24-105mm F4L IS USM
EISA SUPER-TELEPHOTO PRIME LENS 2019-2020
Canon EF 600mm f/4L IS III USM
EISA TELEPHOTO PRIME LENS 2019-2020
Sony FE 400mm F2.8 GM OSS
EISA TELEPHOTO ZOOM LENS 2019-2020
SIGMA 60-600mm F4.5-6.3 DG OS HSM | Sports
EISA WIDEANGLE PRIME LENS 2019-2020
Sony FE 24mm F1.4 GM
EISA WIDEANGLE ZOOM LENS 2019-2020
Tamron 17-28mm F2.8 Di III RXD
MOBILE DEVICES
EISA ADVANCED SMARTPHONE 2019-2020
OnePlus 7 Pro
EISA BEST BUY SMARTPHONE 2019-2020
Xiaomi Redmi Note 7
EISA BEST EARBUDS 2019-2020
JBL Reflect Flow
EISA BEST NOISE-CANCELLING HEADPHONES 2019-2020
Sony WH-1000XM3
EISA CONSUMER NOISE-CANCELLING HEADPHONES 2019-2020
JBL LIVE 650BTNC
EISA ELECTRIC VEHICLE 2019-2020
Xiaomi Mi Scooter Pro
EISA LIFESTYLE SMARTPHONE 2019-2020
Honor 20 Pro
EISA MOBILE SPEAKER 2019-2020
LG XBOOM Go PK7
EISA PARTY SPEAKER 2019-2020
JBL PartyBox 100
EISA WIRELESS IN-EAR HEADPHONES 2019-2020
OnePlus Bullets Wireless 2
EISA BEST SMARTPHONE 2019-2020 (Combined award with Photography)
Huawei P30 Pro
IN-CAR ELECTRONICS
EISA IN-CAR HEAD UNIT 2019-2020
KENWOOD DMX8019DABS
EISA IN-CAR SOUND PROCESSOR 2019-2020
Brax DSP
EISA IN-CAR AMPLIFIER 2019-2020
ESX QE1200.4
EISA IN-CAR SPEAKER SYSTEM 2019-2020
Morel Elate Carbon 603
EISA IN-CAR SUBWOOFER 2019-2020
Ground Zero GZPW 10SQ
EISA IN-CAR SMART UPGRADE 2019-2020
Alpine PWD-X5
EISA IN-CAR DASHCAM 2019-2020
Alpine DVR-F800PRO
EISA IN-CAR HIGH-END COMPONENT 2019-2020
Eton Core S3
EISA IN-CAR INNOVATION 2019-2020
Zapco HDSP-Z16V

SPONSORED VIDEO

SPONSORED VIDEO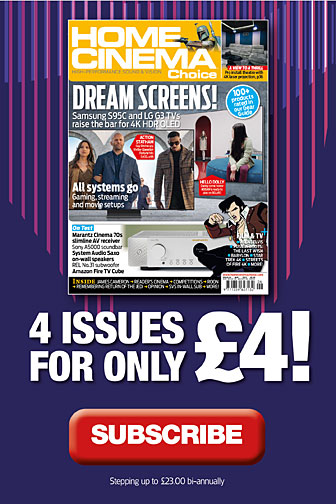 Home Cinema Choice #332

is on sale now, featuring: Samsung's 8K flagship; Anthem AVM 90 processor; B&W 800 Series Diamond; LG smart projector; Hollywood box office bombs; Hitchcock 4K; and more
Want to see your home cinema system featured in the pages of HCC? Click
here
for more info.