Marantz AV8802A AV processor review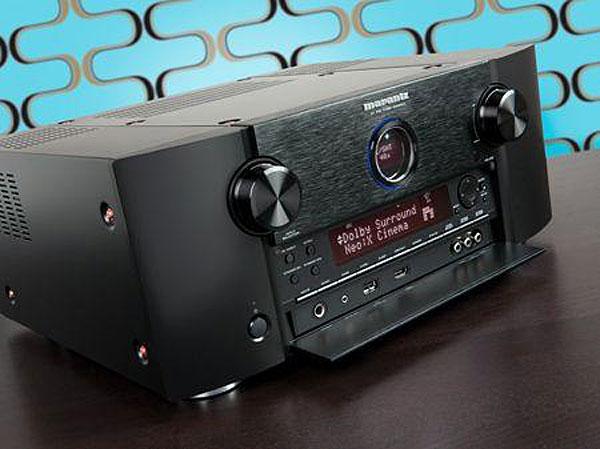 This top-flight 11-channel AV processor is bound to satisfy your movie and music needs

Marantz's flagship AV processor has received the A suffix it perhaps always should have. The AV8802A comes to the table boasting HDCP 2.2 – so is compatible with protected 4K content from forthcoming UHD Blu-ray spinners. Bought a non-A model earlier in the year? HDCP 2.2 is also


available as an aftermarket upgrade.
So what we have here is a bang-up-to-date 11.2-channel AV preamplifier with Dolby Atmos decoding as standard, Auro-3D already available as an optional firmware upgrade and the promise of a DTS-X upgrade at any minute. Well, any month anyway. This is Marantz's ultimate statement on the art of home cinema, currently taking over Denon's mantle of the big cheese of AV in D&M's portfolio. Ironically, during this audition, Marantz's new marvel replaced a much vaunted – although now long in the tooth – Denon AVP-A1HDA.
Straight out of its enormous cardboard box, the AV8802A settles itself on to my equipment rack with purposeful menace and muscular build quality. It's not got the size, weight or sheer metal content of the outgoing Denon, but let's not forget it's not much more than half of the AVP-A1HDA's original £6,000 price tag either.
Much of the menace comes from its slab-like black fascia, with several different textures going on, and a knob and badge combo that looks like a triple-eyed beastie. I would have preferred Marantz's champagne silver-gold colour to match my other silver kit, but in best Henry Ford tradition the options are black or nowt. That seems a slightly strange move considering Marantz's premium Blu-ray player is also available in a 'fizz' finish.
In typical AV receiver and processor style, a large drop-down flap on the front reveals a number of buttons and ports, and the back panel is packed with connections. Essential for a processor with high-end ambitions is the long row of balanced XLR outputs. Count 'em – there are 15. While this processor will only output 11.2 channels at any one time the additional connections can be user-configured. So, for example, you can have 7.2.4 – with four Dolby Atmos ceiling speakers – and have front height speakers connected and simply switch between the two depending on content.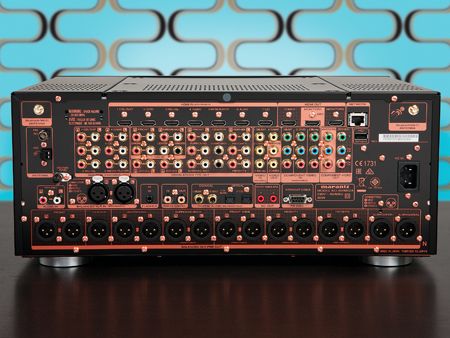 Under the hood
The HDCP 2.2-compatible HDMI array is eight-in and three-out, with ARC on one of the outputs for direct connection to your television. There is also a raft of component video connections, a 7.1-channel input stage and normal phono connections to your power amplifier(s) should they not have balanced inputs. A hardwired network connection, as well as built-in Wi-Fi and Bluetooth, caters for network audio features including AirPlay and control via Marantz's rather funky app.
Yet the AV8802A is not over-endowed in the digital connection department. While you do get four digital inputs on the back panel, two coaxial/two optical, there are no S/PDIF outputs at all and no USB-B input. This means those wanting to hookup a laptop will almost certainly have to connect to the Marantz wirelessly rather go in directly to its on-board DACs. Moreover, in an era when almost every high-end AV product is network connected, just a single Ethernet port for the 'hub' device in your system might feel a bit mean.
Under the hood the AV8802A is billed to deliver the ultimate in cinematic surround sound, and Marantz has thrown its best technologies, best engineers and best supporting components at it to ensure it lives up to the hype. From a pure audio perspective it uses Marantz's HDAM (Hyper Dynamic Amplifier Module) technology found on the company's reference series audiophile components. Compared to conventional op amps, HDAMs claim to offer superior noise floor, extreme wideband performance and the ability to match the maximum dynamic range of the highest resolution audio formats. Needless to say this processor handles pretty much any music and AV audio format you care to throw at it, from humble MP3 up to 2.8MHz DSD and everything Dolby and DTS in between.
The video processing section is no slouch. The AV8802A will pass 4K/Ultra HD at 50Hz/60Hz with full 4:4:4 sub-sampling. It can upscale 1080p content to 4K and transcode HD and SD analogue sources too. If that doesn't excite your video imaging juices, then the processor is also certified by the Imaging Science Foundation and sports a gamut of advanced ISFccc video tweaking controls.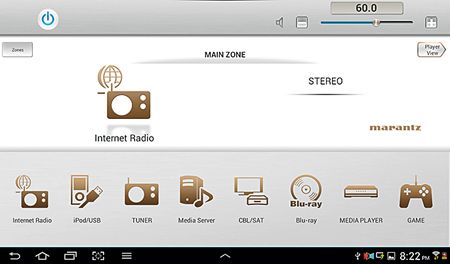 It's magic time
Setting up and connecting the Marantz is made easier by the colourful GUI setup wizard that guides you through every connection step-by-step. Considering the sheer number of terminals and cable ends one is likely to be juggling, it's useful even if you're an old hand at cooking up processors. For room EQ, you get Audyssey's flagship Platinum Suite with MultEQ XT32, plus Audyssey Installer Pro compatibility on the off chance you have any spare cash left after buying it to have it professionally installed. I, on the other hand, connected the Marantz to my existing power amp array, Blu-ray player, monitor and projector and set it up myself.
The system uses eight placement measurements to average a soundfield around your listening position, ironing out hotspots so more people can enjoy the show. It's rather time-consuming and is annoyingly hamstrung by a niggle that has existed on Denon and Marantz AV hardware for as long as I can remember. That is, it uses a fixed datum volume level target for each channel of 75dB and it will apply volume cuts to bring every channel down to this level when outputting its fixed-level test tones. As the Audyssey system's maximum cut is -12dB, if you have monster power amps, very efficient speakers (90dB/W+) or speakers quite close to the listening position (tick, tick and tick here) then the system will end up cutting all over-loud channels by -12dB – which doesn't balance different speaker efficiencies at all. While you can then go back in and manually adjust each channel using a separate SPL meter, that is hardly 'auto' setup, and I do wonder what potentially negative effect that has on Audyssey's room analysis and filtering. Why can we not be able to adjust the target sound pressure level or at least measure relative to the front main speakers?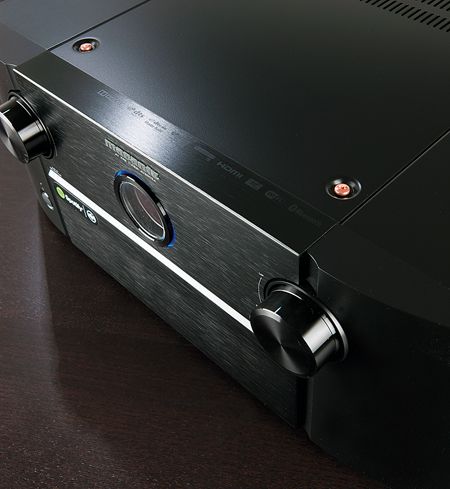 High-fidelity hero
Listening to the Marantz for the first time with something of a cob on about the setup, I really needed to be wowed. And, man, I was wowed. I was wowed enough to want to spend the rest of my life kicking back and enjoying one of the most sophisticated and detailed multichannel sounds that has ever graced my listening room. If Marantz has endeavoured to make a processor where every channel will appeal to a serious hi-fi audiophile, then the company has succeeded. It's rolled up its many decades of heritage and high-fidelity expertise into one rather mean-looking black box.
Having been used to the Denon AVP-A1's penchant for the dramatic and its ability to turn a family comedy into a high-octane ride, the Marantz approaches its task with a wholly different attitude. It is all about the subtle, all about the detail and all about crafting a precision surround sound experience with nothing added and nothing taken away. It's a clichéd phrase, but I reckon this processor gets oh-so-close to how any director would have intended their film to sound. The balance is so natural and immersive, and free from added character, that this could easily be the reference point for home cinema sonics.
With my extensive back catalogue of Blu-ray favourites, letting the Marantz's Dolby Surround mode upscale the 5.1 and 7.1 soundtracks to a 7.2.4 Atmos experience is a complete no-brainer. Unlike processed height and width channels where I constantly turn the effects on or off depending on the movie, I left the AV8802A in audio upscale mode for movies all of the time. It really is sublimely impressive how even content with no original overhead material gains immense height – or, rather, vertical depth. There is no vagueness to the sound brought about by artificial channel processing – it's clean, crisp and with added height. It's quite amazing.
Switch to Dolby Atmos-encoded content and the sound steps up another notch. Gravity on Blu-ray proves simply breathtaking – quite literally. Through the many air-less sequences, and particularly when the lander is filling up with water, I found myself holding my breath. The detailed soundscape of the enclosed space, changing as the water comes in, is captivating and believable. Those 11 channels subtly fool you into thinking you are right there. Even my feet got wet… although I found out that was from spilling the wine.
The Marantz's natural balance is the perfect match for Gravity's thoughtful soundtrack, but could it play hardball too and deliver a supercharged adrenaline rush when required? I cued up The Expendables 2 to find out – and by the end of the opening sequence I was in fits of laughter at the spectacular dynamic range and lung-crushing bass effects that the AV8802A delivered in spades. Its abilities are not genre- or volume-dependent, they are simply scalable. If anything, The Expendables 2, thanks to the Marantz's ability to disentangle a soundtrack, sounded even better than it did on the old Denon. Where the latter would generate a spectacular and impressive wall of sound, the Marantz manages to get deeper into the chaos, revealing effects that I hadn't previously even realised were there.
The overall width, depth and height of the soundstage seems huge. This film's audio is horrifically compressed to the point where voices are as loud as gunfire, and it can feel like you're simply being battered by your own speakers after a while. Yet the Marantz seems to recreate something of the missing dynamic range purely by its ability to highlight each and every component. I was convinced the Denon was going to kick the AV8802A off the kit rack with action fare, but how wrong could I be? Its subtleties and detail massively reduce the fatiguing barrage of noise of some of the more gung-ho movies and play to the strengths of atmospheric actioners like American Sniper.
Making a statement
The AV8802A brings audiophile-quality processing into a multichannel environment and for a relatively reasonable cost. The only other processor I have tested for HCC to achieve this was the Anthem Statement D2V – a few years ago now – at near three times the price. To put my money where my mouth is, I will be buying an AV8802A and consigning my Denon AVP-A1HD to history. And, for the first time ever in my three-decade love affair with home cinema, I'll bin my high-end two-channel preamp as well. It is simply that good with music, too.
Specification
Dolby Atmos: Yes
DTS:X: Yes (via future firmware update)
Auro-3D: Yes (via paid upgrade)
Multichannel input: Yes. 7.1 channel
Multiroom: Yes. Zone 2 and 3
AV inputs: 4 x composite; 4 x digital audio (2 x optical and 2 x coaxial)
HDMI: 8 x inputs; 3 x outputs
Component video: 3 inputs; 2 x outputs
Video upscaling: Yes. To to 4K
Dimensions: 440(w) x 410(d) 185(h)mm
Weight: 13.6kg
Also featuring: Audyssey MultEQ XT32 Pro; ISF video calibration; Apple OS and Android control apps; DLNA networking; Ethernet; Wi-Fi; Bluetooth; USB; AirPlay; FM and internet tuner; Spotify Connect; HDCP 2.2; Hyper Dynamic Amplifier Module design; 4K 50/60Hz passthrough and 4:4:4 sub-sampling; 11.2-channel processing; XLR outputs; Pure Direct mode; Compressed Audio Enhancer; DSD, FLAC, WAV and ALAC hi-res audio support; RS232

SPONSORED VIDEO

SPONSORED VIDEO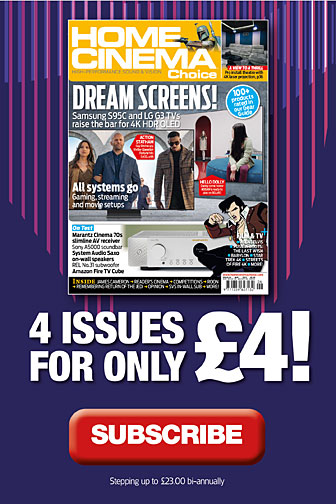 Home Cinema Choice #332

is on sale now, featuring: Samsung's 8K flagship; Anthem AVM 90 processor; B&W 800 Series Diamond; LG smart projector; Hollywood box office bombs; Hitchcock 4K; and more
Want to see your home cinema system featured in the pages of HCC? Click
here
for more info.