Krell Foundation review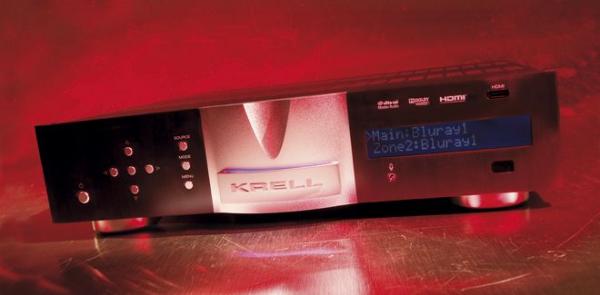 Entry-level AV processor proves the US brand's commitment to quality hasn't faltered
Every now and again something comes along that is so focused and so madly different from the mainstream that it stands in a category virtually of its own. While the big Japanese brands cram ever more licensed and bespoke home cinema technology into ever cheaper AV receivers, there are brands that just refuse to choose the same inevitable path – a path that logically can only lead to a reduction in outright performance as R&D cash is poured into features, logos and gadgetry rather than sound quality.
Not so Krell. The brand has always been about no-compromise performance and always will be. For that reason Krell is my muse, my aspiration and my desire – despite coming from the wrong side of the Atlantic. So it was with a hefty bump down to earth that half-an-hour into reviewing the sumptuous new Krell Foundation AV processor that I found myself confused, frustrated and bleeding all over the sofa. Thankfully the feeling didn't last for long but it was a shaky start.
In my haste to unbox the beast and revel in its heavyweight build, superb connection portfolio and drop-dead gorgeous design, a sharp rear-facing corner of the fascia took a chunk out of my thumb and I was dealing with altogether the wrong sort of claret spillage. So, put a plaster on and start again.
Designed to dazzle
The Foundation processor might be Krell's entry-level device but it has spectacular presence on the rack. The fascia is gloriously textured satin black with bright metallic silver in the central portion and, powered up, the menacing red glow from behind the curved logo plate turns bright blue. The display is a two-line dot matrix affair in a subtle hue and defaults to off, coming back on instantly when you swap inputs or tweak any settings.
At £6,500 the Foundation is considerably less expensive than the previous Krell processor we auditioned (the £13,000 S-1200U), despite featuring much of the same internal hardware. A chunk of the saving is financed by ditching the former's milled aluminium cosmetics, but I'm not that fussed. Yes, the Foundation's paint is a bit prone to picking up dust and finger marks, and the silver paint is not as lush as solid aluminium, but the overall look is pure, purposeful beauty.
The rear panel is arguably even more appealing. There are no less than nine v1.4 HDMI inputs, plus fully-balanced XLR outputs for seven channels and two subwoofers, comprehensive trigger ports and plenty of analogue inputs. A tenth HDMI input graces the front panel, and all boast Krell's Intelligent HDMI switching.
This memorises HDMI sources, including handshaking and resolution information, making swapping between inputs instantaneous and without the few seconds of blank screen most AVRs require to re-sync to a new HDMI source. It works well too, with barely a flicker as you scroll between inputs.
The analogue video inputs are all transcoded to HDMI, while the HDMI inputs themselves offer pure passthrough of 3D and 1080p signals (but not 4K, which could prove a disappointment to early adopters). There is no video processing here and no onscreen GUI, meaning setup is purely through the two-line front-panel display and that is where the confusion comes in. More of which later.

This processor does not boast THX badges, upscaling, smart networking features, USB inputs, media streaming or height and width channels, but the key performance parts are all present and correct. The huge power supplies, 32-bit DSPs, 32-bit Sabre DACs and high-end analogue output stages are the stuff of audiophile dreams.
The Foundation proved spectacularly easy to install in my system, as I simply swapped the XLR, HDMI and network cables straight over from my Denon AVP-A1HD. As tested, the Krell drove five Sony TA-N1 stereo power amps (three bi-amping the front three channels), a Tannoy Dimension seven-channel speaker package and a pair of Velodyne DD18+ subwoofers. Somewhat less extreme systems are available, including the excellent Krell S-1500 multichannel power amplifier (see the bottom of this review).
The remote control is a proper beast. It's hewn from extruded metal and offers an array of small buttons that engage with the sort of clunk that German car engineers use for doors. It's logically laid out, buttons come to thumb with ease and it feels great in the hand – as long as you don't have to hold it for too long, as it's rather heavy. To fit batteries you have to dismantle it, removing four Torx bolts with the tool provided. A run-of-the-mill plastic remote this is not, but on the downside there is no backlight, which I think is really rather essential for home cinema use. There's no alternative control App as yet, either. As Krell offers a remote App for the matching Connect music player, it can only be a matter of time.
Getting set up was the cue for frustration. The two-line display makes navigating the menus a real challenge at first and my opening gambit of checking for the latest firmware threw up a load of messages in a language that only Krell's technical department must understand. The supplied setup mic is a rather uninspiring plastic affair and engaging the auto setup and Krell's Automatic Room Equalization System (ARES) is two separate routines.
Knowing my power amplifier, speaker and subwoofer setup intimately, I know the exact distances, delays and level trims required. Or so I thought. The Krell's single sweep ear-marked all four rear channels a smidgeon too low for my tastes and the subs had to be boosted with their own volume controls to be detected by the setup mic. It then set them about 10dB too hot. Whether this was a room anomaly or Krell's covert application of a THX-like cinema balance is unclear, but some of this bass overkill was in fact due to the crossover settings.
Quite why it thought my centre channel speaker, which is the size of a small car and has three 6in drivers, has no usable output below 140Hz remains a mystery. Likewise, the rear speakers – massive, ported floorstanders with 10in drivers – were crossed over at 80Hz when I know they are flat to 40Hz. These settings put a huge amount of LF information through the subwoofers and the overall balance was off.
A second run with the mic in a different position produced far more favourable results but I couldn't help feeling I could do better. I duly ditched the processor's suggested parameters, adjusted every setting by knowledge, ear and dB meter, and kicked back for a night at the movies. That is actually remarkably easy to do because, once setup, the Foundation processor is simplicity itself to use, with automatic operations such as the intelligent input switching and auto format decoding never missing a cue.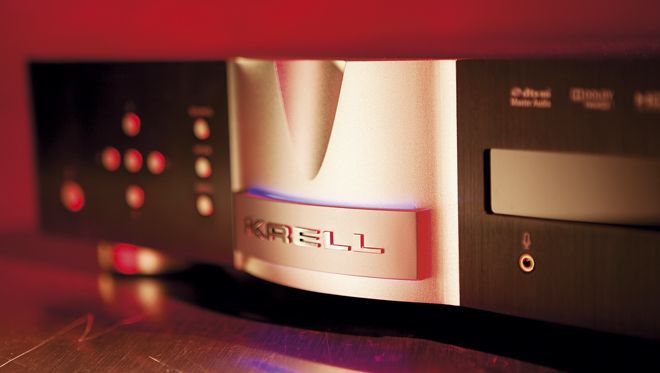 Utterly immersive
The Krell Foundation unleashed a cinematic aural tsunami with the first movie I fed it. Only one processor has recently come close to its sumptuously detailed and robust presentation, and that is the considerably more affluent Anthem Statement D2V. Its sonic scale is huge, the feel is utterly immersive and the sound is completely free from strain. This is a processor that will please at every level, with every genre and disappear into the background whilst allowing the film's soundtrack, effects and dialogue to simply shine through. I hadn't got to the opening titles of Cloud Atlas before knowing in my heart that Krell had not let me down. I so want to own this processor.
Its balance is smooth as silk, with a spectacular clarity and insight throughout the midrange, and dialogue that makes my Denon AVP-A1HD sound more congested than a truffle hound with hayfever. In Cloud Atlas, Tom Hanks' voice is instantly recognisable through each of his characters and the emotion conveyed is truly sublime.
The image, unfettered by processing, allows your Blu-ray player to do its very best and the processor's overall sonic performance raises the bar for home cinema. While £6,500 is not cheap, the Krell is a gold-plated bargain.
Two weeks, 15 movies and copious pages of notes later I cannot find a single sonic or operational foible with Krell's 'entry-level' separate. The Hobbit: An Unexpected Journey came across as impressively epic with an intensity that keeps you right on the edge of your seat, while a family night with Mamma Mia was utterly infectious, hilarious and toe-tappingly good fun. Even Pierce Brosnan's singing seemed bearable.
A mad evening with a trio of Fast and Furious movies proved the Krell can get loud and proud without losing its fabulous grip on the overall picture. It handles this sort of gung-ho action with effortless ease, delivering a blistering performance packed full of well-spaced effects and crisply articulated dialogue. Its performance is stunning in every conceivable acoustic respect, and I never thought I would say that about any AV hardware, period.
And just when you think life can't get any better in the media room, switch to music and the Krell morphs seamlessly into a high-end stereo pre-amp. The S/PDIF digital inputs will only handle up to 44kHz/16-bit signals but I can promise a significant upgrade from your current CD player unless it is of truly stellar provenance. Lana Del Rey's Born to Die CD is delivered full of emotion and detail, with bass that digs extremely deep without ever sounding bloated. High-frequency elements, like the edges of percussion instruments and cymbals, have a tangible texture and extend way up the scale without sounding harsh or grainy. Again, it is the openness through the midband that sets the Krell apart, creating realistic music that communicates as much with the soul as it does the ears.
All aboard the Big Dipper
Reviewing the Krell Foundation has been a rollercoaster ride, mixing frustrating lows with truly sublime highs, and emerging as the best-sounding AV processor at the price by a game-changing margin. Okay, those with a penchant for the latest AV gadgetry, onscreen GUIs and more than seven channels are going to be left wanting – but only until they hear what the Krell can do. It is as sumptuously smooth as it is epic in scale, and its openness and insight is heavenly with movies and music alike.
The cut thumb, the errant setup and confusing menus are an irrelevance because you only have to manage them once (and you're likely at this price to get a professional to do it for you). The stunning sonic performance and seamless day-to-day operation, on the other hand, with thrill you for a lifetime.
---
HCC VERDICT
Krell Foundation
Price: £6,500 Approx
www.krell.com
Highs: Class-leading cinematic sound; sublime musical performance; extensive range of digital connections; gorgeous looks and brand kudos
Lows: Lack of a GUI makes setup awkward; ARES didn't like my room; no 4K passthrough, upscaling or height/width processing
Performance: 5/5
Design: 5/5
Features: 45
Overall: 5/5
---
S-1500 power amp – Krell's partner in AV crime

We first reviewed the S-1500 in 2010, enjoying its 7 x 150W power output and sumptuously smooth and detailed sound quality – traits it shares with the new Foundation processor.
As an ideal partner for the new kid on the block, it accepts balanced XLR inputs as well as phonos and can be powered up automatically using one of the Foundation's 12V triggers. Under the hood is a huge linear power supply with quick-charging capacitors and high-current surface-mount technology throughout. The design is a mix of amplifier technologies, with Class A circuitry deployed across the input stages and high-current Class A/B for power delivery. And don't worry about the Foundation's black and silver cosmetic execution, as the S-1500 is now available in matching black livery.
Back in the day we were also taken with the instruction manual, which quoted the S-1500's maximum heat output at 1,900 BTU/hr. Green-minded AV fans should look elsewhere!

SPONSORED VIDEO

SPONSORED VIDEO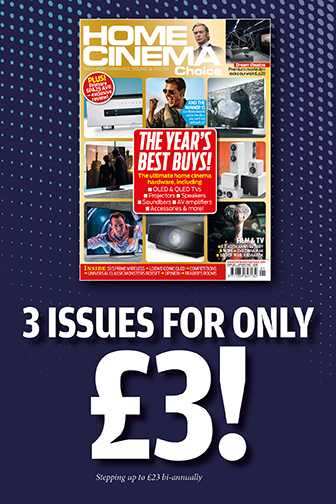 Home Cinema Choice #332

is on sale now, featuring: Samsung's 8K flagship; Anthem AVM 90 processor; B&W 800 Series Diamond; LG smart projector; Hollywood box office bombs; Hitchcock 4K; and more
Want to see your home cinema system featured in the pages of HCC? Click
here
for more info.