Frankenweenie 3D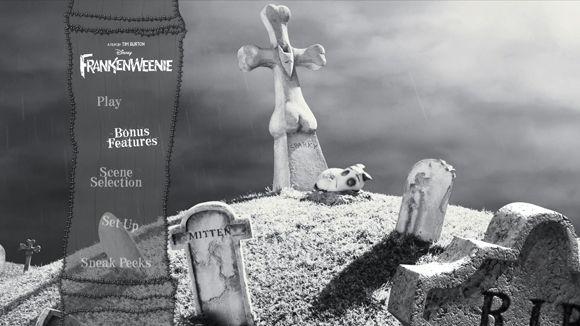 Even death can't stop a dog from being a boy's best friend in Burton's animated horror spoof
Back in 1984, young Disney animator and aspiring filmmaker Tim Burton made a live-action short about a young boy who brings his dog back from the dead. Naturally, it didn't fit the Disney ethos and was locked away in a vault – only to finally see the light of day in the mid-'90s. Skip forward the best part of two decades and Burton has revisited his homage to Frankenstein as a feature film – only this time as a Disney-sanctioned stop-motion animation.
But bigger isn't always better and this new take on the material struggles to find a meaningful way to pad out the original story. So, even if it never loses its charm – and adds even more references to classic monster movies into the mix – all the emotional beats are lifted wholesale from Burton's original short, and those familiar with it may end up wondering why he bothered with this new version.
Picture: Disney's 2D AVC 1.85:1 1080p version is a model of immaculate Blu-ray encoding, boasting an array of clean whites, deep blacks and countless subtly graduated shades of grey in between. Detail levels are delicious throughout.
The disc also includes a 3D MVC 1.85:1 1080p transfer, and while it never goes for in-your-face gimmickry, it's remarkably immersive and highlights the creative camera placements and set designsthat Burton employs to bring life to his animated characters. It may be a black-and-white flick, but that doesn't stop Frankenweenie from being utterly convincing – and at least no one can moan about any muted colours with this slice of stereoscopy.
Picture rating: 5/5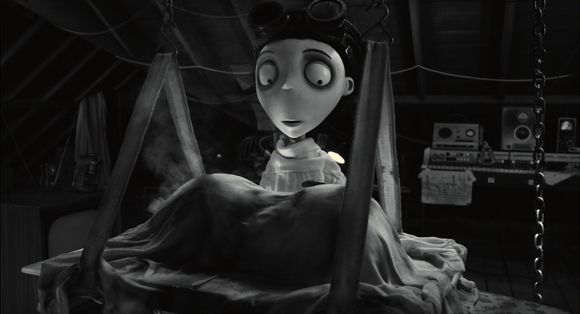 Audio: For much of its running time, Frankenweenie's DTS-HD Master Audio 7.1 soundtrack is fairly cleanly split into two halves.
The majority of the heavily lifting (acoustically speaking) is done by the front of the soundstage, which proves to be suitably wide and engaging, with excellent dynamic range and plenty of priority given to the dialogue. Meanwhile, the rears are content to handle the odd surround effect, but most of the emphasis here is given to Danny Elfman's orchestral score, which sounds absolutely superb and offers the onscreen action a playful Gothic background to work against.
That said, the audio engineers also know when to use the full soundstage for a more dramatic impact. Sparky's resurrection in Chapter 5 finds thunder rumbling through the rears and arcs of electricity cracking across all the speakers. And things get even more creative when the monsters go on the rampage in the film's final act, with the 7.1 DTS-HD mix conjuring up a convincing 360-degree soundscape full of spatial effects and hefty bass.
Audio rating: 4/5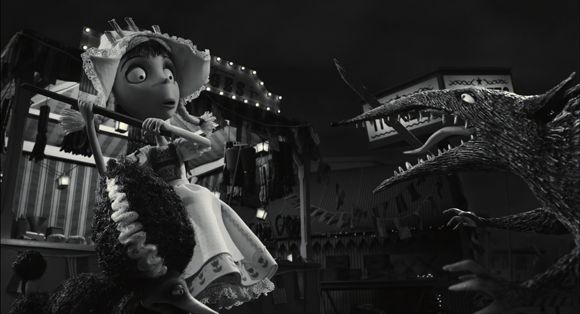 Extras: Frankenweenie certainly lives up to the second half of its name when it comes to bonus features, with nothing at all included on the 3D platter and only a handful of goodies available on the 2D disc.
Original Short: Captain Sparky Vs. The Flying Saucers is another of Vincent and Sparky's stop-motion home movies. Cramming a decent amount of gags into its short running time, it's a cute exclusive that shows that there might still be a life for Vincent and Sparky in further animated shorts.
Miniatures in Motion: Bringing Frankenweenie to Life does a middling job of looking at how the film was put together, with input from director Tim Burton and most of the other notable members of the crew. But, given that it's only 23 minutes long, it's rushed in places as it tries to cover so many aspects of the production.
A further glimpse behind-the-scenes is provided by Frankenweenie Touring Exhibition, a video covering a promotional tour designed to show off the art, puppets and props used to make the 'toon. But, yet again, with a running time of just five minutes, it's far too brief to do its subject full justice.
Tim Burton's original Frankenweenie short film is also present. And, while it was previously included on the Blu-ray release of A Nightmare Before Christmas, it's still a very welcome addition to this set. Finally there's a music video for Plain White T's cover version of The Ramones' song Pet Sematary.
Extras rating: 2/5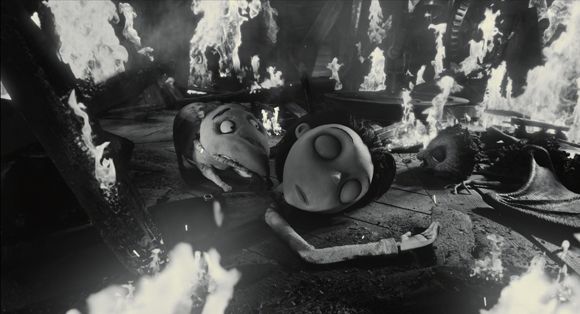 We say: A superior 3D encode brings out the very best in Tim Burton's latest stop-motion animation on Blu-ray
Walt Disney, All-region BD, £28 Approx, On sale now
HCC VERDICT: 3.5/5