Xbox One review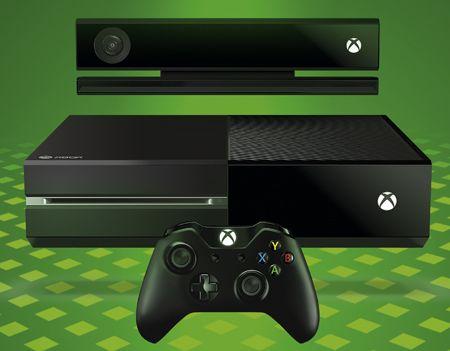 Considering what a success the Xbox 360 has become since its 2005 launch, with its groundbreaking network play and ever-growing media portal/hub functionality, the Xbox One's journey to shop shelves was surprisingly uncomfortable.
From the start its reputation with gamers was hammered by numerous ill-judged consumer-unfriendly proclamations from manufacturer Microsoft, culminating in the revelation that the Xbox One would only be available with a Kinect motion/voice sensor despite this adding £80 to the console's price and the original Kinect being deeply unpopular.
Hardcore gamers were also upset by Microsoft forever talking up the Xbox One as a home entertainment hub rather than focusing on its gaming talents. Then it transpired that the PlayStation 4 versions of some key launch titles were running at appreciably higher resolutions than the Xbox One iterations.
Yup, the Xbox One took a pasting in the pre-launch PR battle. But is the console really the disaster many predicted?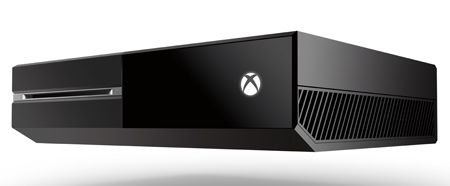 Heavy-duty hardware
First impressions aren't great. Compared with the smaller PS4, the Xbox One is a brick – a brick accompanied by a massive external power transformer. Making one half of the body glossy and the other matt does nothing to make it more exciting to look at, either.
On the upside, the Xbox One's extra bulk helps it run almost silently compared with the wind farm sonics of its predecessor, while the external power transformer and new auto-adaptive fan system should avoid the Xbox 360's 'red rings of death' overheating issue.
Tucked inside the hefty chassis is an eight-core AMD custom CPU, an 853MHz GPU with 768 shader cores, a Blu-ray player (the Xbox 360 only had a DVD player) and 500GB of built-in memory. This built-in HDD can't be swapped out for a bigger one like the PS4's can, but Microsoft is promising support for external storage soon.
It's obvious as soon as you visit the Xbox One's dashboard that it's keen to be far more than just a gaming device. Apps are available for Netflix, LoveFilm, Xbox's own Video and Music platforms, 4OD, Demand 5, YouTube, Crackle and Eurosport. There's no ITV Player or BBC iPlayer at the time of writing, but the latter of these at least is expected soon.
Also missing currently are multimedia playback from USB devices or any app for pulling in content via DLNA from networked devices. However, the Xbox One can be used as a destination for multimedia via external DLNA-compatible media servers like the iOS/Android Skifta app.
Connectivity includes an HDMI input alongside the HDMI output, which introduces arguably the console's most aggressive 'beyond gaming' feature: the ability to play TV receivers through it, bringing your TV viewing into the Xbox One's domain. So you could, say, switch instantly from playing a game to watching TV without needing a remote. Or you could watch TV in a small secondary window while you continue gaming.
The console can also control your set-top box via an EPG and an external IR sender in the Kinect (one reason why the Kinect is deemed essential). You can even partner the TV footage with supporting online content.
Frustratingly, though, much of this TV functionality is currently only available in America, due to Microsoft not having deep working relationships with other territories' broadcasting platforms. Hopefully this situation will change soon.
The American bias of the video loopthrough feature is also apparent in the way 50Hz sources suffer heavy judder when fed through the Xbox One due to its native US-based 60Hz output. You can 'fool' the console into outputting at 50Hz by telling it you can't see a 60Hz 1080p signal even when you can. But not having a 50Hz option to select is daft.
With so many content options, the Xbox One's interface is clearly of tantamount importance, and it's here where the console really starts to shine thanks, ironically, to the much-maligned Kinect system, which lets you navigate your console simply by talking to it. My test room now echoes with phrases like 'Xbox, play Forza 5'; 'Xbox, watch TV'; 'Xbox, go to settings' and 'Xbox, record that' – the latter commands the console to store the last 30 seconds of gameplay. Great for showing off. After a little effort to learn what phrases work with the voice recognition, it became a feature that I couldn't imagine being without.
The other big functionality leap the Xbox One delivers is multi-tasking. You can effortlessly shift between games and apps without having to quit each one first, and there's a nifty 'Snap' feature that lets you leave apps playing in the corner of the picture while you do other stuff on the main screen. I suffered one or two 'hung' apps during multi-tasking switches, but for the most part it works slickly and becomes indispensable.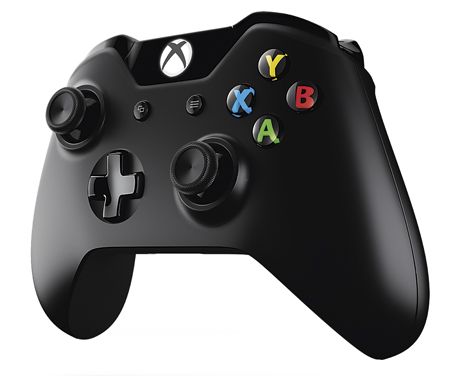 Ready to Ryse...
Firing up some games reveals a bigger leap forward from the Xbox 360 than I'd expected. Detail levels are far superior, colourscapes are richer and subtler, and fluidity and frame-rate stability are both vastly improved. Games like Ryse: Son Of Rome and especially Forza 5 – which, crucially, runs butter-smooth at 1080p/60Hz, proving the Xbox really can handle such feeds – are particularly great demos of the console's abilities. But, really, every title looks far better than anything the 360 could deliver, even the grubby but magnificently fun Dead Rising 3.
Battlefield 4 and Call of Duty: Ghosts do look marginally better on the PS4, but the differences aren't as pronounced as the launch hysteria would have you believe. For me the best-looking game currently available on either console is the Xbox-exclusive Forza 5.
Microsoft claims its console is capable of 3,840 x 2,160 output, and says there's no reason why games couldn't work at this resolution. I can't help but feel sceptical about this, though, given that the Xbox One seemingly struggles to manage 1080p. I look forward to being proved wrong...
All the big titles on the Xbox One sound fabulous, with digital surround tracks of consistently good quality – especially in Ryse...'s case. Microsoft's Xbox Live service, meanwhile, remains rock-solid in contrast to the sporadic network outages I've experienced on the PS4.
The more I gamed on the Xbox One the more I found I slightly preferred its joypad to the PS4's DualShock controller, even though the new shoulder buttons occasionally feel oddly unresponsive.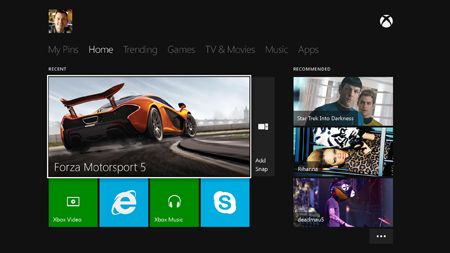 Look! It plays CDs!
Shifting to the Xbox One's AV features, it's good to find that unlike the PS4 it can play CDs as well as Blu-rays and DVDs. However, as with the PS4, 3D BDs weren't supported at launch.
The Blu-ray player's quality is perfectly decent, producing pictures that are clean, reasonably crisp, and richly coloured from my Oblivion Blu-ray test disc – although the gamma output is perhaps a touch darker than I'd ideally like – accompanied by 5.1 and 7.1 audio tracks. It loads discs considerably faster than the PS4, too.
Oddly, the digital optical output can't currently handle Dolby Digital 5.1 like the HDMI can, but this will apparently be fixed by a future software update. There are other 'lost feature' oddities. There's no battery monitor for your controller, for instance, and insanely there's currently no way of managing the console's 500GB of memory.
However, while the Xbox One's niggles leave it feeling like a work in progress, even as it stands it still delivers a tangible 'next-gen' leap on numerous fronts. And in doing so it's made us realise that, contrary to our expectations and pending what we suspect will be a reasonably imminent price cut, we actually do want our new games console to be more than just a games console after all.
Specification
HDD: Yes. 500GB (non-upgradeable)
Connections: 1 x HDMI input; 1 x HDMI output; Ethernet; optical digital audio output; 2 x USB
Dimensions: 333(w) x 274(d) x 79(d)mm
Weight: 3.2kg
Features: Built-in Wi-Fi; Blu-ray (not 3D), DVD and CD playback; 8GB Flash memory; 8-core AMD Custom CPU; 853MHz GPU; Cloud gaming; Kinect supplied with package; voice control; gesture control; multi-tasking with 'Snap' feature; 'record that' 30-second game DVR; Xbox Live online play system; SmartGlass App on Android, iOS, Windows Phone and Windows 8; multimedia playback as client device; Xbox Video and Music; Netflix; LoveFilm; 4OD; Demand 5; YouTube; Crackle

SPONSORED VIDEO

SPONSORED VIDEO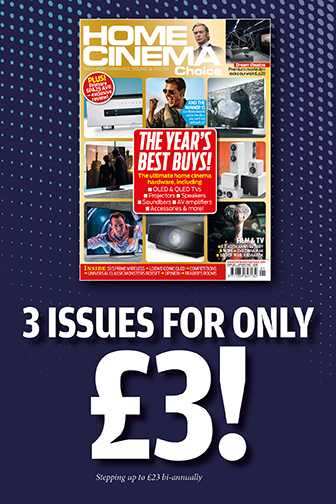 Home Cinema Choice #332

is on sale now, featuring: Samsung's 8K flagship; Anthem AVM 90 processor; B&W 800 Series Diamond; LG smart projector; Hollywood box office bombs; Hitchcock 4K; and more
Want to see your home cinema system featured in the pages of HCC? Click
here
for more info.