T+A K8 Blu-ray receiver review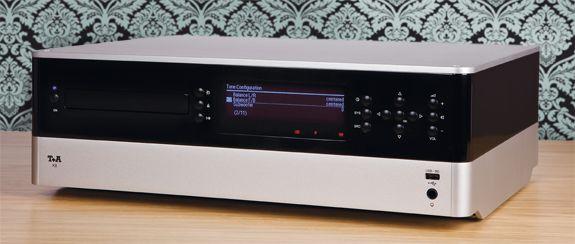 Take a break from traditional Japanese AVRs with this unique German Blu-ray receiver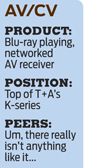 Mmmm, I do love a bit of high-class German booty. In fact, I reckon the look and feel of the T+A K8 Blu-ray receiver justifies its not insubstantial price tag alone. The promise of T+A sound quality and German engineering is a very appealing prospect, too – for those looking for a simple AV solution with proper high-end performance, the K8 is pretty much in a class of its own.
From that enormously thick top-panel of brushed aluminium downwards, the K8 is simply lush. The bottom half of the chassis is finished in the same bright, almost white, aluminium with a chunky slab of high-gloss black sandwiched in between. Switched off, it looks cool and stylish. Switched on and the neat blue dot-matrix display and red legends give it the air of a serious piece of electronic hardware.
The remote control isn't bad either, for all the world like a beefed up Cambridge Audio remote and about three times the weight. The whole package just exudes classy engineering... right up until you eject the disc drawer. Out wobbles a cheap plastic disc tray with all the industrial kudos of a Maplins' budget DVD-ROM drive. What a letdown.
The K8 is clearly a product of extremes. T+A first launched a K-series product back in 1996 (a CD player) and the company has developed the concept through many generations of amplifier and disc-spinning machine up to the high-end BD-1260R Blu-ray player. Bring together the K-series style and engineering, the acoustic experience from its high-end audio products like the Power Plant amp modules and the technology from the BD-1260R, sprinkle lightly with network player functionality, and what you have is the all-in-one K8.
Under the hood is double-deck architecture that separates the noisy power and networking components from the sensitive analogue stages. The disc-spinning specification extends from CD to Blu-ray with BD-Live functionality, extended colour space and 1080p24 playback. On the downside, the appearance of SACD playback in the spec-sheet is a covert ruse because it transpires to only play the CD layer of hybrid SACDs, not actually the SACDs themselves. And, while the HDMI connectivity is high-spec v1.4a with 3D pass-through, the K8 does not playback 3D discs.
The receiver section offers full Dolby TrueHD/DTS-HD Master Audio decoding using top-spec 56bit dual core processors. These feed the latest 24bit/192kHz Burr-Brown DACs, delivering multichannel sound to the K8's seven channels of 150Watts. The built-in streaming client is UPnP and DLNA certified, handling network-based audio up to 96/24 FLAC. The icing on this particular slice of German cake is a Genesis Technologies-based video engine with analogue to HDMI conversion and upscaling to 1080p. This tech also affords comprehensive control over parameters such as brightness, contrast, sharpness, saturation and hue.
The rear panel is adequately if not excessively equipped with connections, and every one of them is beautifully engineered. The seven sets of speaker terminals exude class that only WBT can otherwise manage. There are no less than five rear-mounted USB ports, three of which supply power to T+A wireless transmission modules for wireless rear-channel and multi-zone audio. Speaking of which, the K8 caters for up to four zones.
Two additional LAN Ethernet ports and a single Ethernet input handle all your networking needs. In fact, T+A has even included a 15-pin bus port for connection to an iPod. Quite why they could not use USB like everyone else is a mystery. Still, what we have here is a combination device that covers pretty much all the features and connectivity bases that you would expect on separate Blu-ray player, AV receiver and network client devices. All of this technology is controlled by a single remote control and a single rather lush full colour GUI. Well, except the set-up...
Language barrier

The first thing you have to do with the K8 is navigate the GUI to the 'Sprache' menu and then select 'Englisch'. Then things get really weird. For reasons I struggle to get my head around the K8's set-up is not driven through the GUI. All of the set-up menus are displayed on the small-screen display on the fascia, meaning (at my age at least) you have to get within a few feet of the machine to navigate the menus and get it up and running.
More to the point, that set-up is stoically manual. I can't remember the last time I set up an AV receiver that did not come supplied with a mic and an automatic configuration sequence. You have to manually enter speaker sizes, distance and relative levels by ear whilst playing a test tone and making the adjustments from the listening position. That is tantamount to putting a cranking handle starter on a new BMW M3! I assume T+A expects a retailer will install the system for most customers because, really, the set-up interface sucks.
That is entirely at odds with the main operational GUI, which is superb. The onscreen display is a full-colour affair designed to look like functions on part of a large rotating wheel. They are smooth, seamless and intuitive with logical menu structure and easy-to-navigate features. In use there are a few anomalies in day-to-day use, including a lack of automatic signal detection between stereo and multichannel sources. Once you have started playing a few Blu-rays in stereo and CDs in Pro-logic, manually swapping between 2- and 5-channel, it starts getting a bit tedious.
Thankfully, the T+A K8 more than makes up for its operational quirks with fabulous sound and great picture quality. Crisply mastered Blu-rays look superb, with spectacular colour depth and richly detailed images. There is precious little image noise and the K8's handling of even difficult diagonal scene scans is up there with the very best Blu-ray players available today. At times this richness can seem a little too much and a smidge artificial, particularly in the red response where flesh tones are concerned. But it is not an issue because using the K8's hue and saturation control you can obtain a very real and lifelike colour balance. The video playback is truly top-notch.
And as the final battle between Voldemort and Harry unfolds in ...The Deathly Hallows Pt 2, you will be left in no doubt that the K8 is a true high-end audio performer, too. The sound is open, spacious and meticulously precise, whilst losing nothing in impact and raw power. The lack of EQ does allow my room's 60hz suck-out to make some of the bigger LFE effects sound a little lean but nothing a couple of dB on the subwoofer gain from 60Hz down doesn't gloss over nicely. The result is super-taut bass with blistering speed and room-shaking impact. Dialogue is tonally accurate and easy on the ear but it could use just a little more edge and sparkle. Manually adding an extra dB to the centre channel certainly brings the dialogue back into the forefront of the mix.
Spending time with the T+A K8 does make you realise why the company has integrated all this functionality into a single case. The DLNA networking works seamlessly with much less faffing about than some receivers I have tried. And there is a 'plug and play' simplicity to watching a movie that will appeal to anyone who has ever spent minutes in front of their system wondering why the disc is spinning but they are getting no sound or picture; it's always because of some nebulous settings issue between the player and the receiver, an issue eliminated by the K8's integrated nature.
So, not a machine for the die-hard home cinema enthusiast who insists on separates, but an ideal home entertainment hub for the casual yet affluent home entertainment consumer. In this respect es ist absolute erstklassig.

---
HCC VERDICT
T+A K8
Price: £6,000 Approx
Highs: Single-box simplicity; great picture; crisp detailed sound; slick networking
Lows: No 3D playback; no EQ; awkward manual set-up; dodgy disc drawer, it ain't cheap
Performance: 5/5
Design: 4/5
Features: 3/5
Overall: 4/5
---
Analysis
GUI: The K8's hi-res menu system is a slick, colourful treat – what a shame you can't use it for initial setup
Power consumption: Even when it's idling, the K8 drew a considerable 60W – but a sub-1W standby mode is available
Killer feature: Building a Blu-ray deck into an AVR simplifies your cinema setup – and the K8 performs well in both audio and video terms
---
Specifications
Dolby TrueHD: yes and Dolby Volume
DTS-HD Master Audio: yes and DTS 96/24, Neo:6
THX: no
Multichannel audio: yes 7 x 150W
Multichannel input: no
Multiroom: yes four zones
Connections: 3 x HDMI v1.4a inputs; 1 x v1.4a HDMI output; 2 x component inputs; 3 x composite inputs; 3 x S-video; 3 x stereo phono audio; Ethernet; 5 x USB
Video upscaling: no to 1080p
Dimensions: 440(w) x 37.5(d) x 145(h) mm
Weight: 17.5kg
Features: FM/AM; vTuner web radio; USB-powered wireless speaker option; bi-directional remote control option; Dolby headphone; 3D pass-through; burr-Brown DACs; wake-up timer; WMA, AAC, MP3, FLAC, OggVorbis and WAV playback over USB; two additional network ports; built-in Blu-ray/DVD/CD player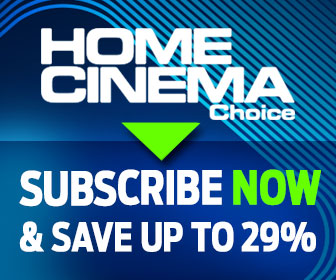 Home Cinema Choice #316 is on sale now

, featuring: Samsung Neo QLED TV; Monitor Audio Atmos system; battle of the SVODs; disaster movies on Blu-ray; BenQ UST projector; disc reviews; opinion; and more.
Want to see your home cinema system featured in the pages of HCC? Click
here
for more info.