Sony KD-65X9005A review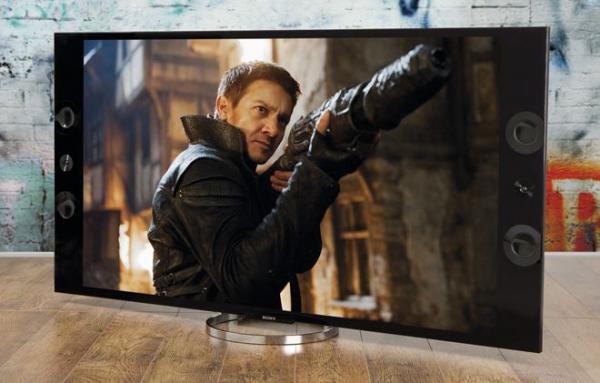 The resolution revolution begins as Sony brings 4K to the masses with this 65in Ultra HD TV
I've heard a startling amount of rubbish spouted about 4K/Ultra HD TVs in recent months. 'Nobody cares about more pixels'. 'The human eye can't perceive the difference between normal HD and 4K resolutions'. 'Forget UHD – what we need is OLED.' '4K is just another marketing tool for selling more TVs.' 'Native sources won't be available for at least five years'. And so on.
Today, though, I can refute pretty much all of this nonsense more directly than ever. Sat on my test bench is Sony's KD-65X9005A: a 3,840 x 2,160 resolution TV that's isn't insanely/unmanageably large, isn't insanely/unaffordably expensive, and yet which still reveals its 4K picture quality to be a jaw-dropping, irresistible class apart from even the finest Full HD images.
The 65X9005A is a 65in TV. This makes it nearly 20in smaller than any other Ultra HD TV we've tested, and so vastly more living room-friendly. This more domesticated approach is underlined, moreover, by the 65X9005A's sensational design, which combines a premium black finish with elongated wings containing six sizable speakers sculpted into the TV's glass surface.
The 65X9005A's £6,000 price, meanwhile, makes it £14,000 cheaper than any previous 4K beast. £6,000 is still a wedge of cash – almost double the price of Panasonic's TX-P65VT65 Full HD plasma TV. But then Sony's screen offers four times the native resolution of the Panasonic, so maybe just costing double isn't that bad...
Connectivity is mostly strong, with its highlights of four HDMIs, three USBs, built-in Wi-Fi, and even screen-sharing support with NFC devices simply by touching those devices to the TV's second handset. The only fly – or potential fly – in the ointment is the use of v1.4 HDMIs rather than the yet-to-be-ratified v2.0 standard that will be necessary to deliver 4K images at higher frame rates than 30fps.
Is this a major problem? That's impossible to call right now. Certainly, 4K movie formats when they appear will likely predominantly use 24p frame rates compatible with HDMI v1.4, and even if future broadcasts use a higher frame rate, 4K broadcast receivers could carry a 30fps output option.
And anyway, Ultra HD is not the Sony's only attraction. It also sports a full suite of the brand's top-level picture calibration tools, expansive multimedia file playback support and access to the SEN online service.
Anyone spending £6,000 on a TV will expect some robust sonics, and the 65X9005A is up to the mark. Its integrated speaker system handled everything from the huge dynamics of Saving Private Ryan's opening beach assault to the subtle atmospherics of Se7en (and even a selection of CDs) with considerable elan. Sony has employed ferrofluid material – here dubbed Magnetic Fluid technology – to enable its drivers to operate in its slim enclosure. The result is a largescale sound.
Back to reality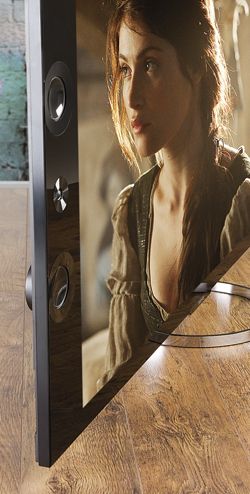 A quest for 4K-related features within the Sony's onscreen menus uncovers two key points. One is a Reality Creation section where you can adjust the resolution-enhancement and noise-reducing elements of the X-Reality Pro upscaling engine. The other obvious feature is the option to have the TV render any suitably high-res photographs in 4K resolution (see, there is a native source available!).
And boy, do I suggest you switch this option on, as the way your digital stills look in this mode will have your mouth hanging open in awe. In fact, looking at 4K stills is a perfect way to start your next-gen experience, providing as it does a straightforward way of appreciating what all those extra pixels can do.
The sheer resolution of the image is the main thing, but also apparent is how much extra depth the screen's enhanced pixel count delivers – it avoids the normal HD limitation of very distant image data being softened and blurred into flatness. Another revelation is the way colours are rendered. The greater resolution enables the screen to deliver colour blends of real precision and accuracy, and these join the enhanced depth of field to make 2D images almost feel 3D.
I should stress that these advantages are all clearly apparent, despite the Sony only being 65in rather than 84in – and even if you're watching from a perfectly normal viewing distance. You don't have to stick your nose up to the screen to marvel at its beauty.
With Ultra HD demo footage provided on a Sony media player, football clips reveal insane levels of facial detail in the watching crowds, hitherto imperceptible weaves in the players' outfits and individual blades of grass in pitches.
Things get even better with scenes from Sony's Total Recall and After Earth flicks. Pretty much the only response I could muster to these trailers was to shake my head in awe and dream of the day when I might be able to watch the films in 4K all the way through. Stunning clarity is coupled with fluid motion and a spectacular colourscape courtesy of Sony's natty Triluminos technology.
An important task for the 65X9005A is to upscale Full HD and even SD sources to UHD resolution, and this also proves an area of strength. HD sources remapped to the 3,840 x 2,160 screen appear dense, detailed and mostly free of noise and processing foibles. They're no rival for a native 4K experience, of course, but Sony's silicon proves to be very adept, particularly when dealing with Blu-ray releases that have been created from 4K digital masters. In fact, Sony provided us with clips from its upcoming Mastered in 4K version of The Amazing Spider-Man, which also features extra colour information to support the TV's Triluminos system. It looked gorgeous.
Even SD looks credible on the 65X9005A. Not especially detailed, perhaps, but far from the horribly over-processed, ultra-noisy mess I'd secretly expected.
Goggle-eyed entertainment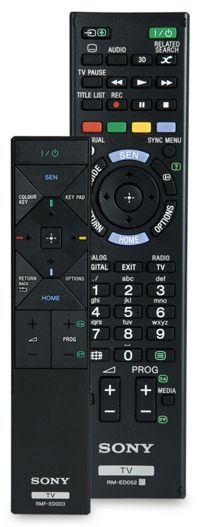 Recent research suggests that Joe Public is losing interest in 3D. A shame, as it astounds on the 65X9005A. The screen delivers the advantages of the Passive 3D format – no flicker, enhanced brightness and colours, no crosstalk – at a resolution that, while still halved vertically, is greater than Full HD. The result is brilliantly immersive pictures.
Unfortunately, the 65X9005A's black level performance isn't best-in-breed. If you're watching in a darkened room, some black picture areas tend to look slightly grey – or disconcertingly grey if you deactivate the TV's local dimming system. Set the latter to its maximum level to hugely improve black levels, and you have to factor in noticeable banding of light around bright objects. The low local dimming setting delivers the best compromise.
Thanks to this issue, the 65X9005A isn't totally perfect. However, it delivers Ultra HD images, both native and upscaled, at a price point that a year ago seemed unimaginable. Sony has delivered a TV that shouts 'next generation' with every fibre of its being.
---
HCC VERDICT

Sony KD-65X9005A
Price: £6,000 Approx
www.sony.co.uk
Highs: Unbelievable Ultra HD pictures; supreme design and build; effective upscaling; astonishing sound quality
Lows: Black levels could be a touch better; there are sleeker Smart interfaces around; integrated speakers make the set bigger than you might imagine
Performance: 4.5/5
Design: 5/5
Features: 4.5/5
Overall: 4.5/5

SPONSORED VIDEO

SPONSORED VIDEO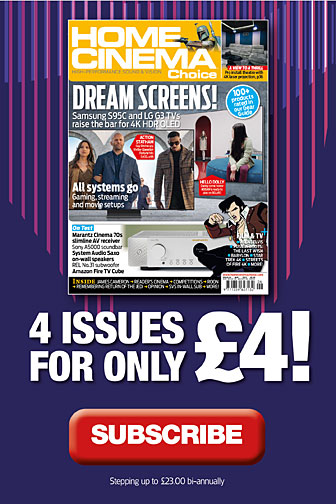 Home Cinema Choice #332

is on sale now, featuring: Samsung's 8K flagship; Anthem AVM 90 processor; B&W 800 Series Diamond; LG smart projector; Hollywood box office bombs; Hitchcock 4K; and more
Want to see your home cinema system featured in the pages of HCC? Click
here
for more info.