Samsung UE55ES8000 review
This 55in LED TV goes into innovation overload and may be the cleverest TV we've ever seen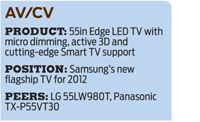 The first big new TV release of 2012 is here, in the comely shape of Samsung's UE55ES8000. And if its level of technological advancement and all-round quality is symptomatic of what we might also expect from other brands in the coming weeks and months, then the rest of the year could be pretty special.
As ever with Samsung TVs, the UE55ES8000's campaign to win your heart begins immediately, thanks to the seductively glinting, staggeringly slender frame around its vast 55in screen. Its new 'double bar' pedestal stand design is very pretty, too.
Connectivity is outstanding.Highlights include four v1.4 HDMIs (to support the set's active shutter 3D playback), two USBs able to play a wide variety of multimedia file formats, an Ethernet port, and built-in Wi-Fi.
Samsung was one of the strongest brands last year where online 'Smart' TV functionality was concerned, but that hasn't stopped it advancing the Smart TV cause with the this year's flagship model. For a start, Samsung's Smart Hub menu screen now looks even prettier and more 'HD' than before, thanks to a shift to a Full HD resolution from last year's 720p incarnation.
Also catching the eye are three completely new Smart TV content sections. First up is Family Story, a potentially handy new online service that enables you to create closed, password-protected networks with other Smart TV/smart device users. The idea here is for families and friends to be able to share photographs, memos and diaries with each other, no matter where they live, without worrying about strangers intruding on their content. Naturally you don't need a Samsung Smart TV to use the service; suitable apps for Android tablets and smartphones will be available by the time you read this.
Sitting next to Family Story is a new Fitness zone, offering a useful toolset for getting fit without having to spend a fortune joining a gym. The system works by letting you set up profiles for different family members featuring weight and Body Mass Index measurements, and then providing a decently extensive set of exercise videos, complete with an estimated calorie count for each one.
The TV can calculate how many calories you've burned off with these videos and translate that to potential weight loss over time, delivering charts of your progress. It's not quite as sophisticated or accurate as I'd like, but overall it should easily satisfy the 'home exercise' brigade.
The final big new section of Samsung's Smart TV platform is simply called Kids, and chiefly comprises a collection (currently a rather small one, to be honest) of obscure kid's TV shows. But there is also a fun 'sticker book' into which children can place on-screen stickers awarded by parents for different types of good behaviour. Like not sitting on your 3D spex.
As well as these entire new Smart TV sections, Samsung's Smart TV platform has also enjoyed a few extra apps and video services since last year, including most notably, Netflix Furthermore, since the UE55ES8000 is a high-end Samsung TV, it gets the Skype support (a camera is elegantly built into its upper edge) and integrated web browser not found in lower-rent Samsung models.
Voice control

Samsung hasn't just innovated with its Smart TV content. It's also attempted some pretty revolutionary stuff when it comes to its Smart interface. The UE55ES8000 ships with two remote controls: one 'normal' one, and one featuring a touchpad and voice control.
Anyone who's tried to surf the web via a normal TV remote or felt frustrated by the limitations of a handset's normal 'up, down, left, right' keys will immediately appreciate the touchpad, as it lets you quickly move a cursor in any direction all over the screen. And the trackpad on Samsung's handset delivers just the right amount of sensitivity.
The minimal button layout on this touchpad remote is also mostly well considered, with my only significant quibble being the way you have to press the touchpad down to select a highlighted option. It's very easy to accidentally move the cursor off your desired option as you do this.
One button on the second handset labelled 'Voice' calls into play another key innovation in the UE55ES8000's interface 'arsenal': voice control. By simply talking to the TV, either directly or through the second remote, you can do everything from changing volume and channel to inputting text into search fields, opening different sources, and even choosing direct channel numbers on a connected Sky box via a supplied IR extender.
The recognition system is good enough to correctly reproduce even fairly obscure spoken names, phrases and words (so long as you pronounce them carefully). It's also great that the system is only activated by saying a keyword, such as Hi TV, so it doesn't keep accidentally kicking in every time you speak to other people in your room. Add the voice control to the touchpad remote, and you really do have a cool new way of controlling a sophisticated modern TV.
The only catch with the voice control system is that occasionally during very loud sequences, the system becomes concerned it might not be able to hear your commands, and throws up a distracting alarm message to that effect. So you're best turning it off for blockbuster movie viewing.
The UE55ES8000 even includes a gesture control system, where the built-in camera maps movements of your hands to movements of the onscreen cursor. However, I've so far found this to be too fiddly, tiring and prone to 'accidentally' firing up.
With great power...
These Smart features would be irrelevant if the UE55E8000 couldn't deliver quality image. Thankfully, the power driving its new interface and Smart TV services also boosts its picture quality.

For instance, tricky scenes such as the 'Mother Knows Best' sequence in Tangled, with its bright animation appearing against almost pitch black backgrounds, have much more punch than on last year's Samsung models – or most LED TVs generally – thanks to the way bright whites and dynamic colours can share the frame with good black levels. This improvement seems down to Samsung's use of a dual-core processor in the ES8000 series (potentially upgradable in the future to quad-core, via new slot-in chipsets!), which has enabled the brand to work with twice as many microdimming zones as last year.
Sharpness levels with HD sources are extreme, boosted by both the extreme brightness the image consistently delivers, and what's comfortably the best motion handling yet seen from a Samsung TV, with practically zero judder and minimal motion blur. The dual-core processor's speed and power appears to be in play again here – especially if you activate Samsung's motion processing, which works more effectively than any previous versions.
The speed of the UE55ES8000's panel response and improved processing is further evident when watching 3D. This set proves far less prone to crosstalk noise than any previous Samsung screen. It's still occasionally visible around objects in the far distance, especially if they're very bright compared with their surroundings (like the furthest lanterns in the famed Tangled lantern festival sequence), but it's now gone from being a constant nuisance to something you scarcely notice.
Making this more impressive is the brightness and colour Samsung retains in its 3D images, as its comfortable 3D glasses (of which you get two pairs free) 'dim' the picture much less than some other Active shutter goggles. The reduced crosstalk also lets you appreciate the immense sharpness, detailing and 'polish' you get with Active as opposed to Passive 3D on screen sizes as large as this. The dual-core tech means, too, that Samsung can apply motion processing to 3D as well as 2D images this year, further enhancing clarity and sense of depth.
In short, the UE55ES8000's 3D images are generally outstanding. My gripe with them would be that the need to drive the panel 'harder' to keep 3D images bright results in some backlight inconsistencies in the image's corners during predominantly dark scenes.
Sort out the presets!
With standard-definition sources upscaling well to the screen's Full HD resolution, my only other concern is the UE55ES8000's picture presets. Basically, they're all pretty poor, leaving the backlight far too high to get the best out of the panel. Even using Samsung's Movie preset leaves dark scenes washed out with areas of backlight inconsistency. It's only when you manually reduce the backlight output to a much lower level – to its 10 setting at most, and ideally as low as six or seven – that colours, black levels and image uniformity suddenly click into place.
Given how many people never change the factory picture settings on their TV, Samsung really does need to come up with at least one preset that's genuinely helpful to serious movie enthusiasts.
---
HCC VERDICT
Samsung UE55ES8000
Price: £2,500 Approx
Highs: Sensational, slimline design; very good 2D and 3D pictures; excellent Smart services
Lows: Gesture system is currently very hard work; provided picture presets are unhelpful; backlight bleed possible unless output is low
Performance: 5/5
Design: 5/5
Features: 5/5
Overall: 5/5
---
Analysis
GUI: The latest Smart Hub looks great and is intuitively laid out, handling an awful lot of options very effectively
Power consumption: We measured between 61W and 80W over a two-minute usage period, with an average figure of 71.5W – very good for such a large, bright screen
Killer feature: The UE55ES800's dual-core processor isn't just for its Smart talents – it reaps performance benefits, too
---
Specifications
3D: yes Active shutter
Full HD: yes 1,920 x 1,080
Tuner: yes Freeview HD, analogue, CI slot
Smart TV: yes Samsung Smart TV
Connections: 4 x HDMI; 1 x component; 1 x D-Sub PC; 1 x Ethernet; 2 x USB ports; digital audio output; built-in Wi-Fi
Sound: 2 x 15W
Dimensions (off stand): 1230.3(w) x 722.3(h)mm x 30.8(d)mm
Weight (off stand): 16.6kg
Features: MicroDimming edge LED system; Motionflow processing; 3D crosstalk reduction; Smart TV features including Fitness zone, Family Story and Kids zone; touchpad remote included; two pairs of 3D glasses included; voice and gesture control systems; integrated webcam with light compensation software; Skype and web browser support; dual-core processor; upgradable with new chipsets as they come online in the future

SPONSORED VIDEO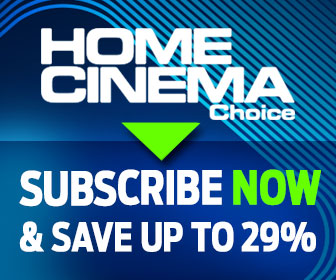 Home Cinema Choice #326

is on sale now, featuring: Sky Glass; Anthem AVM 70 processor; Sony XR-65X90J; BenQ gaming projector; Christmas gift guide; Hollywood franchises on Blu-ray; Fast 9 4K; and more
Want to see your home cinema system featured in the pages of HCC? Click
here
for more info.