Samsung HW-K950 Dolby Atmos soundbar review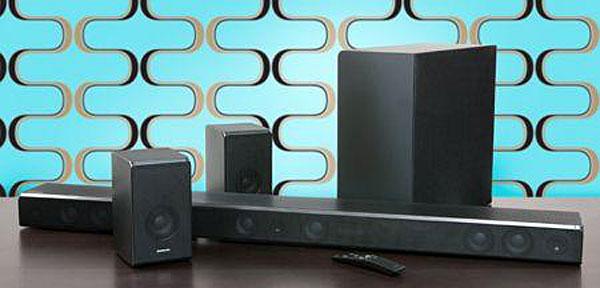 Exclusive review of Samsung's Dolby Atmos soundbar that offers audio immersion without cable-clutter

Soundbars are big sellers on the high street but they can get a cold shoulder from the home cinema aficionado seeking authentic surround sound. With its premium-priced HW-K950, Samsung has decided to address that very issue and do it in style. Although to call this simply a 'soundbar' doesn't do it justice.
There's a bit of backstory to this forward-thinking sonic invention. Last year, the company invested $18 million in a dedicated audio development facility in Valencia, California. It's now known as the Samsung Sound Lab. Here, it set about creating a new soundbar system – with Dolby Atmos playback in mind – from the ground up.The Sound Lab team then enlisted Hollywood studio engineers for fine-tuning and made sure the new product got Dolby's official seal of approval, too.
A year later and the result is a complete sound package featuring soundbar, wireless surround speakers and wireless subwoofer. It's a true 5.1.4 configuration, is wall-mountable (with an optional kit) and comes with a sub that is fairly easily squirrelled away out of sight.
Many soundbars are relatively inexpensive plastic boxes employing 'off the shelf' OEM drivers, standard HDMI boards and cookie-cutter amplifier modules. Not so, says Samsung, when it comes to the HW-K950. Every key component, from the drivers to the shaped control buttons, are a bespoke Samsung design. It's fully active with one amplifier for every one of its 16 drivers, and it's wirelessly networked for streaming audio and use with Samsung's Multiroom controller app.
All this surround sound seriousness comes at an equally serious price. £1,300 is right up there at the very top end of the soundbar market. You could, just about, get an Atmos AVR, budget 5.1 speaker set and some upfiring units for about the same money. Mind you, it wouldn't look so good and, having spent a couple of weeks with the HW-K950, I'm not convinced it would sound as good either.
Channel crossing
The main speaker is a large and supremely well-built beast. It handles left, right and centre channels with a forward-facing driver array. Each of these channels uses two mid-range drivers and Samsung's ceramic-coated inverted dome tweeter. This has a frequency response dropping right down to 400Hz – extremely low for a tweeter – so dialogue frequencies are handled without crossover to another driver. It should therefore deliver more natural-sounding voices with better intelligibility. Front height channels are tackled by full-range drivers on the bar's top section, angled to bounce Atmos info off a ceiling and towards the listening position.
At 1.2m long the 'bar is a good match for 55in screens but it's a neutral-looking design so should happily sit with larger or slightly smaller TVs. HDMI connectivity is perhaps a little more frugal than ideal – there are just two inputs. Yet both are 2.0a/HDCP 2.2 spec, and the HDMI output features ARC. Other hookups are digital optical audio, analogue aux, Bluetooth and Wi-Fi, plus wireless syncing from the soundbar to surround speakers and sub.
The compact yet fairly weighty surround enclosures connect directly to your mains supply via a lead that hides in the base to keep things clean and simple. These units feature full-range drivers for both front-facing surround channel and upward-firing rear height channel duty, each driver using its own 35W amplifier. The sub is a more traditional design, being an upright cabinet with a single side-firing 8in driver, a 160W amp and a large port tube you could lose a cat in.
The HW-K950 comes with a sleek and simple remote control that mirrors the design of the secondary remote on Samsung's latest TVs. You also get basic volume and input buttons on the side of the bar for manual use, while advanced features and music streaming services are all accessed by the aforementioned Multiroom app. This is comprehensively featured, easy to use and looks great – a rare trio combination indeed.
Straight out of the box the subwoofer and surround speakers are already linked to the soundbar, so it's plug and play. There is a connection button located on the underside to add the HW-K950 into a Samsung multiroom ecosystem should you have more of the brand's audio goodies around the home. A scrolling blue display on the front of the 'bar gives the usual input and status information before switching off after a few seconds.
In addition to Atmos, you get a raft of virtual upmixing modes – movies, sport, music, night mode etc – that map any incoming format onto the full speaker array. There's no advanced speaker setup or Room EQ, just channel level trims if you feel the need for a little tweaking.
An interesting – and irritating – feature omission is DTS decoding. The Samsung won't handle DTS multichannel bitstreams, instead playing 2.0. You can, of course, upmix to the 5.1.4 array. When I asked Samsung about this, it stressed that the product is, primarily, a soundbar and not a home theatre system, and that the surround speakers are there for Dolby Atmos support. And that probably explains why DTS:X isn't on the menu either...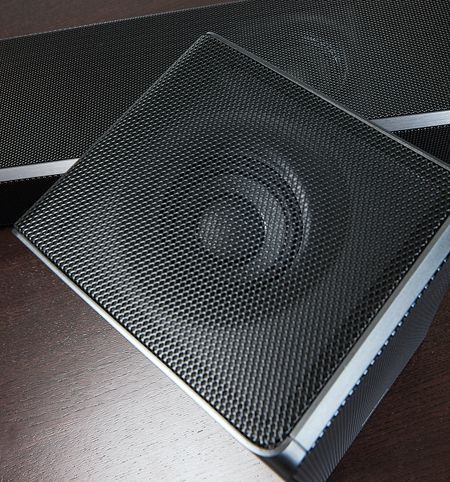 Living room luxury
I set up the HW-K950 in my lounge where home cinema equipment usually fears to tread, due to the demands of Mrs Stevenson. The main 'bar sat flat on an AV cabinet in front of my TV; the sub went down beside the cabinet to the right (driver facing outwards); and surrounds at about 80 degrees to the front-back centre line and at ear-height on stands. The speakers were on stands, not my ears
Being well used to the aggro and extended faffing time required to set up most home cinema systems, the HW-K950 is a delight. After a bit of manual channel-level tweaking I felt good to go. Interestingly, with all levels set at 0dB out of the box, the Atmos height channels come in some 3-4dB hotter than the mains. This may be a function of my smooth, flat and relatively low ceiling, or just Samsung hammering home the height feature. Your experience may vary.
Connecting a Sky box to one of the HW-K950's HDMI inputs and a UHD BD player to the other, my Amazon Fire TV was left looking a little unloved. The workaround is to feed additional HDMI sources to the TV and use ARC – but do check your TV supports bitstream on ARC if you're connecting an Atmos source in this way. One minor gripe is that the HW-K950 does not support standby passthrough on the HDMIs. If sources are connected through it then the soundbar has to be switched on and active to view, which means EastEnders in upmixed 5.1.4 is on the menu.
And thus endeth any negatives. Play anything from a broadcast TV stereo source to native Atmos through the HW-K950 and it sets a new standard for convenience system performance. Gone is the slightly nasal sound often produced by small-volume soundbar cabinets and the all-too-familiar mid-bass 'wump' of soundbar/sub combos is a thing of the past. The Samsung replaces these with high-fidelity and incredibly articulate sound with real dynamics. It's underlying sonic performance, irrespective of surround sound effects, Atmos or other trickery, is excellent.
Even with stereo TV, the HW-K950 creates an amazingly natural and realistic sound with solid imaging. From outside the listening room, dialogue from the BBC's Versailles has a presence that sounds like a conversation between real people on your sofa. That's a trick normally reserved for serious AVR and multichannel speaker setups. It is this naturalness and accuracy that makes the HW-K950 enjoyable with music too. Stream Spotify Premium or high-bitrate music on your device via Samsung's app and the HW-K950 delivers the goods much more like a decent stereo speaker system than a soundbar.
From this excellent base-level performance, Atmos and 3D surround sound absolutely shines. All of Dolby's Atmos demo clips give a genuine spatial 3D effect with frankly outstanding positioning from a system with just three boxes and a sub. The cross-room pans of planes throughout the Japanese attack sequence in Unbroken on Blu-ray swing properly overhead as bullets whistle through and hit objects seemingly in all parts of the room. Punch up the volume and you might have to back down the subwoofer level a little to keep things in balance – as it gains volume a little quicker than the main speakers – yet overall, the HW-K950 grows in power and scale with increased volume, delivering delightful SPLs.
The Atmos effect wasn't overly sensitive of surround speaker position in my room, although giving them a little breathing space away from side walls resulted in a more convincing overhead effect. Comparing to my cinema room's 9.2.4 Atmos setup did reveal some shortcomings in the HW-K950, though. It didn't quite manage the fine detail, pin-point effects or front soundstage width of that system. But let's take a reality check here; my four in-ceiling speakers alone cost more than the complete HW-K950 and certainly were not plug-and-play...
Home cinema success
Samsung's investment and effort to realise not just another soundbar but to create something that stands out in a crowded market is a great success. It's way more expensive than most soundbar packages (although more affordable than Yamaha's YSP-5600), but offers way more performance than most soundbars, too. It's about as near as you can get to true home cinema sound without filling your room with boxes, cables and an AVR that needs a manual the size of the Birmingham telephone directory.
Specification
Drive units: 3 x 1.2in tweeters; 6 x 2.5in midrange drivers; 2 x 3in full-range drivers (soundbar); 4 x 3in full-range drivers (surrounds)
Amplification: 11 x 20W (soundbar); 6 x 35W (surrounds)
Connections: 2 x HDMI inputs; 1 x HDMI output; optical digital input; analogue 3.5mm; Bluetooth; Wi-Fi
Dolby TrueHD/DTS-HD MA: Yes/No. Plus Dolby Atmos
Separate sub: Yes. 160W, 8in driver
Remote control: Yes. Plus Samsung Multiroom app
Dimensions: 1,210(w) x 82(h) x 131(d)mm (soundbar); 120(w) x 210(h) x 141(d)mm (surrounds); 204(w) x 400(h) x 414(d)mm (subwoofer) Weight: 6.7kg (soundbar); 2kg (surrounds); 9.6kg (subwoofer)
Features: Dolby Atmos in 5.1.4 configuration; Surround Sound Expansion Plus upmix modes; 4K passthrough on HDMI; network audio; Samsung Multiroom app and integration; wall-mounting; wireless subwoofer; wireless surround speakers; plug-and-play setup; LCD display

SPONSORED VIDEO

SPONSORED VIDEO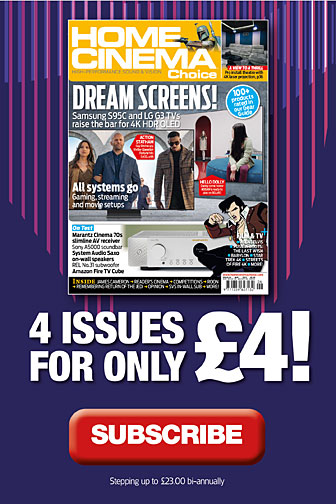 Home Cinema Choice #332

is on sale now, featuring: Samsung's 8K flagship; Anthem AVM 90 processor; B&W 800 Series Diamond; LG smart projector; Hollywood box office bombs; Hitchcock 4K; and more
Want to see your home cinema system featured in the pages of HCC? Click
here
for more info.