Samsung BD-E8500 Smart PVR/Blu-ray player review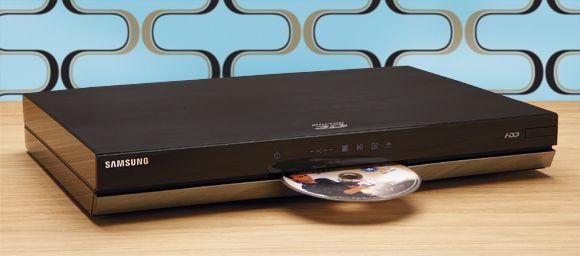 This PVR is so much more than just a twin-tuner time shifter. Is there anything it can't do?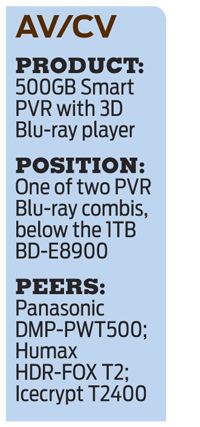 Smart is still the big buzzword in the AV world. Slapping it on a product guarantees instant kudos, enticing buyers with promises of extra web content and clever networking tricks. It's an approach taken by Samsung for the BD-E8500, whose 'Smart PVR' not only brings you all the usual TV trappings like twin Freeview HD tuners and a 500GB HDD, but also the company's online internet portal as well as playback of 2D and 3D Blu-ray discs.
It's the successor to the BD-D8500, tweaking its basic blueprint with a few new tricks for 2012. The black box design is softened somewhat by the curved, silver trim along the bottom, and I dig the way the touch-sensitive controls are built into the display panel just above the disc slot.
3D compatibility is ensured by the HDMI v1.4 output, an Ethernet port is provided for non-Wi-Fi users and a Common Interface slot lets you add pay TV channels, but there's no second HDMI or multichannel analogue out. USB ports are found on the front and back.
The amount of features is astonishing, chief among which is the revamped Smart Hub portal. Here, you're provided with access to the same impressive range of apps as before, complete with the all-important BBC iPlayer and Netflix, only this time the layout has been tweaked to include the themed 'Signature Services' of Family Story, Fitness and Kids.
Elsewhere in Smart Hub is a search tool and Your Video, which recommends movies from on-demand sites. There's also an internet browser that works with an optional wireless mouse and keyboard, which makes selecting links and entering text a breeze.
On the Blu-ray side, the BD-E8500 is Full HD 3D compatible and converts 2D material from discs and Freeview. Like most Samsung machines it'll play a wide range of media formats from USB, disc and over a DLNA network. Supported formats include AVI, MKV, WMV, DivX, MP3, FLAC, OGG and WMA, all of which pinged to my Windows 7 laptop with no fuss. These files can be copied onto the HDD, creating a local media library, plus it can rip tracks from CD.
The BD-E8500 excels as a PVR, performing all the functions I've come to expect. You can squeeze up to 124 hours of HD from the twin tuners onto the 500GB hard disk, but if you crave more capacity then step up to the 1TB BD-E8900.
The oversight that prevented last year's model from recording two channels simultaneously has been rectified, and you can even watch a third channel provided it's on the same multiplex. You can't access the EPG while recording two channels though, which is a tad annoying.
Built-in Wi-Fi puts connected features within easy reach, while a feature called Soft AP allows other Wi-Fi devices to use the BD-E8500 as an access point, helpful if you don't have a Wi-Fi router.
User-friendly
Everything about the BD-E8500 oozes user-friendliness, from the remote's foolproof layout to the simple yet sexy onscreen menus, which are now more consistent with Samsung's TVs. One particularly helpful interface is the new AllShare Play, which gathers all your media into one place, pulling files from USB and DLNA, plus TV recordings.
In action the BD-E8500 is a brilliant performer. It's dual-core processor helps everything run quickly, while Blu-ray pictures are excellent. The deck dredges every last drop of detail and displays it with absorbing clarity. That goes for 3D images too, which look crisp and fluid – Avatar 3D's vistas lose none of their beauty through this player.
A run-through of the Silicon Optix HQV disc yielded no problems to report, and disc loading is fast – Terminator Salvation took 41 seconds.
Hi-def Freeview pictures look solid and pristine whether live or recorded, but standard-definition pictures are the deck's Achilles' heel. They're watchable, but a touch noisier than expected and colours are slightly overcooked.
Despite these negligible niggles, the BD-E8500 is a splendid PVR-cum-Blu-ray deck boasting Samsung's most compelling connected offering to date and a smooth, attractive operating system – it would take a cold heart not to succumb to its charms.
---
HCC VERDICT
Samsung BD-E8500
Price: £400 Approx
Highs: Wealth of features; smooth, fast operation; crisp HD pictures
Lows: Can't access EPG when recording two channels; Freeview SD; needs more catch-up TV
Performance: 4/5
Design: 4/5
Features: 5/5
Overall: 4/5
---
Analysis
GUI: Samsung's Smart Hub interface continues to be brightly coloured and simple to use
Power consumption: We measured an average power consumption when recording to the HDD
of 23W
Killer feature: The BD-E8500's combination of PVR, Blu-ray player and Smart hub means it can replace multiple bits of kit
---
Specifications
3D: yes
Multiregion: no Region B Blu-ray, R2 DVD
HDD: yes 500GB
Tuner: yes 2 x Freeview HD
Smart TV: yes Smart Hub
Upscaling: yes to 1080p
Connections: HDMI v1.4 output; 2 x USB; optical digital output; composite video output; Ethernet; RF in/loop; Common Interface slot
Dimensions: 430(w) x 56.5(h) x 300(d)mm
Weight: 3.3kg
Features: Eight-day EPG; Series Link; Timeshift; picture-in-picture; web browser; Soft AP; AllShare Play (DLNA); Fitness, Family Story & Kids services; AVI, MKV, WMV, DivX, MP3, FLAC, OGG and WMA media playback from USB and network; HDD copying functionality; CD ripping to HDD; Social TV; Dual View; Clone View; wireless mouse and keyboard support; 2D-to-3D conversion; smartphone control; Search tool; Your Video; Schedule Manager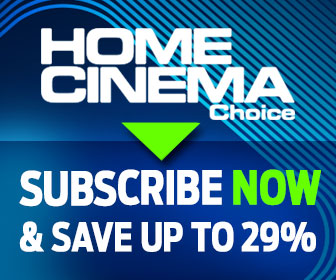 Home Cinema Choice #316 is on sale now

, featuring: Samsung Neo QLED TV; Monitor Audio Atmos system; battle of the SVODs; disaster movies on Blu-ray; BenQ UST projector; disc reviews; opinion; and more.
Want to see your home cinema system featured in the pages of HCC? Click
here
for more info.