Pioneer BDP-450 review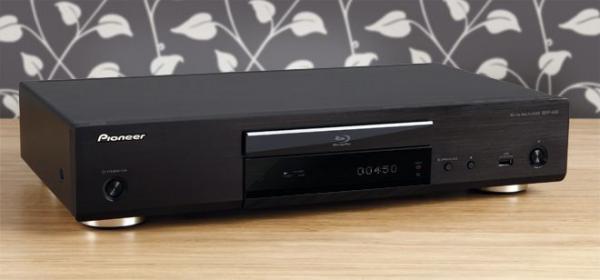 Pioneer throws a cat among the universal Blu-ray player pigeons with a multi-talented deck that costs a lowly £230
Despite its enticing price tag, Pioneer's BDP-450 is aimed squarely at the home cinema enthusiast with audiophile leanings. Super Audio CD and DVD-Audio might not be exactly in the rudest of health as far as formats go, but there are plenty of legacy discs out there, and no shortage of folk who eagerly follow the trickle of SACD titles onto the market.
I'm certainly a hi-res audio fan, and SACD playback was one of the reasons I bought a Sony BDP-S480 a couple of years ago. At that time there was no universal deck reasonably affordable and my DVD-Audio platters were put in storage. The arrival of the Pioneer BDP-450 changes all that.
All of this deck's connections are digital, with options to output sound through just coaxial or HDMI. There are two HDMI outs, which is handy if you want to drive two separate displays or if you (still) have a legacy AV receiver that won't play ball with 3D video signals. Given the deck's price it's no surprise that there are no multichannel analogue outputs, but the absence of a stereo set is a turn up, and those who still like to listen to CDs via analogue will have to walk away sharpish.
But CD playback is not meant to be the BDP-450's strength. It's a machine designed for film fans and multichannel music freaks in the digital age. Plus, a single cable hookup certainly makes things simpler, and I'm happy to let my Onkyo AVR handle the DSD output from SACD and PCM DVD-Audio signals. The cheapest universal deck with built-in hi-res decoding and multi-channel outputs, Oppo's superb BDP-103EU, will set you back more than twice as much as the BDP-450, plus you'll need to make sure you have the necessary phono cabling.
Making do with YouTube
Despite Pioneer's claims to the contrary, what this deck doesn't give you is much to get excited about in the way of Smart TV and streaming online entertainment – all you're served up is Netflix, YouTube and Picasa. Although Pioneer's Smooth Streaming technology is available to boost the appearance of fine lines and wrinkles when watching network-delivered content, the paltry selection of online services is almost not worth its effort. A decent television or PVR will give you much more meaningful Smart TV services. The deck also allows you to 'throw' YouTube videos from a smart phone or tablet, which seems superfluous.
Also onboard is Pioneer's Precision Quartz Lock System (PQLS), which ensures jitterless transmission of two-channel and multi-channel LPCM audio, but only to a compatible Pioneer AVR.
The current BD player buzzword, '4K upscaling' is absent here. Currently, this doesn't seem like an issue, given the paucity of UHD hardware and the fact that anyone forking out, say, £16,000 for a projector won't be buying a bargain Blu-ray deck.
Although the BDP-450 is DLNA certified thanks to its Ethernet connection, a separate USB adapter (the AS-WL300) is required to go wireless. File compatibility is much greater using a USB-connected drive than over a network, although contrary to Pioneer's own specification (and true to its audiophile leanings) I enjoyed some 24-bit FLAC playback from a hard drive connected to a Netgear router. No video files appeared over the network, however, with success only achieved using a USB drive for playing MKVs, MPEG2 TS rips with 5.1 Dolby Digital audio and DiVX files. An AVCHD file crashing the deck was annoying but not as concerning as the loss of the first five seconds of the picture on all movie file formats.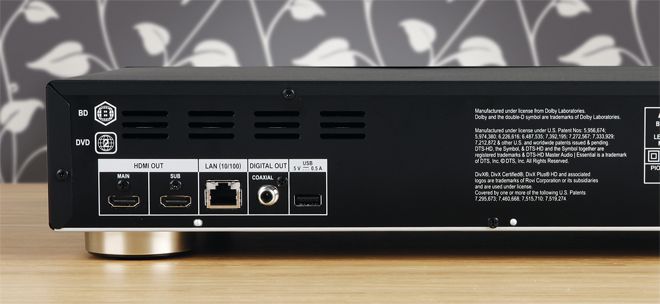 Plenty of grunt
Design-wise, the BDP-450 is dull yet refined. More importantly, it seems well built and has a decent-sized display on the fascia, which has four brightness settings including Off. The disc tray opens and closes with reassuring slickness and disc-loading times are reasonable. However, the deck is operationally noisier than Maria Sharapova, grunting and wheezing as it fires up and emitting more fan noise than Centre Court.
The Pioneer's GUI is functional and easy enough on the eye but it lacks the sort of cutting-edge excitement and polish you'd hope to find. The remote control is also a duff note: despite being full-sized it seems crowded and lacks legibility, an unhelpful situation compounded by the absence of a backlight. I preferred the fun and usability of the iControlAV2012 app.
All irritations concerning the BDP-450's lack of features and operational flaws pale in to insignificance when you feast your eyes and ears on what it can produce. I dug out those old DVD-Audio discs and realised how quaint their visuals seem, but was utterly delighted by the power and clarity of Queen's Bohemian Rhapsody (and surprised and amused with 'Scaramouch' jumping out from behind me). The six-channel mix of Songbird on Fleetwood Mac's seminal Rumours has so much more emotion than a regular CD and allows you to aurally pick out the individual instruments.
Things are even better with Hilary Hahn's The Lark Ascending on SACD. I thought this was good on my Sony deck, but was totally unprepared to be teleported right in to the piece, hearing each movement of Hahn's bow across the strings as well as the notes, almost as if she were playing in the room. Also on SACD, Jeff Wayne's War of the Worlds is equally sensational. The BDP-450 makes my Sony seem muddy by comparison, with Richard Burton's resonant commentary and the dramatic violin introduction combining to dramatic, spine-tingling effect.
Picture-wise, the BDP-450 is no slouch. Jaggies are kept to a minimum when panning and tilting diagonally, even with some tricky test scenes from my Spears & Munsil HD benchmark disc. The rich colour palette of Sterling Cooper's office in Mad Men on Blu-ray is well handled, and all the subtle blue shades of Pete Campbell's patterned suit are accurately revealed. This is an HD performance that invites you to soak it in – Jaws and Super 8 on Blu-ray did throw up some concerns with judder, especially when panning as a character moves in mid-shot or close-up across the scene, but the effect is random and unlikely to impact on your overall enjoyment.
Stereoscopic discs fare well, too. My 3D Blu-ray of Monsters vs Aliens was presented with excellent detail and the least amount of crosstalk I've yet seen on my Samsung active 3D display.
With standard-definition movies, the deck proves an upscaling revelation. Both Casablanca and Indiana Jones and the Temple of Doom looked as good as I've ever seen them. So good is the detailing with the Spielberg sequel that the primitive effects, such as when the troubled trio cling to a tunnel mouth as water cascades into a ravine, are all too obviously fake. Some of the close-ups of Harrison Ford, especially the evening shots in the Indian valley, feel so near to HD it hurts.
Low-cost, high desirability
Pioneer's BDP-450 may be a bit unpolished operationally, and uninspiring beyond its main purpose, but it acquits itself well as a universal disc player. Until now, AV hedz on meagre budgets had to make do with a Sony SACD-capable deck and kick DVD-Audio playback into the long grass. The Pioneer introduces the idea of a low-cost universal machine, and should be celebrated for it.
---
HCC VERDICT

Pioneer BDP-450
Price: £230 Approx
www.pioneer.co.uk
Highs: Exceptional SACD playback; decent DVD-A and Blu-ray performance; iOS and Android control app
Lows: Meagre online features; flakey multimedia streaming; poor remote
Performance: 4.5/5
Design: 4/5
Features: 4/5
Overall: 4.5/5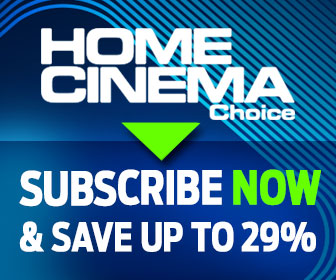 Home Cinema Choice #316 is on sale now

, featuring: Samsung Neo QLED TV; Monitor Audio Atmos system; battle of the SVODs; disaster movies on Blu-ray; BenQ UST projector; disc reviews; opinion; and more.
Want to see your home cinema system featured in the pages of HCC? Click
here
for more info.