Pioneer BDP-160 review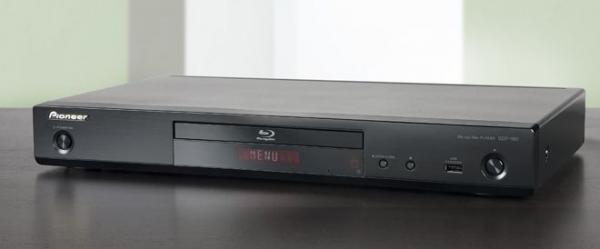 It may look resolutely retro, but this affordable Blu-ray deck delivers where it counts
Pioneer's BDP-160 Blu-ray player is unrepentantly old school. For starters, it looks like a Blu-ray deck should, rather than something impractical cobbled together for a Shoreditch design competition. And secondly, it even handles some of the more obscure discs you still own and would rather like to keep, such as those Destiny's Child SACDs (but not, unfortunately, your DVD-Audio platters). But equally it's no Luddite, offering network file playback and token online diversions, too.
For those seeking a 3D-compatible player to partner a new telly, or latecomers still moving from DVD, this Pioneer has just enough funk to stoke the fires of upgrade. It is, in short, worth a closer look. It's not too much of a spoiler to reveal that I rather like it – although it doesn't emerge entirely smelling of caramel popcorn and roses.
Dated design
The player is a classic slab, measuring 435mm across and 250mm deep. You can rack it, stack it and pile copies of HCC high atop it. Everything you'd want to do with a Blu-ray player, in fact. Rear connections are standard issue: there's a solitary HDMI, plus digital coaxial audio and stereo phono outputs, Ethernet and USB. Wi-Fi is built in. The transport mechanism itself is loaded centrally, with a second front-facing USB presented to the right. Reflecting the low asking price, the build quality is unavoidably lightweight (just 2kg), but it all looks presentable enough.
The remote control is a standard IR jobbie, albeit so insubstantial it's just a balloon or two away from a full Pixar Up flight to South America. Perhaps Pioneer thinks that people are more likely to use its iControlAV2013 app instead?
The BDP-160 itself presents a somewhat Amish face to the world. The menu is dull to the point of insult and basic when it comes to design. There's only rudimentary Smart online functionality, too. The Web content button is virtually a misnomer, bringing forth just YouTube and Picasa. Pioneer clearly doesn't intend for you to spend a great deal of time streaming with its toy.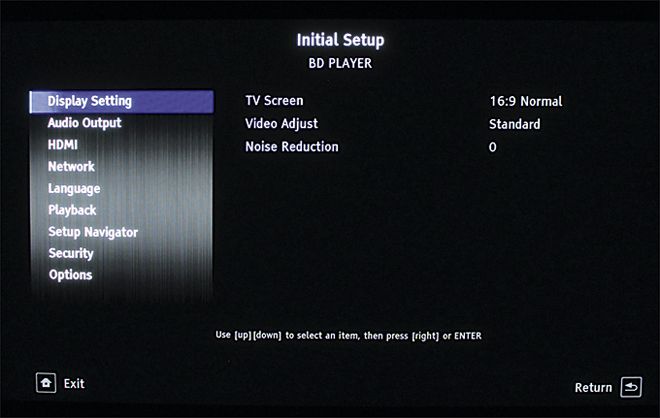 Up and running
Setup takes but a few minutes. For those that need it, there's WPS (Wi-Fi protected setup) provision for logging onto your network. Once connected, selecting the Home Media Gallery successfully locates whatever DLNA servers you might have lurking on your LAN. File format support, both for audio and video, proves to be comprehensive: AAC/M4A, WAV, FLAC up to 192kHz, MP3, WMA, AVI, MKV, MOV, MP4... this Hungry Hippo consumes them all. On the downside, navigating remote folder structures can seem a tad unintuitive.
The deck's USB media reader is similarly adept, playing MP3s with album art, along with Ogg Vorbis, WMA, APE, WAV, M4A, AIFF, AAC, MKV, WMV and MP4 files. To help make more of lower bitrate audio, Pioneer's Sound Retriever effectively interpolates compressed audio for a more fulsome listening experience.
In more traditional disc-spinning mode, the BDP-160 does a fine job laying down bits and beats. Image quality is exactly what you'd expect of a mass-market machine and is free from self-induced artefacts to spoil the hi-def fun. When the action kicks off in martial arts caper The Raid, there's no digital fizz or noise to distract from the fast-paced, low-contrast action. I'd quite happily partner this deck with a projection system or largescreen display. As for 3D, it handshakes with dimensional tellies without incident; Disney's much underrated Tangled played out with pristine stereography.
As a hi-fi solution, the BDP-160 passes muster. SACDs delivered over HDMI sound superb, with outstanding fidelity and multi-channel immersion. Conventional CDs bounce along, with impressive two-channel imaging. That said, there's no reason to use the analogue output here over a basic HDMI or coax connection; this is not a deck with audiophile aspirations. Outputting Dolby TrueHD or DTS-HD Master Audio as bitstream over HDMI effectively delegates audio performance to the decoding AV receiver.
If the player does disappoint though, it's with its disc-loading speeds. A simple Java-lite concert BD took 42 seconds from tray to screen, which is positively lethargic, while The Hobbit: An Unexpected Journey meandered to menu in 50 seconds – which is even slower than its predecessor, the BDP-150. That said, the player runs relatively quietly.
Pioneer's BDP-160 can be considered righteously retro. For traditionalists looking for a competent player that doesn't cock a total snook at their legacy multichannel music collections, it's more than worth considering. And priced at a mere £130, any overt criticism seems churlish; picture quality is excellent for the price. If only Pioneer would brighten up its dour menus, improve loading speeds and perhaps add some VOD. Then we'd all really need a reason not to snap one up.
---
HCC VERDICT
Pioneer BDP-160
Price: £120 Approx
www.pioneer.eu
Highs: Super Audio CD compatibility; old-school design; picture quality; broad file compatibility
Lows: Slow disc loading speeds; miserable user interface; token network content
Performance: 4/5
Design: 4/5
Features: 3.5/5
Overall: 4/5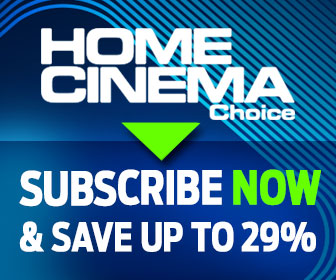 Home Cinema Choice #316 is on sale now

, featuring: Samsung Neo QLED TV; Monitor Audio Atmos system; battle of the SVODs; disaster movies on Blu-ray; BenQ UST projector; disc reviews; opinion; and more.
Want to see your home cinema system featured in the pages of HCC? Click
here
for more info.