Panasonic DMP-BDT500 Blu-ray player review

A Blu-ray player with a touch of old-school panache. If only it came with a retro remote...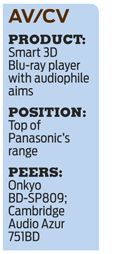 The DMP-BDT500 is a Blu-ray player designed for music lovers. While it doesn't skimp on visual refinements and connected cleverness, it really sets itself apart from the rest through sonic engineering. In many ways, this is Panasonic laying claim to the more esoteric end of the Blu-ray market, typically the stomping ground of brands like Cambridge Audio, Denon and Marantz.
Smart design
The player looks cool without appearing flashy. A slender metallic trim sets off the front fascia, which pulls down to reveal the central loading mechanism, SD card slot and USB reader. You'll need to use one of these for internal storage for BD-Live purposes. Unlike its fancy but less potent BDT320 sibling, this is not a slot-loader.
The rear of the deck offers two HDMI outputs. The recommended system hook-up for this player has the Sub HDMI output routing to an AV receiver, with the main HDMI going straight to a display. This is standard procedure if your AVR isn't 3D compatible; however, Panasonic suggests that this may the best option for audio clarity, too, as the video output on this channel can be disabled.
Optical and coaxial digital audio feeds are provided, alongside a set of phono AVs. There's also a bank of 5.1 analogue audio outputs; this can be expanded to seven channels if you hijack the stereo pair from the phono set. There's also a dedicated Skype USB port on the back of the player, for use with the brand's optional Communication Camera.
The deck has integrated Wi-Fi, should you choose to snub the wired LAN option. It also has a Wi-Fi direct mode, which allows peripheral equipment to be connected wirelessly without using the LAN.
Nifty GUI
Navigation via the GUI is excellent. The dashboard comprises a compass-based menu, which is quick and intuitive to use. The player blends disc access with card, USB and network content, making it feel very much like a content hub rather than just a disc-spinner.
Naturally, there's full access to Panasonic's pretty decent Viera Connect portal; which means a full plate of IPTV and SVOD (Subscription Video on demand) nibbles. You can choose between BBC iPlayer, Netflix, YouTube, Dailymotion and Acetrax, amongst others. There are also social media clients for Facebook and Twitter. Further diversions can be found in the brand's Viera Market store. Netflix, incidentally, warrants its own dedicated button on the remote zapper, as does Skype.
USB multimedia support is broad, with Panasonic throwing its weight behind both FLAC and MKV files for 2012. The deck will also unspool AVI, MOV and MP4 videos, plus MP3 and WAV audio tracks. You can replicate this compatibility when you stream from other devices on your network, however, these must be mapped to the player itself. This involves manually inputting the IP address, shared folder name and login details for each device. Once mapped, the player can render your files. If you don't go through this admittedly painstaking routine, playback compliance for networked accessed content is greatly reduced. So you have to decide whether or not you can be bothered.

Heinous handset
Arguably the most contentious element of this deck is not its advanced feature set but the remote control used to drive it all. The Panasonic DMP-BDT320, which has much in common with this player, comes with a radical touchpad controller that jettisons conventional buttonry in favour of a series of coded swipes. It is, not to put too fine a point on it, unusable.
That particular controller isn't packaged here. What you get instead is a hybrid zapper, which combines a traditional selection of controls augmented by said touchpad. Unfortunately, as the touchpad replicates the main Select and navigation wheel, it's impossible to avoid. The result is an awkward interface which I found often misinterpreted commands. To make matters worse, our review sample came with a non-functioning Return button. In the end I had no option but to liberate a much simpler remote from a Panasonic DMP-BDT220, which frankly came as a blessed relief.
The DMP-BDT500 harbours a fifth-generation UniPhier SoC (System on a Chip). Bolstered by additional memory, this adept processor uses all kinds of chicanery to beef up the video performance of the player. New this year is a24p mode for 60Hz DVDs (more useful in NTSC territories, obviously), and internet content gets similar respect. You can actually stream movies at 24fps, the advantage being less judder.
Drive time
The DMP-BDT500's 2D HD performance is superb. I can't imagine there being many other decks able to deliver more shadow detail and noirish texture from Drive than this one. The player also does a fine job with 3D Blu-rays. Panasonic has redesigned the chroma upsampling filter for 3D content for its 2012 range, apparently giving added depth, although I'll be darned if I could spot the difference with my copy of The Smurfs in 3D.
The DMP-BDT500 can depth-convert not only 2D discs, but web content as well. Not that I imagine many of you have been hankering to see stereoscopic MineCraft walk-throughs on YouTube.
Perhaps more intriguing is a mode called High Clarity Sound Plus. Panasonic originally developed the UniPhier SoC to reduce internal noise, and now power management advances allow the player to selectively shut down circuit blocks within it to further enhance audio. You can choose to shut down the analogue video circuit (surely no inconvenience to anyone) or the entire feed from HDMI. This literally turns the player into a dedicated music machine – and the benefits of video blanking can be equally applied to USB content and streamed tunes.
DAC attack
And there's more. The BDT500 is unique in the Panasonic line in that it employs chunky surface-mounted electrolytic capacitors, as well as quartet of Burr-Brown 192kHz/32-bit DACs with separated power supplies for analogue and digital. Given that CDs have 16-bit resolution and Blu-ray 24-bit, you might wonder why the extra headroom? Well, this deck has a host of audio processing modes which output everything at 32-bit resolution, such as Panasonic's long-established Re-mastering options as well as its Tube Sound initiative.
Tube Sound, incidentally, is particularly interesting. It adds harmonic distortion to the audio output in an attempt to replicate the warm 'analogue' character of valve amps from the Sixties and Seventies. I actually rather like some of these filters, and find them particularly effective when playing back CDs which are inherently clinical.
It's reassuring then to report that this player's audio performance, both two-channel and multichannel over HDMI, is astonishing good – although for CD replay, I would probably recommend an analogue feed from the deck. Whatever way you cut it, this is a sumptuous-sounding player that will have you delving into your music collection with glee.
Not disappointed
Overall, I rate Panasonic's DMP-BDT500 as a superior Blu-ray proposition, albeit one with some caveats. Its audio-visual performance is exemplary, both in the analogue domain and over HDMI. While the lack of support for Super Audio CD, and to a lesser extent DVD-Audio, will take some shine off it for those with legacy disc collections, mainstream users are unlikely to be disappointed.
A shame then that the DMP-BDT500 lets itself down with something quite so basic as the IR controller. Panasonic's touchpad remote is not a pleasant user experience, and with my sample additionally crippled by an intransigent Return key, the controller was practically unusable. Still, you can always download the control app (for both iOS and Android), I suppose.
Despite my handset concerns, I won't be surprised if the DMP-BDT500 finds a legion of fans – at this price it's hard to beat, and it'll look fabulous next to a new Viera flatscreen. Just don't come crying to me about the remote...

---
HCC VERDICT
Panasonic DMP-BDT500
Price: £300 Approx
Highs: Sublime video quality; superior audio over HDMI; excellent analogue audio performance; good file support from USB
Lows: Infuriating touchpad controller; unnecessary multi-user modes; complicated networking mapping requirement
Performance: 5/5
Design: 3/5
Features: 4/5
Overall: 4/5
---
Analysis
GUI: The Viera Connect market uses hi-res icons and a straightforward layout
Power consumption: The idling figure of the DMP-BDT500 is 7W, and playback increases to just 10W – nice and efficient
Killer feature: The DMP-BDT500's alter ego as a high-quality music player merits the £300 tag
---
Specifications
3D: yes
Upscaling: yes to 1080p
Multiregion: no Region B BD/R2 DVD
HDMI: yes two v1.4a
Component: no
Multichannel analogue: yes 7.1 phonos
Digital audio: yes optical and coaxial digital outputs
SACD/DVD-A: no/no
Dolby TrueHD/DTS-HD decoding: yes/yes
Dolby TrueHD/DTS-HD bitstream: yes/yes
Profile 2.0: yes But no internal storage
Dimensions: 430(w) x 59(h) x 245(d)mm
Weight: 2.6kg
Features: Ethernet; integrated Wi-Fi; Wi-Fi Direct; USB media playback; network media streaming; High Clarity Sound Plus mode; touchpad remote handset; 2D-3D conversion of disc and 'net content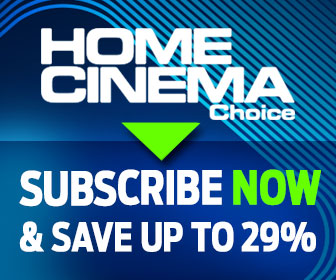 Home Cinema Choice #316 is on sale now

, featuring: Samsung Neo QLED TV; Monitor Audio Atmos system; battle of the SVODs; disaster movies on Blu-ray; BenQ UST projector; disc reviews; opinion; and more.
Want to see your home cinema system featured in the pages of HCC? Click
here
for more info.