Panasonic DMP-BDT320 Blu-ray player review
Despite its high-street looks this Blu-ray deck packs some real high-end AV appeal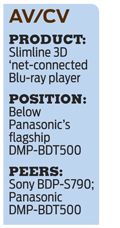 With its angled edges and slot-loading disc mechanism, the Panasonic DMP-BDT320 at first glance looks like a jazzed up version of the brand's cheaper DMP-BDT220, but the two players are chalk and cheese. This home theatre lightweight puts in a heavyweight performance that belies its thin build.
Indeed, the DMP-BDT320 owes more to the brand's audiophile DMP-BDT500 flagship (reviewed here) than its cheaper sibling, sharing core functionality and a similar level of engineering finesse. It doesn't offer the twin HDMI or multichannel analogue outputs of the BDT500, though – and comes with a touchpad remote control that manages to be even more irritating than the hybrid one supplied with its bigger brother. Navigation is via a series of coded swipes, which you'll need to memorise before you have any chance of controlling your discs. Be prepared to migrate to the brand's control app.
Give us a WAV
As you might expect, the BDT320 offers extensive file playback. The USB media player is happy with FLAC, WAV and MP3 audio tracks, but it shows inexplicable disdain for album art. Video is also widely welcomed, with MKV, AVI, MOV and MP4 all compatible. While this doesn't extend to playing files from a NAS across a LAN, Panasonic encourages users to manually map remote drives (by inputting their IP address, folder name and login details) directly to the deck in order to render files. As a user-experience this is unapologetically geeky.
Online content is rather more accessible. The brand's Viera Connect portal now represents solid value, with the UK's top three IPTV services (BBC iPlayer, Netflix and YouTube) all onboard.
Blu-ray video delivery is spectacular; discs sparkle with detail, while colours are smooth and nuanced. Episodes from the Season One box-set of Game of Thrones in particular offer eldritch depth, with grizzled, believable skin tones and finely etched fur.
This fidelity can be tracked back to improvements in Panasonic's High Precision 4:4:4 processor, and something called Adaptive Chroma Processing upsampling. This improves bit depth, giving cinematically smooth gradations and a higher frequency response. Panasonic claims 12-bit precision for the resulting output, to better match today's advanced panel technologies (Blu-ray discs have a native colour depth of just 8-bit).
Of course, it could be argued that all this is all a bit like applying another coat of lacquer to a Steinway. Panasonic's players were always pretty glossy to begin with.
Up for 3D

Performance with 3D is similarly fine. The brand claims to have extracted a smidgeon more clarity from 3D Blu-rays, but this is difficult to verify. Still, 3Dholics will be pleased with the player's ability to convert 2D 'net content into 3D; previously this has been limited to discs.
Perhaps the DMP-BDT320's biggest revelation concerns its sonic performance. While the more expensive BDT500 claims audio seniority (and is worth upgrading to if you can afford it), this model is defiantly musical. Several tricks have been employed to improve its audio, most effective of which is a High Clarity Sound mode which shuts down the analogue video DAC or the entire HDMI video output (you choose), thereby removing electrical noise on the signal lines between the UniPhier chip and HDMI interface.
Re-enforcing this is a so-called Jitter Purifier. We've seen various techniques used to reduce audio jitter over HDMI, but most require matched players and receivers to work. Here Panasonic has opted to stabilise control signals at the HDMI interface, which it says reduces timing errors regardless of your choice in AVR. Certainly, stereo imaging and soundstage presence are considerable – I settled down with a selection of finely mastered Japanese SHM-CDs, from orchestral classics to Bowie, and was thoroughly engaged.
Overall, the DMP-BDT320 is a beautifully engineered BD player which delivers a stonking performance for the price. But, as with the DMP-BDT500, I'm left wishing it was supplied with a more traditional remote.
---
HCC VERDICT
Panasonic DMP-BDT320
Price: £270 Approx
Highs: Outstanding HD video performance; stylish design; FLAC and MKV USB playback
Lows: Unintuitive touchpad remote; challenging media playback across a LAN
Performance: 5/5
Design: 4/5
Features: 4/5
Overall: 4/5
---
Analysis
GUI: The DMP-BDT320's onscreen menus are smart, hi-res and sensibly structured
Power consumption: Another energy efficient player from Panasonic, using just 8W during movie playback
Killer feature: Panasonic's High Clarity Sound mode lends the DMP-BDT320 a slice of audiophile charm that its mass-market rivals don't offer
---
Specifications
3D: yes
Upscaling: yes to 1080p
Multiregion: no Region B BD/R2 DVD
HDMI: yes 1 x HDMI v1.4
Component: no
Multichannel analogue: no
Digital audio: yes optical digital audio output
Ethernet: yes
Built in Wi-Fi: yes
SACD/DVD-A: no/no
Dolby TrueHD/DTS-HD decoding: yes/yes
Dolby TrueHD/DTS-HD bitstream: yes/yes
Dimensions: 430(w) x 27(h) x 185(d)mm
Weight: 1.5kg
Features: USB x 2; SD card slot; iOS and Android app control; High Clarity Sound and Tube sound modes; Skype (with optional camera); Viera Connect smart portal, featuring BBC iPlayer, Netflix, YouTube, Dailymotion, Acetrax, Facebook, Twitter and Picasa; DLNA multimedia media playback (AVCHD, MPEG2, DivX, AVI, MKV, MP3, WAV, FLAC, JPEG/MPO)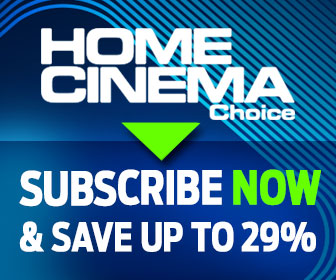 Home Cinema Choice #316 is on sale now

, featuring: Samsung Neo QLED TV; Monitor Audio Atmos system; battle of the SVODs; disaster movies on Blu-ray; BenQ UST projector; disc reviews; opinion; and more.
Want to see your home cinema system featured in the pages of HCC? Click
here
for more info.