Inside Out review
This dazzling and inventive cartoon is the year's best feel-bad-film. And that's no bad thing
Describing the plot of Pixar's 15th animated film is a tricky thing. At it's most basic Inside Out follows 11-year-old Riley (voiced by Kaitlyn Dias) as she comes to terms with moving to a new city.
However, this being a Pixar flick there's an added wrinkle, with the story playing out simultaneously in two worlds. So, as well as following Riley in the 'real' world, the film goes inside her head to deal with the personifications of her five key emotions – Joy (Amy Poehler), Sadness (Phyllis Smith), Anger (Lewis Black), Disgust (Mindy Kaling) and Fear (Bill Hader) – which control her moods and feelings.
If this all sounds a bit like the old Numskulls comic strip, then rest assured that Pixar adds plenty of its trademark magic to ensure that the concept feels fresh and unique. But most impressive of all is the way the studio explores the idea that sadness is just as important as joy when it comes to our formative memories and experiences.
Inside Out manages to do this while taking viewers on a fantastically fun journey into the imagination (with a potted history of abstract art thrown in along the way). It goes to show just how creative, daring and sophisticated the studio's storytelling has become, and will restore the faith of those who feared it had lost its way with Monsters University and myriad Cars sequels and spin-offs.
Movie rating: 5/5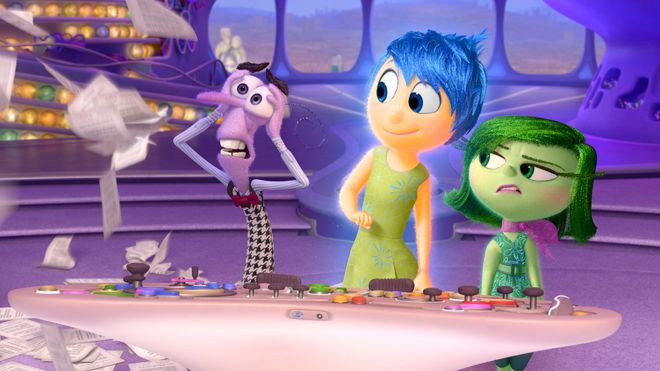 Picture: Inside Out features the sort of immaculate 1080p transfer we've come to expect from Pixar. The 1.78:1 image is bright, vibrant, razor-sharp and packed with detail (we caught ourselves simply staring at the meticulously realised textures in Joy and Sadness's hair on quite a few occasions). Black levels and shadow detail are also flawless, which comes in handy with sequences such as the visit to the Memory Dump in Chapter 22.
Picture rating: 5/5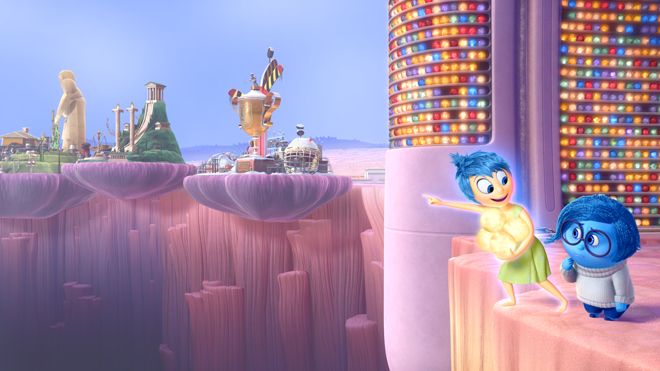 Audio: While the Blu-ray defaults to a DTS-HD High Resolution 5.1 track, a visit to the Set-Up menu reveals the presence of a DTS-HD Master Audio 7.1 mix. This is an absolute delight, making subtle and nuanced use of the surround array to bring life to locations. And pay close attention during Chapter 12's 'Abstract Thought' sequence for a particularly creative bit of sound design.
Audio rating: 5/5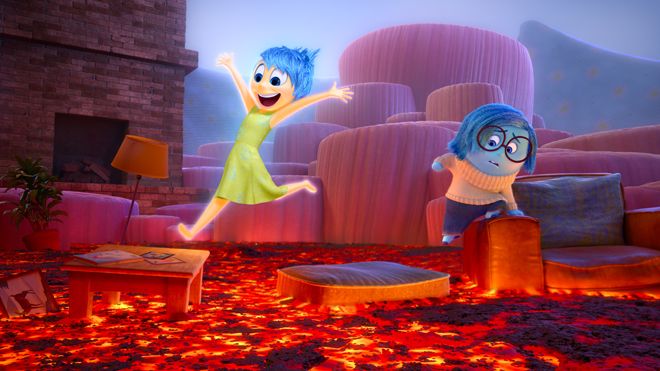 Extras: This UK release of Inside Out is accompanied by a commentary from director Pete Docter and co-director Ronnie Del Carmen (with a brief appearance by director of photography Patrick Lin); two behind-the-scenes featurettes (Paths to Pixar: The Women of Inside Out and Mixed Emotions); and two animated shorts – Lava and Riley's First Date (again, the audio on these defaults to DTS-HD HR 5.1 but can be switched to DTS-HD MA 7.1).
However, in a move sure to anger fans, Disney UK has opted to make the bonus disc that is included with the US Blu-ray (housing additional behind-the-scenes featurettes, deleted scenes and trailers) available exclusively on these shores as part of Zavvi.com's limited edition steelbook. As this version sold out on pre-orders, UK fans may want to import the US release to get the full array of extra features.
Extras rating: 2.5/5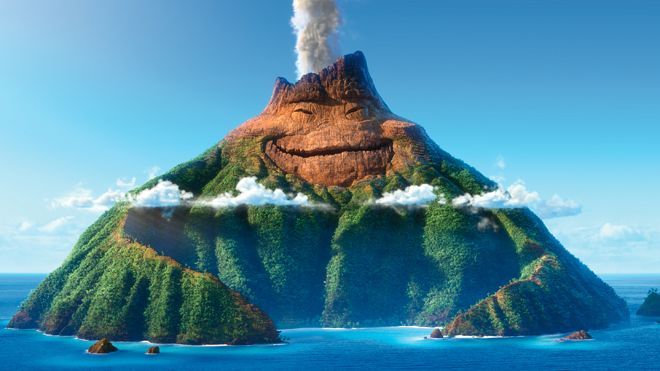 We say: A superb Blu-ray spoilt only by the decision to limit availability of the full range of bonus features
Inside Out, Walt Disney, All-region BD, £25 approx
HCC VERDICT: 4.5/5