The Hunger Games: Mockingjay - Part 1 Blu-ray review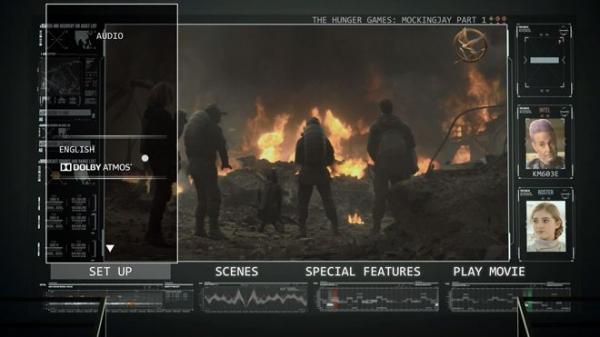 It's the beginning of the end for the phenomenally successful Young Adult sci-fi series
This penultimate outing for Suzanne Collins' popular dystopian fantasy is a radically different proposition from the action-fests that have gone before.
Stripped of the visceral combat and spectacle that characterized the original and its sequel, this is a grittier, greyer, more overtly political watch that clearly has loftier ambitions. Unfortunately, when the final credits roll, we still aren't entirely sure what those ambitions are. The decision to split the final book into two movies à la the Harry Potter and Twilight franchises ensures that The Hunger Games: Mockingjay – Part 1 is all build-up and no pay-off.
Still, for those of us who already have invested time in these characters, its uneven pacing is easy to forgive. And once again Jennifer Lawrence takes centre stage, holding her own against a stellar cast of Hollywood heavyweights, including a granite-jawed Julianne Moore and grizzled Philip Seymour Hoffman.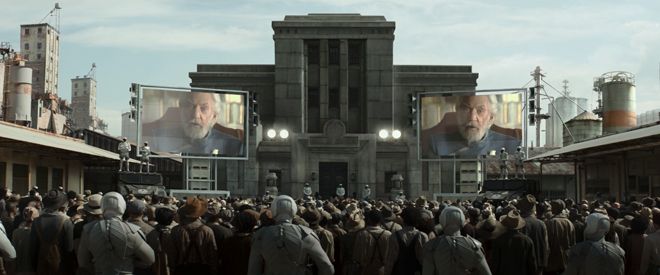 Picture: The Blu-ray's image quality is impressive, if intentionally pallid. Framed at 2.35:1, the AVC transfer effortlessly pulls you into the grim world of Hunger Games' brooding revolution. There's plenty of fine detail in the 1080p picture, but not so much that the visual effects becoming jarring. Overall, image quality is coherent but not too showy.
Picture rating: 4/5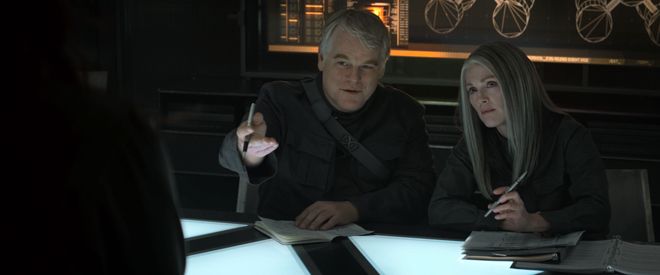 Audio: Fittingly, The Hunger Games: Mockingjay – Part 1 is the latest platter to join the Dolby Atmos revolution; those without compatible equipment get a thoroughly satisfying Dolby TrueHD 7.1 mix.
The 3D audio highlight is the heavy bombing of District 13's underground complex (which runs across the end of Chapter 11 and the start of Chapter 12), which really gives the pimped-up Atmos LFE an opportunity to boom. You'll believe debris is raining down upon you from those height channels.
The disc also has an 11.1 DTS Headphone: X sound option. This works with any pair of headphones and AVR, and is truly remarkable in terms of image placement. Indeed, it's arguably even more immersive than the accompanying Atmos track...
Audio rating: 5/5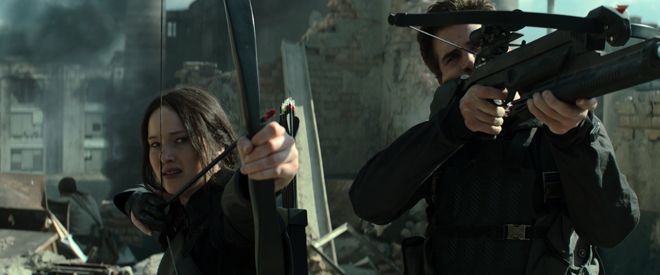 Extras: While The Hunger Games: Mockingjay – Part 1 is a touch unsatisfying as a standalone film, this Blu-ray makes amends with a generous assortment of extras.
An audio commentary by director Francis Lawrence and producer Nina Jacobson provides an intense dissection of the movie; it's low on laughs but rich in minutiae. There are also nine deleted scenes (11 minutes) to ponder, a tribute to the late Philip Seymour Hoffman (11 minutes) and a Songs of Rebellion featurette (eight minutes), in which Kiwi popstrel Lorde talks about her involvement with the film's soundtrack. We also get the promo video for her song Yellow Flicker Beat.
The jewel in the supplemental crown is The Mockingjay Lives, an in-depth eight-segment Making of… documentary (134 minutes), which contains some genuinely insightful conversation from the creative team behind the franchise. It covers everything from the cast and make-up to visual effects. There's also a sneak peek at the upcoming sequel to fellow 'Young Adult' series Insurgent.
Extras rating: 4.5/5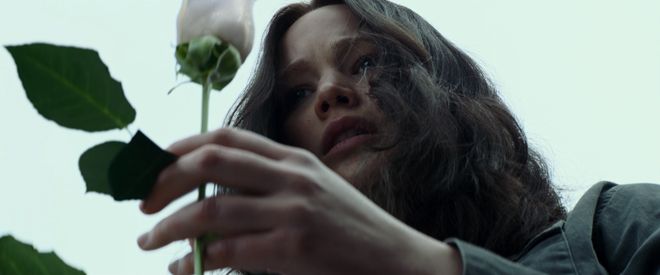 We say: This well-specified Blu-ray release will leave franchise fans hungry for the final instalment
The Hunger Games: Mockingjay – Part 1, Lionsgate, Region B Blu-ray, £25 Approx
HCC VERDICT: 4/5