Evil Dead review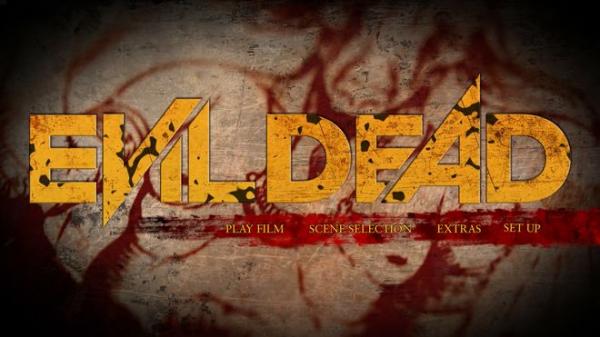 Stylish remake of Sam Raimi's classic gorefest has plenty of AV chops to recommend it
Neither a true remake or sequel, this reboot of the Evil Dead franchise sees five friends descend on that cabin in the middle of nowhere to help one of their number, Mia (Jane Levy), kick her drug addiction. However, when they find a mysterious book hidden away in the basement – a book that holds the secret to summoning up an ancient evil – cold turkey is the least of their worries.
Made with the blessing of original players Sam Raimi, Rob Tapert and Bruce Campbell, Fede Alvarez's Evil Dead is a blood-spurting, gore-strewn pandemonium of bigscreen horrors. While it could arguably do with a little more character development up front (something that Alvarez's commentary seems to indicate will happen whenever the 'Extended Cut' sees the light of day) this new Evil Dead definitely doesn't skimp on the gruesome stuff.
In fact, the film's sheer overload of the grim and gory occasionally veers close to 'torture porn' territory – but thankfully it lacks the mean-spirited, malicious nature common to that sub-genre. A cracking horror film, then, but we do wish it had just a little splash of the black humour that made Raimi's original version so entertaining.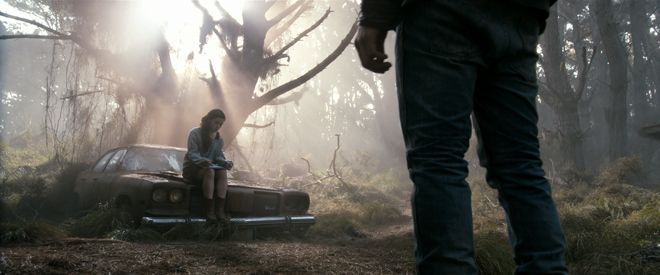 Picture: This extremely stylish new Evil Dead brushes up very well indeed on Blu-ray.
Presented in its original 2.40:1 aspect ratio, the clarity and fine detailing inherent in the disc's digital-to-digital AVC 1080p encode ensures that every gaping wound is horribly lifelike in its depiction. Combined with excellent black levels and crisp edges, you get a macabre image with an authentic sense of depth and volume.
Colours are understandably rather muted for most of the film's running time. However, those all-important reds still pop pretty well thanks to strong saturation – particularly during key sequences such as Chapter 11's blood rain.
Picture rating: 5/5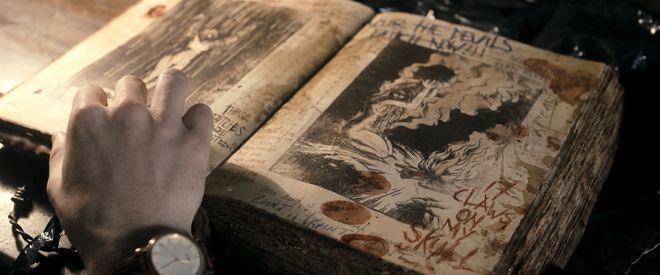 Audio: Alvarez's splatter flick comes armed with a finely-crafted DTS-HD MA 5.1 soundtrack. While the mix seems a little quiet at times as the film builds up to its scares, it provides ferocious audio when the mayhem is finally unleashed.
Use of the surround speakers is particularly impressive; the sound designers have created a surprisingly expansive soundfield for a movie ostensibly set in such a claustrophobic location. And the clarity and precision of the mix, especially the delicate high-frequency effects, really comes into its own, adding uncomfortable sonic accompaniment to all of the onscreen gouging and flesh-ripping.
Audio rating: 5/5
Extras: The extras here are rather perfunctory, so keep an eye out for that Extended Edition. Director Fede Alvarez and writer Rodo Sayagues are joined by actors Jane Levy, Lou Taylor Pucci and Jessica Lucas for an informative chat-track that covers most of the film's production, and the BD also summons up five featurettes – Directing the Dead, Making Life Difficult, Being Mia, Evil Dead the Reboot and Unleashing the Evil Force. All quite short but nonetheless interesting, with plenty of input from both Alvarez and Levy.
Extra rating: 2/5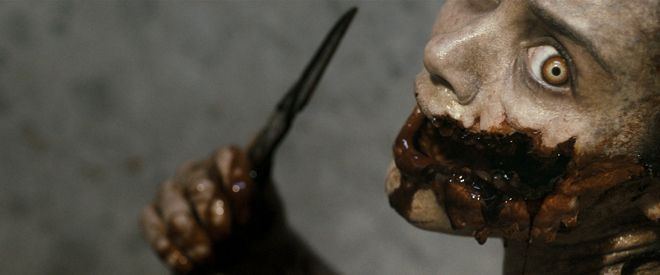 We say: First-rate picture and sound help make this relentless and gruesome horror remake a winner on Blu-ray
Evil Dead, StudioCanal, Region B BD, £23 Approx
HCC VERIDCT: 4/5