BenQ W5700 DLP 4K projector review Page 2
BenQ's CinemaMaster Video+ processing suite offers controls for Colour Enhancer, Flesh Tone, 4K Pixel Enhancer and 4K Motion Enhancer. The first two seem redundant considering the colour accuracy, and the same goes for the last when you consider motion handling is a DLP strength. The 4K Pixel Enhancer is useful with lower-resolution content, but in general I left all these controls off.
The Expanse takes a realistic approach, and as a result colours are often muted. This is not the case when it comes to Star Trek: Discovery, 1080p on Netflix but also in HDR. In the penultimate episode of Season Two, Captain Pike walks on to the bridge of the USS Enterprise, and the classic 1960s set is presented in all its Technicolor glory.
Alone In The Dark
At 1,800 Lumens the W5700 is hardly a light-cannon, but that shouldn't be an issue in a dedicated room. If you're thinking of a normal living space, the W2700 might prove a better choice. BenQ employs a colour filter to reach 100 per cent of DCI-P3, which unfortunately reduces the light output further, but that's a compromise you'll have to make if you want colour fidelity.
The W5700's tone mapping delivered some impressive pictures. For the best results you will need to engage the dynamic iris, which increases the brightness and deepens the blacks without noticeably pumping the image. The frequent lens flares in Star Trek: Discovery certainly exhibited a lovely specular pop.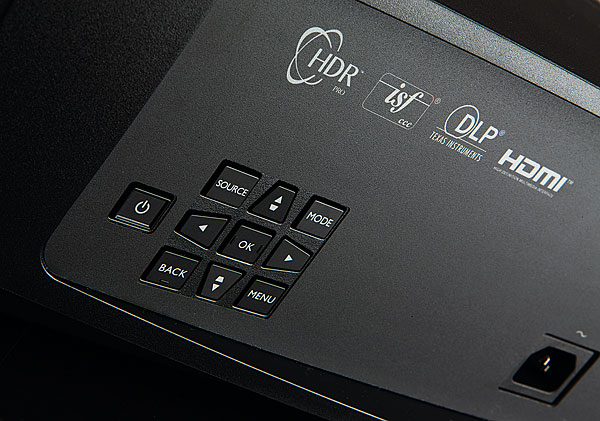 The sequence in Lucy (UHD Blu-ray) where Scarlett Johansson escapes her captors includes some difficult mixed-contrast content that allows the W5700 to display its strengths and also a specific weakness. Close-ups of Johansson reveal every pore of her skin, and her blonde hair and artificially blue eyes look spectacular. As she shoots her way out of the factory the sparks in the background are delivered with a glowing intensity.
However, even with the dynamic iris on, the darker corners of the factory lack shadow detail, and the blacks themselves are more a very dark grey. This is an inherent weakness of DLP but in a blacked-out home cinema, which is the projector's target environment, there's nowhere to hide and these limitations become more apparent.
While the tone mapping is effective, a film like Overlord on 4K disc pushes the projector's HDR capabilities to its limits. There's a sequence near the beginning, involving a landmine, that takes place in a darkly lit field. The greens and browns that dominate the colour scheme are wonderfully nuanced but the scene is often too dark, although using the HDR Brightness control can help.
At this point it's also worth mentioning this projector's other flaw: its operating noise. The actual fan isn't too loud at around 30dB, but there's also the sound of the colour wheel and the XPR feature, while the dynamic iris is annoyingly noisy too. There's a Silent mode that turns off XPR to make the projector quieter, but then you're simply looking at a 1080p image.
If you're a fan of 3D Blu-ray the W5700 is right up your street, with a total absence of crosstalk, smooth motion, and images that are detailed and accurate. Brightness takes a hit because of the spex, but the miniaturised mayhem of Ant-Man and the Wasp looks awesome, especially when the frame opens out for IMAX sequences.
Home Cinema Star
Overall, this is a superb UHD projector that boasts previously unobtainable colour coverage for a DLP display and a remarkable level of accuracy. Design and setup are home cinema-friendly. Brightness is somewhat limited but HDR performance remains impressive, and motion handling and 3D are both excellent. Audition one.
HCC Verdict
BenQ W5700
Price: £2,600
www.benq.eu
We say: This high-end 4K DLP XPR projector delivers exceptional accuracy and awesome bigscreen images. The blacks could be better, but it's still amazing value.
Performance: 4.5/5
Features: 4.5/5
Design: 5/5
Overall: 4.5/5

Specification
3D: Yes. Active 3D (glasses optional)
4K: Yes. 3,840 x 2,160 (Texas Instruments XPR)
HDR: Yes. HDR10; HLG
Connections: 2 x HDMI inputs; optical digital audio output; 3.5mm audio output; RS-232; 12V trigger; Ethernet; IR-IN jack; USB 3.0 media reader; USB 2.0 media reader; powered USB 2.0 port
Brightness (claimed): 1,800 Lumens
Contrast (claimed): 100,000:1 (dynamic)
Zoom: 1.6x
Dimensions: 492(w) x 168(h) x 349(d)mm
Weight: 6.5kg

Features: Single-chip DLP system; lamp life rated at 4,000 hours (Normal); 10,000 hours (Eco), 8,000 hours (SmartEco); 1.36-2.18:1 throw; CinematicColor with 100 per cent DCI-P3 coverage; HDR-PRO tone mapping; CinemaMaster Video+ processing; ISF Day/Night presets; vertical and horizontal lens shift
Home Cinema Choice #311 is on sale now

, featuring: Samsung Q950TS 8K QLED TV; Emotiva 11-channel power amp; Meridian in-wall speakers; binge-worthy TV boxsets; Color Out of Space interview; disc reviews; opinion; and more.
Want to see your home cinema system featured in the pages of HCC? Click
here
for more info.