Arcam FMJ AVR750 review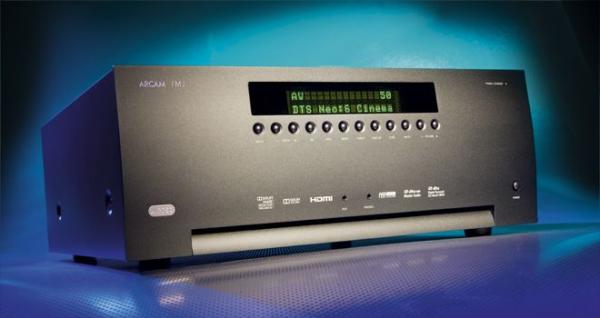 It's been a long time coming, but Arcam's new flagship AV receiver was definitely worth the wait
It's probably fair to say that Arcam doesn't rush its AV receivers to market. It's been four years since the launch of the brand's last flagship, the AVR600, which in the world of home electronics is something of an age. At least the brand doesn't undersell them when they arrive. The AVR750, it says, is not just the finest home cinema receiver it's ever made – it's also the best-sounding stereo amplifier, too. Quite a claim, and the guys from Cambridge may well be right.
Certainly this new AVR is a powerful vindication of the company's philosophy that there needn't be an unbridgeable divide between two-channel and multichannel entertainment. Whether playing Lou Reed's Transformer or Michael Bay's Transformers, there's an authority to this amplifier that's deeply reassuring. But there's also a conservatism to the feature specification that may well disappoint badge-hunters.
Arcam's a very different company now to what it was when it first released the AVR600. The brand has shifted manufacturing from the UK, and found a new lease of life via its series of new media accessories. Both impact the AVR750 in different ways.
Back in the day, Arcam receivers were just a little bit cranky, which set them apart from their mainstream competition just as surely as their sonic attributes. That eccentricity has been ironed out of the AVR750; it feels altogether more polished and refined and is a much smoother component to drive. The Arcam behaves much as you'd expect it to, while the clear-cut specification makes it a supremely easy AVR to install and tune.
In terms of design, this newcomer is just beautiful. Its clean lines and dark-grey bodywork reflect the familiar FMJ aesthetic. There are no hidden flaps or manual control knobs. The fascia merely presents a status display window underscored by a dozen buttons, which offer on-body +/- input selection and volume control, mode selection and so on. A 3.5mm aux input for both analogue and optical digital sources and a 3.5mm headphone jack offer the only front-panel hookup.
At 16.7kg, the model also exhibits serious heft. The neatly laid-out rear panel is as generous as it is clean. There are seven HDMI inputs and two outputs, both of which are ARC (Audio Return Channel) compatible. Curiously, one of the inputs is labelled VCR, which is clearly a little ridiculous. This vestigial nomenclature can also be found on the remote control.
There's also a trio of component inputs, four legacy phono AV inputs and a Zone 2 analogue output. Digital audio options include two optical and four coaxial. Should you feel the need to haul in an external power pusher, there's also a 7.1 bank of pre-amp outputs. As is the trend these days, though, there are no multichannel analogue inputs. This might just be an issue if you have a legacy Super Audio CD/DVD-Audio deck.
The receiver is a seven-channel design, using multi-voltage Class G amplification. It can be configured as a full 7.1 system, or as 5.1 with two channels serving a second zone. Alternatively, users can opt to bi-amp the front stereo pair in 5.1. For this review, the AVR750 was run in its 7.1 configuration.
Network entertainment is delivered via an Ethernet input; there's also a rear-mounted USB, which when the HDMI inputs are populated becomes virtually unusable. External control support includes RS232, plus 12V and IR triggers, which can automatically switch on connected kit.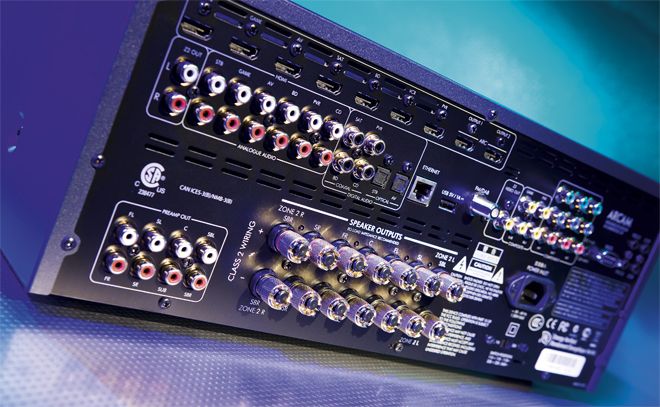 Revamped electronics
While some elements of the AVR750 recall its antecedents, there have been big changes beneath the hood. The entire HDMI and video processing stage is new, sourced from Analog Devices. This is quite a change from its predecessor, which featured software specifically written in-house by Arcam. Unfortunately, that bravery led to a number of reliability issues.
In comparison, this platform appears bulletproof. The receiver's video switching time has improved, too, and the AVR basically handshakes with every hot plug as soon as it's powered up, which dramatically improves overall slickness and usability. All sources can be upscaled to 4K resolution.
The supplied CR450 remote is a backlit, learning zapper. It also comes pre-programmed for other Arcam devices, and, in time-honoured tradition, button functionality changes depending on which source device is selected. A comprehensive guide to this multi-functionality is provided in the tutorial booklet.
Despite its high-end designation, the AVR750 is not a difficult receiver to set up and optimize. Typically in a home cinema system, you'll declare all speakers to be small regardless of their physical size, thereby allowing the subwoofer to handle lower-frequency information. However, given the AVR750's audiophile leanings, this approach may not always be appropriate; helpfully, you can elect to configure the AVR750 for stereo listening differently.
The Arcam ships with an Auto Speaker setup calibration mic, which performs the usual enclosure measurements and room EQ sleight of hand. You can elect to manually select which inputs benefit from this equalisation – ideal if you prefer certain sources uncoloured. While I preferred the AVR750 sans EQ in two-channel mode, this calibration certainly helped multichannel material. The routine takes a little longer to complete than rival systems, but positional accuracy is very good. Inevitably, though, some further tweaking was done to get the most agreeable sound balance.
When it comes to a user interface, the AVR750 offers a utilitarian face to the world. In fact, the UI is the same as that featured on the AVR600, but at least it's far more responsive this time around. Cinephiles more concerned with the performance chops of the system are unlikely to be put off by such frugality.
The AVR750 is networked for audio, offering playback from uPnP-enabled devices, as well as internet radio via vTuner. Media compatibility is standard, with MP3, WMA, WAV, FLAC and M4A/AAC files all playing from both USB and across a network from a NAS. There's no album art support, though. There's no screensaver mode, either – so plasma owners beware.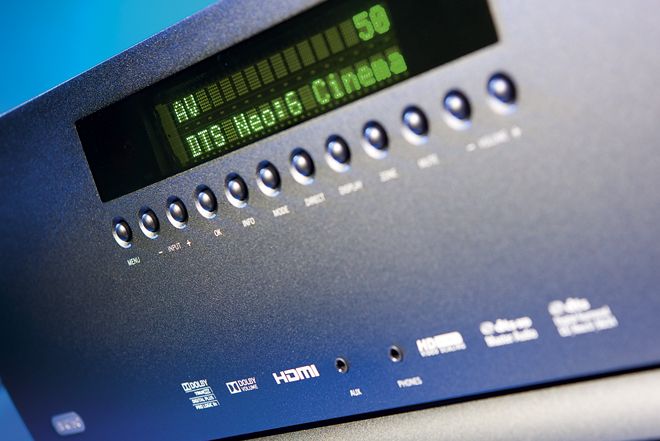 Two-channel tenacity
In audiophile guise, Stereo Direct is the way to go. This bypasses all processing and circumnavigates surround effects. As there's no bass management, nothing is directed to the subwoofer channel. The resulting two-channel performance is positively seductive.
Seraphim (Angel Mix) by Digitonal, a FLAC download from Linn Records, has a soundstage that grows wider and deeper as the track progresses, and the AVR750 sings along sweetly. Arcam makes no bones about the fact that this receiver has been engineered first and foremost to convey believable music, confident that once that's achieved all other aspects will fall into place.
The AVR750 sounds similarly glorious with multichannel music (EQ employed). Kosuke Yamashita's The Earth Overture in 192kHz/24-bit 7.1 Linear PCM is suitably grandiose.
Of course, AV-Holics might be forgiven for thinking that any AVR whose DNA was forged in a musical furnace will sound fey and gutless with ballsy action fare. However, this Arcam will prove them wrong.
The AVR750 is brawnier than a pumped-up Sylvester Stallone – an analogy given credence by the lengthy pre-credit sequence in The Expendables 2 (Blu-ray). The AVR750 delivers the magnificent chaos of this madcap 7.1 DTS-HD Master Audio mix without the vaguest hint of exhaustion. As Sly's Bad Attitude convoy blasts through the Nepalese compound, the receiver disgorges ordnance and falling masonry with huge dynamics.
The wraparound imaging is fast and furious, with dialogue cleanly delineated (no mean feat given the scenery-chewing cast). It's all breathlessly exciting. There's a temptation with the AVR750 to see just how far you can push its reserves, but in anything other than a theatre-sized space you'll hit the pain threshold before the receiver squirms.
The AVR750 doesn't feature an over-abundance of multichannel processing modes. Codec support covers the basics – Dolby TrueHD, Dolby Digital Plus and Pro-Logic IIx, along with DTS-HD MA and DTS-ES 6.1. Arcam's top-flight receiver holds no truck with height or width processing (hardly surprising considering it only offers seven channels) nor any of the virtual science proffered by the likes of Sony's STR-DA5800ES. This is very much a classical AV package.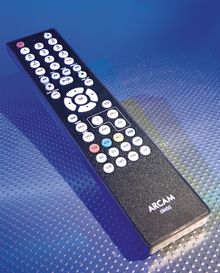 That's not to say fun can't be had with some of the Arcam's old-school modes. With genuine 7.1 mixes still in short supply, Dolby Digital EX works well in fleshing out the surround with 5.1 sources. The opening sequence to Transformers: Dark of The Moon (Sky Movies) immediately becomes more immersive when EX is applied. As the animated Paramount logo encircles the listener, the 360-degree pan gets a little vague in 5.1; with EX on and those rear back channels engaged, there's no holes in the wall of sound.
The receiver is rated to deliver 130W (into eight Ohms) with two channels driven, dropping to around 100W when all seven channels are in flight. However, this doesn't really give a sense of the transient response offered by the onboard power plant. This can run 20W of low-distortion Class A across all channels (more than the AVR600 and cooler, too), but switches in another supply using larger capacitors when things really kick off. Which is probably why it sounds so elegant with music but is unfazed by mayhem.
As an aside, it's worth mentioning that I also listened to the AVR750 utilising Arcam's inspired rBlink. A diminutive Bluetooth DAC, this allows users to stream from their mobile device to the big AVR. The results were surprisingly musical.
Effortlessly confident
There is no escaping the fact that Arcam's AVR750 is a magnificent-sounding AV receiver. Easily the most accomplished AVR from the brand to date, it's effortlessly confident with multichannel and is a luxurious two-channel listen as well. While it's perhaps regrettable that little operational niceties such as HDMI passthrough and GUI flourishes have been ignored, particularly given the lofty price point, the business-like specification probably won't worry those seeking second-to-none audio. This delivers a titanic listening experience, regardless of your sound and vision predilection. Book a demo now now.
---
HCC VERDICT

Arcam FMJ AVR750
Price: £4,000 Approx
www.arcam.co.uk
Highs: Marvellous sound quality with wonderful clarity and huge dynamics; simple to set up and use; sturdy build quality and fuss-free design
Lows: No HDMI passthrough; no integrated web services beyond vTuner; USB port is awkward to access; silly VCR input label
Performance: 5/5
Design: 5/5
Features: 3/5
Overall: 5/5

SPONSORED VIDEO

SPONSORED VIDEO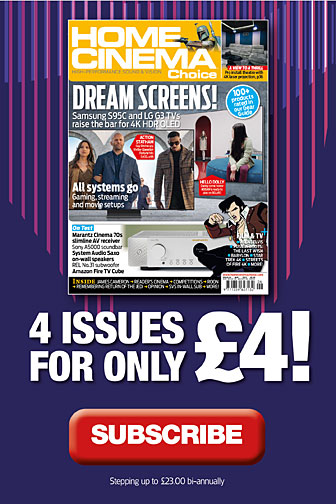 Home Cinema Choice #332

is on sale now, featuring: Samsung's 8K flagship; Anthem AVM 90 processor; B&W 800 Series Diamond; LG smart projector; Hollywood box office bombs; Hitchcock 4K; and more
Want to see your home cinema system featured in the pages of HCC? Click
here
for more info.