Anthem MRX 1120 review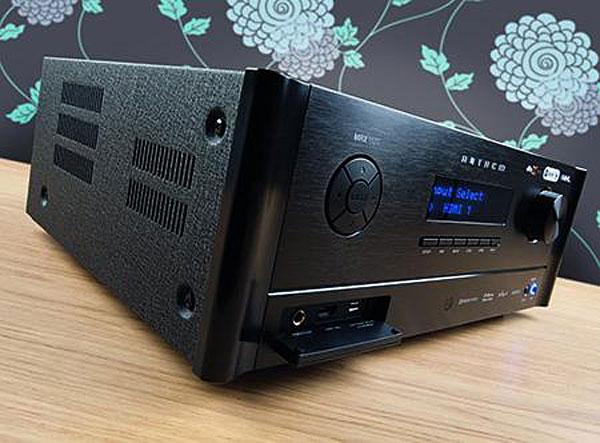 This stunning 11-channel amp delivers precision-tuned sonic thrills

When it comes to home cinema sound, the elephant isn't in the room. The elephant is the room. It's an inconvenient truth that no matter how good your multichannel sound system, the environment you listen in – and all those resonances and reflections – will have an inordinate influence on what you hear.
All major AV receiver vendors recognise this, employing a multitude of auto equalisation techniques to compensate – Yamaha has YPAO, Pioneer touts MCACC, Audyssey (various flavours) is offered by Denon and Marantz.
These systems give variable results, but all use low-cost microphones and are ultimately limited by the processing power resident in the receiver.
Anthem Room Correction (or ARC), which comes with the Anthem MRX 1120, is rather different and the impact it has on the audio performance of this receiver is remarkable.
The MRX 1120 is one of the few full-fat 11-channel AVRs available, able to support a 7.2.4 Dolby Atmos speaker layout (a DTS:X update is pending) without recourse to extra amplification. If you don't need all that grunt in your theatre, a pair of the channels can be used in a second zone.
It's the hero in a four-strong Anthem lineup. Stablemate MRX 720 offers 11-channel decoding but only has seven channels of amplification onboard. The baby of the quartet is the MRX 520, a 5.1 model. There's also a processor iteration, the AVM 60, which adds balanced audio outputs.
While this receiver can fill a full domestic Atmos theatre, it's more compact than you might think, thanks in part to a hybrid power arrangement. The four height channels and two back channels are driven by Class D modules, while the main speaker array benefits from traditional Class A/B muscle. Power output is rated at 140W per channel (into eight Ohms), with 4 x 60W going up top.
For your digital sources there are eight HDMI inputs (including one located on the front), with twin outs. All except the front and HDMI 7 on the back support 2,160p60 content including HDR, wide colour and HDCP 2.2. There's also Audio Return Channel support and MHL for smartphone playtime. Anthem doesn't waste space with legacy inputs, but you will find five digital audio inputs (two optical, three coaxial), plus one optical output and five analogue stereo inputs. There are two subwoofer outputs, along with a full set of pre-outs. For control, there's a 12V trigger, RS232 port and IP control (via Wi-Fi/Ethernet).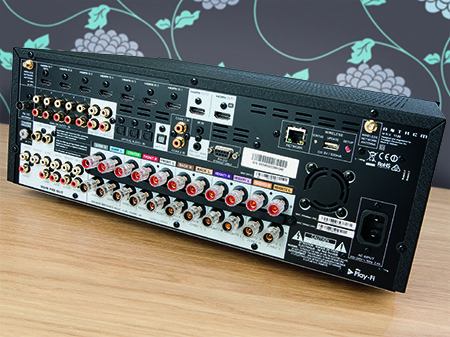 A front flap on the bottom left of the fascia conceals a headphone jack and USB – but the latter is only for software updates, not media playback. Ditto the USB around the back. Naturally the MRX 1120 also has Wi-Fi built in, if you're unable to hardwire to a network. A pair of aerials can be screwed to the rear.
Taking a view
Usability is generally good. There's HDMI bypass so that the system doesn't need to be powered up to view connected devices. You can set this to the last input used or a specific feed, such as a set-top box.
All inputs can be custom labelled and, as I discovered after setting up the system, you don't need to laboriously finger the IR remote, as you can use the rotary volume dial to rename (which is a lot quicker). The remote itself is backlit and well laid out.
It doesn't take long to realise that some features you might expect to find on a £4,000 AVR are absent here. Most importantly, there's no in-built network file playback or integrated music services. Owners are clearly expected to source them elsewhere, or make use of the AVR's DTS Play-Fi support to stream. And there's no option to download firmware from the internet, either. Updates are by USB only. Given that the Anthem brand is very custom install centric, this approach helps avoid clashes with integrated control systems from the likes of Control4 and Crestron.
Out of the box, the MRX 1120 has three inputs assigned, plus FM radio and DTS Play-Fi. If these aren't required they can be deleted. Additional inputs can be created and assigned as needed.
The receiver allows you to set up 30 in total. We're not talking physical inputs as such, more profiles which point to what's available. You can choose to have multiple inputs looking at the same signal, so a single Blu-ray player could actually feed any number of named inputs – home cinema, stereo, media player etc.
Room correction can also be assigned on a per-input basis. Additional post-processing niceties include Dolby Volume, DTS Neo:6 and two proprietary Anthem modes – AnthemLogic-Cinema and AnthemLogic-Music. Dolby Surround is the de facto option for sonic upscaling.
Welding with ARC
You don't have to run Anthem's room calibration from the get go, as you can setup from the main menu. The text-based UI allows for speaker assignment and placement. But why postpone the fun?
ARC has been developed by Paradigm Electronics, Anthem's Canadian parent. It's designed to measure your listening room, with data captured by the supplied microphone. This can then be tweaked in a PC. Typically room correction would be carried out by the dealer who sells you the receiver, although enthusiasts could
run it themselves.
The supplied microphone is individually serial-numbered and calibrated. This serial number tallies with Anthem's software, which is now downloaded via its website. The pack also includes a decent-looking tripod and a 4m USB cable.
ARC is very powerful and exceptionally customisable. The MRX 1120 allows you to create four profiles, all with individual sonic characteristics. One might be for standard cinema listening, another might drop the subwoofer for late-night boxset binges. A third could be for two-channel only. Alternatively, you can create listening position profiles – perhaps covering various seating positions.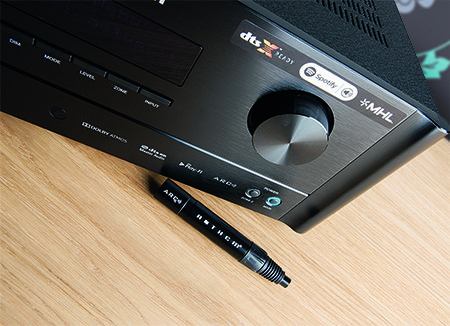 If you opt to run the software in automatic mode, little can actually go wrong. Sweep your system with Quick Measure to check everything's connected before getting stuck in. A minimum of five seating positions should be measured – although you can go to ten if you have a big listening room. Once analysed, you can study an uncorrected trace of every speaker, comparing raw data against a lab standard target curve. It's fascinating stuff, as you can see just what's happening in your listening room when it comes to room nodes and anomalies. You can also use the insight to identify any seating positions which suffer from a major room issue – and then make a mental note not to sit there yourself.
Note that with ARC there's no way to capture the distance of the microphone in relation to the loudspeakers, so that information has to be input manually. Pressing 'calculate' then engages the power of your computer. Before you know it, every channel matches a target curve. Once crunched, the settings can be uploaded into the receiver and the data saved as a reference PDF.
Once you've done the EQ, you can print off a before-and after document which shows all the correction performed, including your speaker's response characteristics.
Take my breath away
Anthem Room Correction transpires to be brilliant – the results of all this jiggery-pokery are breathtakingly
good. Dialogue is perfectly delineated, front-stage imaging balanced and expansive. There's no unwanted emphasis or stridency, even with complex mixes like Batman v Superman: Dawn of Justice. The receiver simply juggles the disparate parts of the soundtrack with aplomb.
My fave Dolby Atmos trailer, Amaze, with its 360-degree bird flight and rich bass, causes me to giggle inadvertently. The LFE hits faster and harder than Superman in a hurry.
For sheer visceral thrills, few movies open with as much latent ferocity as Mad Max: Fury Road. An unapologetic V8 revs over the Village Roadshow logo, before soundbites detailing mankind's apocalyptic fate light up every channel in my 7.2.4 setup. A plaintive 'Where are you Max?' haunts the expanded soundstage before a wave of vehicles fly front-to-back. I expected to see plaster falling from my ceiling in celebration.
The MRX 1120 delights in the mix's sonic grit and debris, igniting explosive LFE. My head spins as the sound design takes me on a dizzying chase through underground tunnels. Mad Max...'s Atmos mix sounds sensational – it's detailed, fulsome and breathlessly energetic. And that's just at -20dB. The MRX 1120 has more than enough fuel to power this road warrior.
Imaging is startling. When Pi first meets Richard Parker, in Life of Pi (DTS-HD MA 7.1), the lion pads purposely from the centre channel (eyes shut, I know exactly where he is). Later, when cast adrift, menacing waves lap around, the height channels feeding ambience stolen from the mix. And there's no noticeable discrepancy between the Class D heights and the traditional A/B bedrock. The entire system licks and pans with urgency.
This disc may not be native 3D audio but the sense of immersion is utterly convincing. In fact, for sheer accuracy the only system I've heard in my room that matches it used a Datasat RS20i processor, calibrated manually with Dirac Live – and that's the best part of £20,000 without amplification. Arcam's Dirac-carrying AVR850 is a more relative contender, but that's a seven-channel design only.
The MRX 1120 sounds great with stereo, too. A DSD rip (from Sony's PS-HX500 turntable) of the vinyl Dresden by UK Decay perfectly places Abbo's insistent vocals centre- stage; you can visualize him hunched in front of the drum kit, as flanking guitars jangle. Suddenly I'm back at the Greyhound in Fulham Palace road, amidst proto Goths.
Overall, the Anthem MRX 1120 is a fabulously effective AV receiver, and Anthem's sophisticated room correction is astonishingly effective. Once dialed in, the AVR sounds beautifully precise and balanced. Soundtracks are tight and involving: bass is deep and granite hard, while dialogue remains crisp and articulate. While this receiver may not tick all the feature boxes of better-known competitors, it delivers absolutely where it counts. This is surround sound unbound. And it's glorious.
Specification
Dolby Atmos: Yes DTS:X: Yes – via future firmware update THX: No Power output (claimed): 5 x 140W plus 6 x 60W (into eight Ohms) HDMI: 8 x inputs; 2 x outputs AV inputs: 5 x digital audio (2 x optical and 3 x coaxial) Analogue Multichannel input: No Multichannel output: Yes. 11.2-channel processing Multiroom: Yes. Zone 2 Video upscaling: No. Passthrough only Dimensions: 439(w) x 375(d) x 165(h)mm Weight: 14.6kg
Features: Anthem Room Correction kit including USB microphone; DTS Play-Fi media streaming; integrated Control4 support; Ethernet; Wi-Fi; FM tuner; USB service ports; 32-bit/768kHz DACs; iOS remote app; backlit remote control; HDCP 2.2 on HDMI 2.0a inputs; HDMI standby bypass; Dolby Surround; DTS Neo:6; All-channel stereo mode; 4 x speaker profile memories

SPONSORED VIDEO

SPONSORED VIDEO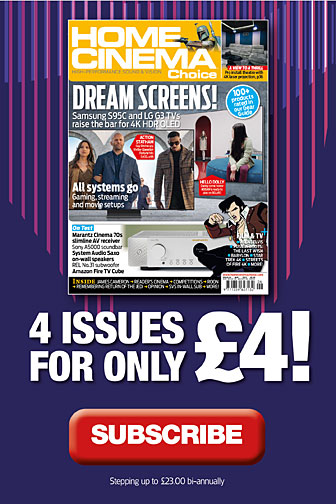 Home Cinema Choice #332

is on sale now, featuring: Samsung's 8K flagship; Anthem AVM 90 processor; B&W 800 Series Diamond; LG smart projector; Hollywood box office bombs; Hitchcock 4K; and more
Want to see your home cinema system featured in the pages of HCC? Click
here
for more info.