Wuaki.tv launches in the UK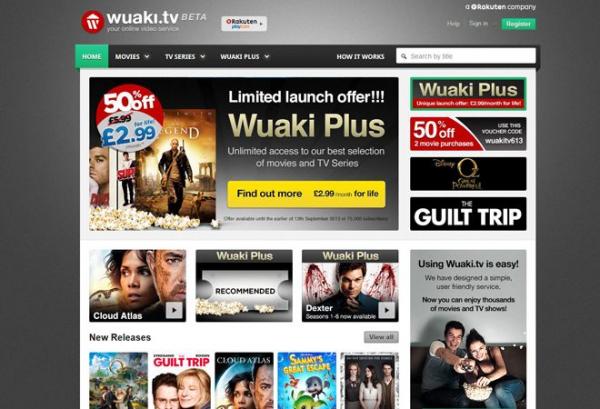 Hybrid movie streaming service combines subscription, rental and purchase models
European streaming service Wuaki.tv has announced the beta launch of the UK's first hybrid TV and film streaming service, offering rental and purchase options alongside a subscription service.
Wuaki.tv promises an extensive line-up of film and TV content from the likes of Warner Bros., Disney, Sony Pictures, 20th Century Fox and the BBC. Content available to rent or buy right now includes Oz the Great and Powerful and Lincoln, while the Wuaki Plus subscription service offers unlimited streaming from a 'regularly-refreshed line-up' of movies, from blockbusters to classic films, and highly-rated TV series such as The Tudors and Doctor Who.
'Streaming services have grown significantly in the UK, and we see a huge gap to offer a hybrid of the traditional subscription model and a la carte models' states Jacinto Roca, founder and CEO of Wuaki.tv. 'Our Wuaki Plus subscription offers a quality service at an attractive monthly rate. However, we know that many people also want to rent or buy the latest new releases, which are not usually available on subscription streaming services immediately, and others simply prefer to have on-demand on an a la carte basis. With Wuaki users can have both, and pick-and-chooce what they want, when they want.'
The service has been running in Spain since 2009 and in the past four years claims to have attracted over 600,000 customers. In 2012 it was purchased by Rakuten, one of the world's largest e-commerce companies.
Wuaki Plus subscriptions will be priced at £5.99 per month. For a limited time at launch, early subscribers to the beta-phase can take advantage of a special offer of a Wuaki Plus subscription for £2.99 a month for life. A second limited launch offer is available exclusively to customers already signed-up to Play.com (Wuaki's sister company in the Rakuten group) giving them a voucher code for 50 per cent off ther first two film purchases.
Currently available on any internet-connected PC or Mac, the service will remain in beta while additional titles and support for a range of connected devices, including Smart TVs, tablets and games consoles are added over the Summer. Content will be available in HD and SD depending on devices.