Win a Yamaha YSP-2500 Digital Sound Projector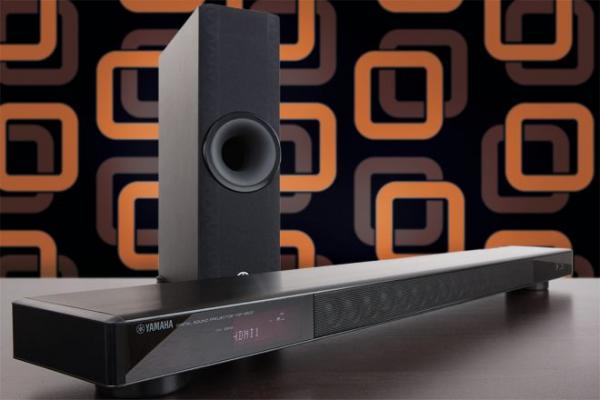 Get your mitts on this premium audio solution!
For over a decade, Yamaha's range of Digital Sound Projectors has paved the way for movie fans to get a slice of surround sound action without the need for separate speakers, amps and unsightly runs of cable. Different to a conventional soundbar or soundbase speaker, they feature multiple driver arrays and use proprietary signal processing to reflect audio off a room's walls to create a genuine multichannel effect. Up for grabs in our competition is Yamaha's current state-of-the-art model, the YSP-2500. It typically retails for around £700. But it could be yours for free!
Made from highly rigid aluminium, the YSP-2500 looks and feels like a premium product, with a simple uncluttered design that will marry well with any flatscreen. Internally, it packs no fewer than 16 drivers, in a layout designed for optimum sound dispersion, while the accompanying wirelessly connected subwoofer uses twin 10cm bass drivers and a 130W amp.
Copious connectivity means the YSP-2500 can easily become the hub of your setup. There are three HDMI inputs (offering 4K and 3D passthrough) plus an ARC-enabled HDMI output. Other sources can hook up via analogue and digital audio inputs, while Smart devices can stream direct to the Yamaha with aptX Bluetooth. You can also control the YSP-2500 via an iOS/Android app.
To get up and running, simply plug in the supplied calibration microphone and let Yamaha's IntelliBeam system work its magic. This measures the layout of your room and adjusts various parameters (including beam angles and frequency response) to suit. You can then check and tweak the results if you wish.
Performance is exemplary. The YSP-2500 has an instantly engaging, effortless sound quality that pins dialogue to your screen and crafts a wide, detailed soundstage. Movie effects ooze clarity and texture, backed up by meaty, taut bass, while music material relishes the Yamaha's even-handed balance.
To hear one is to want one, so answer the film-related question below to be in with a chance of winning.
Question!
Julie Andrews and Christopher Plummer starred in which 1960s musical?
Answer!
A) The Sound of Music
 B) Mary Poppins C) My Fair Lady
Email your answer to: 
[email protected] 
with 'Yamaha' as the subject heading, and please include your full name, address and contact telephone number.
Terms & Conditions
1. Entrants must be over 18 years old and resident in the United Kingdom. 2. Employees of MyTimeMedia Ltd and companies supplying competition prizes are not eligible to enter. 3. No responsibility will be accepted for delayed, mislaid, lost or damaged entries. 4. Prizes will be awarded to the first correct entries drawn at random after the closing date. 5. No alternatives, cash or otherwise, will be offered to the winner as prizes. 6. The editor's decision is final. 7. Only one entry per person/household. 8. The closing date is May 14, 2015.