Win! Win! Win!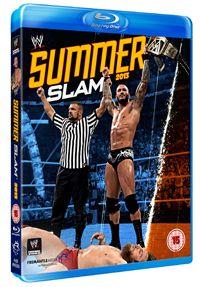 We've got three copies of the WWE SummerSlam 2013 Blu-ray up for grabs!
Underdog Daniel Bryan goes toe-to-toe with 11-time champion John Cena in the hope of winning his first ever WWE Championship! The Best takes on The Beast as CM Punk and Brock Lesnar collide! And, having suffering numerous attacks at the hands of the menacing Wyatt family, the 'Devil's Favorite Demon' Kane finally gets his chance for revenge as he takes on Bray Wyatt in the deadly Ring of Fire match! Check out www.wwedvd.co.uk for more details.
Thanks to our pals at FremantleMedia International, we have three copies of the Blu-ray to give away. All you need to do is answer the question below...
Question!
Hollywood star Dwayne Johnson wrestled under what name?
Answer!
A) The Thing
 B) The Rock C) The Hulk
Email your answer to: 
[email protected] 
with 'WWE' as the subject heading, and please include your full name and address.
Terms & Conditions
1. Entrants must be over 18 years old and resident in the United Kingdom. 2. Employees of MyTimeMedia Ltd and companies supplying competition prizes are not eligible to enter. 3. No responsibility will be accepted for delayed, mislaid, lost or damaged entries. 4. Prizes will be awarded to the first correct entries drawn at random after the closing date. 5. No alternatives, cash or otherwise, will be offered to the winner as prizes. 6. The editor's decision is final. 7. The closing date is March 4, 2015.