Win a 'cine-makeover' for you local children's hospital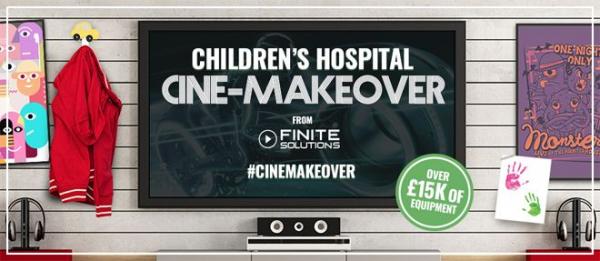 Finite Solutions launches competition to kit out one facility with a £15,000 cinema room...
Bespoke home cinema design and installation specialist Finite Solutions is offering children's wards across the country the chance to have a space in their facility transformed into a state-of-the-art cinema room.
Finite Solutions is looking to provide a children's hospital with a full cinema room installation worth more than £15,000 for its patients and visitors, as part of a 'Cine-makover' campaign. The company says that the system will boast a 'full suite of top-of-the-range equipment' include a Full HD projector and ceiling mount, a 100in projector screen, five KEF Ventura wall-mounted speakers, a B&W subwoofer, a Blu-ray player (with a selection of children's movies), a Freeview box, a PS4 or Xbox One console, a lockable mini kit rack, and a Control4 wall-mounted touch screen control panel.
'Hospitals typically lack the funding for such facilities, and we hope to bring fun and relaxation to hospital residents and visitors by installing a fantastic cinema room that everyone can enjoy for many years to come' says Simon Mathieson, Finite Solutions' Consultancy Director. 'We would invite people across the country to nominate their local ward'.
So if you know of a children's ward, care unit or similar facility that would benefit from a professional cinema installation, head over to www.finitesolutions.co.uk/cine-makeover where you can nominate one by submitting a short description of what the new facility could be used for first (such as a Disney movie marathon or console gaming tournamet), along with a supporting image of the proposed room for the installation (if available). The closing date for nomination is 4pm, Friday May 12.
The nominated hospitals will then be opened to an online public vote to decide which facility will receive the cinema makeover. This vote will be coupled with the opinions of an expert panel of judges.
Full terms and conditions can also be found at www.finitesolutions.co.uk/cine-makeover.