Viewster makes an impact with fight fans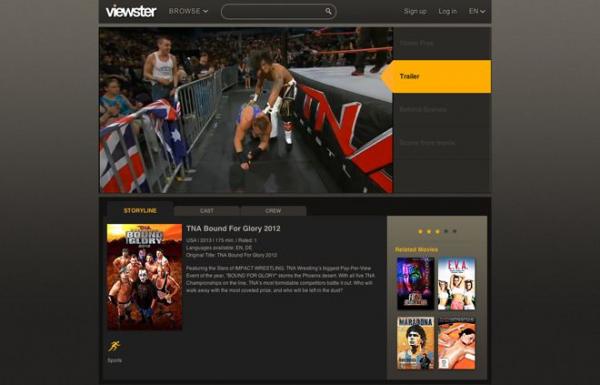 VOD service inks deals with TNA Wrestling and Ultimate Challenge Mixed Martial Arts
Ad-funded video-on-demand service Viewster is offering wrestling and mixed martial arts fans the chance to relive their favourite fights for free after signing deals with the TNA (Total Nonstop Action) Wrestling and UCMMA (Ultimate Challenge Mixed Martial Arts) organisations.
The first TNA title to be made available on the service is Bound for Glory 2012, which Viewster claims was TNA's 'biggest pay-per-view event of the year' and features the organisation's biggest wrestlers competing, with all five TNA titles on the line. Viewster also promises to add around 20 other titles from the TNA back catalogue to the service in the coming months.
The deal with the UK-based UCMMA promotion will bring titles including Stand Your Ground, Warrior Creed, Hands of War, Beat Down and Ultimate Challenge to a worldwide audience, on demand, for the first time. Footage from the ten latest fights will be made available on Viewster as well as upcoming fights, which will be 'added regularly' throughout the year.
'We are proud to partner with Viewster to bring this high-octane sport to our loyal fans and reach a much wider audience across the world', stated UCMMA founder Dave O'Donnell. 'Viewster's service opens up this exciting footage to a mainstream audience and gives the viewing public access to the content they want, when they want it'.
'It's great to be able to offer sports fans instant access to TNA Wrestling and UCMMA titles for free for the first time', added Viewster CEO Kai Henniges. 'With sport, film and TV fans alike demanding anytime access to their favourite shows, we're seeing month-on-month growth across our service in the UK and worlwide, showing that consumers want an alternative to subscription-based services'.
Available in 120 countries, Viewster is available online at www.viewster.com and is pre-installed on a variety of connected TVs and Blu-ray players. Free-to-download mobile apps are also available for iOS and Android tablets and smartphones.