V/H/S screening will take you back to the '80s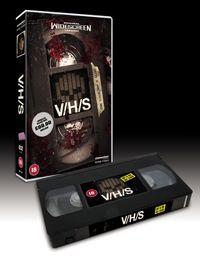 Revisit the glory days of video with an early screening of the must-see horror anthology
However, this is no ordinary advance screening. Instead, for one-night only, the location is being given a makeover and transformed into 'Cellar Rentals' - a tribute to the glory days of video rental. And following the screening of the film, attendees are invited to 'look through the covers, enjoy complimentary drinks and other fun items in this rare chance to go back to the heady days of choosing tapes'.
The most exciting news of all though is that attendees will get to leave with their very own 'rental big box' limited edition VHS tape of V/H/S (pictured left). Only 300 of these numbered VHS tapes exist and this will be the only sure way to get hold of one of these ultra-rare collector's items.
Tickets for the event cost £20, which includes drinks upon arrival, the screening of the film, after-event drinks in the rental store and the limited edition VHS copy of V/H/S. The store opens at 6.30pm, with the screening kicking off at 7.00pm.
Check out the poster below for more info and you can book tickets here.