Vayta UK launches Kickstarter project for anti-vibration 'Dekk'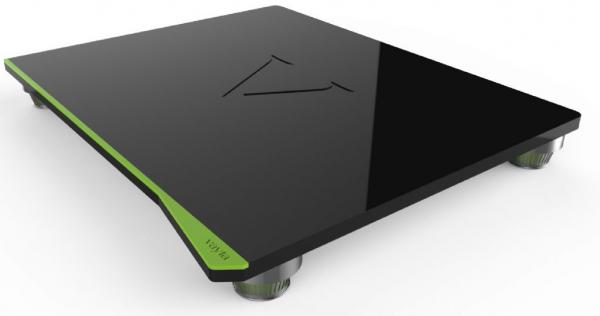 Uses NASA technology to aim for ultimate performance
Vayta, a new British audio company, is turning to Kickstarter to bring a new anti-vibration platform to market that uses tech snaffled from NASA to leave your AV hardware protected from unwanted wobbles.
Crowdfunding for the Vayta Dekk began on the popular website on Monday, with a goal set at £10,000 and estimated delivery dates ranging from October to December depending on the level of 'pledge' made.
The Dekk's standout feature is its employment of sorbothane, described by Vayta as 'the ultimate material for absorbing shock and vibration.' Beloved of NASA scientists (who, we're told, have used it to steady cameras onboard the Shuttle during take off, amongst other things), sorbothane is a solid that acts like a liquid when pressure is applied to it. In the Vayta Dekk, the feet decouple as soon as weight is put on the platform. '[This leaves] your audio component literally 'floating' on the Sorbothane,' says Vayta.
The platform itself is made from Corian, a dense and inert material often used in the interior design biz which Vayta says is preferable to more traditional MDF. Colour choices are wide-ranging, with plenty of scope for fashionistas to find a hue that matches their system decor.
While clearly targeted at those with a penchant for two-channel hi-fi, the Vayta Dekk can be employed in home cinema setups, too – the company believes that a frequent source of unwanted vibrations that could be playing havoc with your amp, DAC or BD player's circuitry is a subwoofer, as well as loudspeakers and even passing traffic.
The Dekk is said to support weights up to 51kg. Vayta offers three grades of platform; all are the same price. The only difference is in the feet, tailored to accommodate different weights of components without rendering the Dekk ineffective by too much or too little compression of the isolation material.
Musical heritage
Vayta is the brainchild of Paul Ross and Rupert Mann, whose experience as audio engineers, producers, recording artists and live performers led them to the new venture.
'In our work as recording engineers we found that vibration and impact noise always had the potential to spoil an otherwise good recording,' say the duo. 'Some of the products available really did not deliver as promised so we set out to find innovative ways of addressing this.
'We started Vayta because we noticed that the level of detail that composers and producers were putting into their work was not making it through the journey to the end listener. This impairment could happen anywhere from the start of the recording process right through to the listening environment.'
Check out Vayta's Kickstarter page for more info.