Twin Peaks restoration video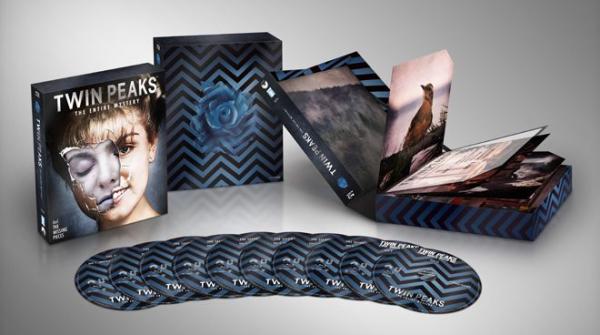 Enjoy a sneak peak at what to expect from the upcoming Blu-ray boxset in this exclusive video
As if we weren't excited enough about the upcoming release of the Twin Peaks: The Entire Mystery Blu-ray boxset on July 29, Paramount Home Entertainment has given us an exclusive restoration comparison video to share with fans. It's the best indication yet of just how much work has been put into restoring the legendary TV series for its Blu-ray debut and has only made us even more eager to get our hands on a copy of the boxset...
International_Clip1_h364_sd.mov
Twin Peaks: The Entire Mystery is available to buy on Blu-ray from July 29 and can be pre-ordered right here. Look out for an in-depth review in an upcoming issue of Home Cinema Choice.
A full breakdown of the ten-disc boxset follows below.
DISC ONE:
Pilot (Original Version and Alternate International Version)
Episode 1
Episode 2
Special Features...
Log Lady Intros (HD)
Preview and recaps on select episodes (HD)
DISC TWO:
Episode 3
Episode 4
Episode 5
Episode 6
Episode 7
Special Features...
Season 1 Image Gallery
Twin Peaks Sneak Peeks (HD)
Log Lady Intros (HD)
Previews and recaps on select episodes (HD)
DISC THREE:
Episode 8
Episode 9
Episode 10
Special Features...
A Slice of Lynch: Uncut (HD) – NEW!
Season 2 Image Gallery
Promos (HD/SD)
Log Lady Intros (HD)
Preview and recaps on select episodes (HD)
DISC FOUR:
Episode 11
Episode 12
Episode 13
Episode 14
Special Features...
Series Deleted Scenes
Series Deleted Scenes (HD) – NEW!
Outtakes (HD) – NEW!
Log Lady Intros (HD)
Preview and recaps on select episodes (HD)
DISC FIVE:
Episode 15
Episode 16
Episode 17
Episode 18
Special Features...
Return To Twin Peaks
Location Guide
The Glastonbury Archives
17 Pieces of Pie: Shooting at the Mar T (AKA RR) Diner
Mark Frost Interview with Wrapped in Plastic
Learning to Speak in the Red Room
An Introduction to David Lynch
Lucy Bumpers
1-900 Hotline
Production Documents
Image Galleries
Log Lady Intros (HD)
Preview and recaps on select episodes (HD)
DISC SIX:
Episode 19
Episode 20
Episode 21
Episode 22
Special Features...
Postcards From The Cast
Twin Peaks Sneak Peaks (HD)
Log Lady Intros (HD)
Preview and recaps on select episodes (HD)
DISC SEVEN:
Episode 23
Episode 24
Episode 25
Episode 26
Special Features...
Cast And Crew Interviews
Log Lady Intros (HD)
Preview and recaps on select episodes (HD)
DISC EIGHT:
Episode 27
Episode 28
Episode 29
Special Features...
Secrets From Another Place: Creating Twin Peaks (HD)
Northwest Passage: Creating the Pilot
Freshly Squeezed: Creating Season One
Where We're From: Creating the Music
Into the Night: Creating Season Two
Log Lady Intros (HD)
Preview and recaps on select episodes (HD)
DISC NINE:
Twin Peaks: Fire Walk With Me
The Missing Pieces: Deleted/Alternate Scenes (HD) – NEW!
Special Feature...
Archival Interviews
DISC TEN:
Between Two Worlds (HD) – NEW!
Palmer Family Interview
Actors Discussion
Moving Through Time: Fire Walk With Me Memories (HD) – NEW!
Reflections On The Phenomenon Of Twin Peaks
US Trailer
International Trailer
Fire Walk With Me Photo Gallery – NEW!
Atmospherics (HD) – NEW!
Trees/Woods
Pie
Signs/Places
Coffee
Notes
Water
Donuts
Owls
The Ring
The Red Room