Toshiba launches 2014 Full HD TV range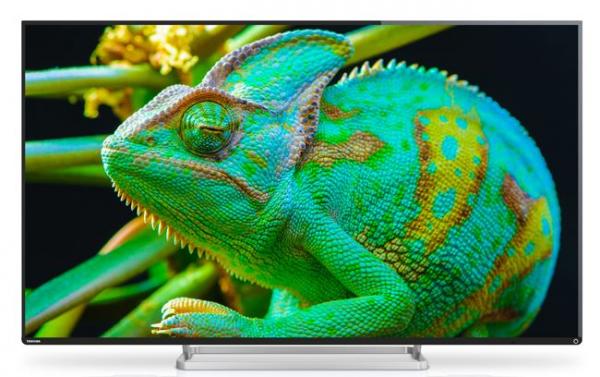 Flagship L74 models sport Direct LED and CEVO Audio tech
Toshiba has announced its forthcoming 2014 Full HD LED TV lineup, with its L74, L64, L54 and 3 series coming in sizes from 24in to 55in.
The top-flight L74 range (pictured above) features a trio of 1080p models – 55in, 47in and 42in – all using a Direct LED backlighting system and dual-core engine, and offering the brand's Smart TV Cloud platform and passive 3D.
Toshiba claims the new screens improve brightness by up to 75 per cent over their 2013 predecessors, and deliver an improved colour performance, via the new backlight system and the chipsest restoration feature of its CEVO Picture suite: 'Using the chipset restoration technology, CEVO Picture is able to take compressed broadcast images and return them back to their intended state by restoring colour and brightness that is usually lost during the recording process,' reckons the Japanese AV player.
This year, Toshiba is using its long-running CEVO name to highlight new audio tech on the L74 models. CEVO Audio enables users to manage background noise and dialogue separately, tailoring the screen's 2 x 15W speaker output to taste, and aims to improve bass response between 100Hz and 150Hz. Additionally, DTS Premium Sound is onboard to create a 'virtual surround' effect from the stereo array.
Toshiba's Smart TV Cloud service is also freshened up for 2014. Described as 'more personal' and 'more intelligent', it incorporates MediaGuide Replay, a recommendation engine that factors in viewing and recording habits to suggest content. Indeed, it goes one step further by automatically recording such content (as long as a external USB hard drive is connected) while the TV is in standby, creating 'personal entertainment channels' for inidividual profiles.
Streaming apps available on the Smart TV Cloud portal include Netflix, BBC iPlayer, Youtube and Deezer, plus social media japes in the form of Twitter and Facebook.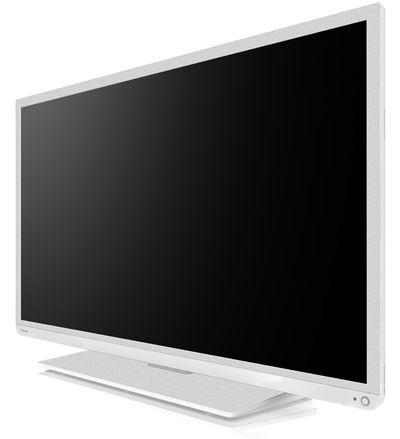 Further highlight features of the L74 TVs are AMR+ 1500 motion smoothing technology, file playback from USB devices and across a home network, built-in Wi-Fi, Resolution+ upscaling and a quartet of HDMI inputs. The screens incorporate Freeview HD tuners.
Stepping down the range, the L64 models (47in and 42in) retain the smart functionality and dual-core engine, but ditch 3D playback and offer a less-potent AMR+ 200 motion system. Below this, the L54 series (48in and 40in) bring stereoscopy back in the form of an Active 3D system, but in a less stylish bezel and with fewer connective options. Finally, the entry-level 3 series range is split into L3, W3 and D3 models. The latter two feature 1,366 x 768 HD Ready resolution – the W3 is available only at 32in, while the D3 (24in, 32in and 40in) offer a built-in DVD player. The L3 (40in and 48in) is Full HD.
All the 3 series screens tote Smart features (including catchup services and network/USB media streaming) and Freeview HD tuners, and can be snaffled in white (pictured), black and titanium finishes.
Pricing for all of Tosh's new tellies has yet to be confirmed.