Star Wars: The Force Awakens 3D Blu-ray coming in October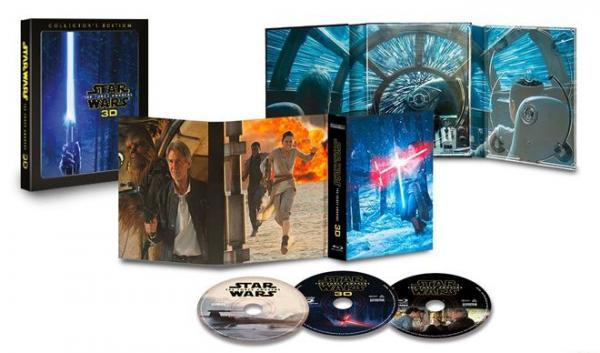 New Collector's Edition hi-def release also serves up exclusive bonus features
Walt Disney Home Entertainment has revealed that Star Wars: The Force Awakens will hit 3D Blu-ray in the UK on October 31. However, in a move sure to anger some franchise fans, the upcoming Collector's Edition Blu-ray will also feature several exclusive bonus features, including a chat track by J.J. Abrams. This means some will feel they have to double-dip even if they don't want the 3D version.
Here's the official breakdown of the new extra features…
Audio commentary by director J.J. Abrams – enter the mind of visionary director J.J. Abrams as he reveals the creative and complex choices made while developing the first film in the new Star Wars trilogy
Foley: A Sonic Tale – Foley artists, consisting of old pros and new talent, unite to bring the world of Star Wars: The Force Awakens alive through the matching of sound to action
Sounds of the Resistance – Hear how the epic sound design of Star Wars: The Force Awakens moves the Star Wars legacy forward
Deleted scenes – view never-before-shared scenes that didn't make the final cut
Dressing the Galaxy – Costume designer Michael Kaplan reveals how the costumes of the original Star Wars movies were re-envisioned for a new generation
The Scavenger and the Stormtrooper: A Conversation with Daisy Ridley and John Boyega – the two new stars share the thrill of working together on the adventure of a lifetime and becoming part of the Star Wars legacy
Inside the Armory – Take a fascinating tour through the design and creation of the weaponry in Star Wars: The Force Awakens
Star Wars: The Force Awakens 3D – Collector's Edition Blu-ray is available to buy in the UK, Holland and Sweden from October 31, followed by Italy and Spain on November 2, Australia on November 9, Canada and the US on November 15, Brazil on November 16, and Germany on November 24.