Sevenoaks revamps flagship store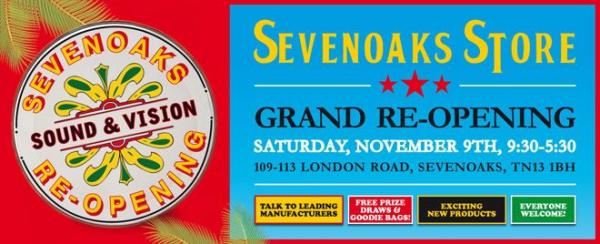 Grand re-opening to feature prize draw and exclusive offers
Specialist AV retailer Sevenoaks Sound & Vision is hosting a 'Grand Re-Opening' of its flagship store in its hometown of Sevenoaks, Kent, this Saturday – and has lined up an array of exclusive deals and great giveaways to celebrate.
Anyone looking to experience the latest home entertainment technology in a lush new environment should pop along – there's an 'open door' policy – and visitors will be treated to demos and events from major manufacturers.
Arcam will be demoing its new range of performance-first AV receivers, while Sony will be showcasing its lineup of 4K TVs. UK speaker specialists KEF and Bowers & Wilkins will also be present, with the former bringing its legendary Blade speakers to the party, and the latter providing a chance to chat to the team about the brand's new media products.
Further fantastic demos lined up include Meridian's in-car audio system in one of the latest Range Rover Evoques; the new compact and cool-running Direct Digital amplifiers from NAD; Naim Audio's Uniti range and a Bentley GT specced with the brand's flagship in-car system; experts from Sonos discussing wireless music; and Yamaha's reference AV setup commandeering the demonstration room.
Be in it to win it
If that's not enough reason to stick the re-opening in your diary, maybe the prize draw and in-store exclusives will tempt you. Prizes up for grabs on the day include an Arcam rBlink Bluetooth DAC, Focal Spirit One headphones, Sony BDP-S790 Blu-ray player, Sonos Play:1 wireless speaker system and much more. Meanwhile, AV bargains to be had include £200 off a Yamaha YSP-3300 digital sound projector, free KEF M500 headphones when you purchase the brand's LS50 speakers and special offers on Sonos, Pioneer and Meridian kit.
Attendees will also get a goodie bag, plus drinks and nibbles (including popcorn...)
'After 40 years of success in the town we thought it was time to completely re-model our store to accommodate what we like to call "The Future of Sound and Vision",' says Sevenoaks. 'Although now a nationwide operation, we still have a soft spot for where it all started. The new-look store will carry all of the favourite brands you've come to expect from Sevenoaks, along with several new ones, all offering the highest performance, gorgeous design and great value.'
For more details, contact the Sevenoaks store on 01732 459555 or e-mail [email protected]. And be aware that all prize draws, goodie bags and special offers are subject to availability – so get there early...