Samsung BD-F8500 review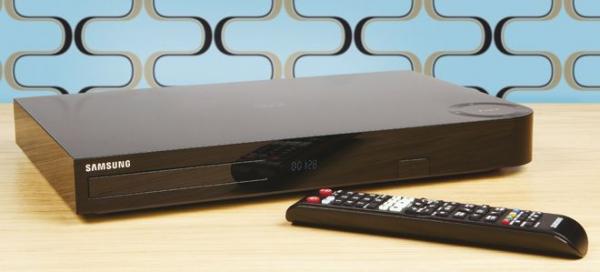 Double your money with Samsung's combination 500GB Smart PVR and Blu-ray player
The BD-F8500 is a 3D Blu-ray player and Freeview PVR in a single slim-line box, ideal for those who want to cut down on clutter. Furthermore, it incorporates Samsung's online portal, blessed with the best selection of VOD content on the market – it's currently the only hub to offer the full gamut of BBC iPlayer, ITV Player, 4OD and Demand 5. That makes it a thorn in the side of YouView, platform that integrates the above streaming services into the Freeview EPG.
The BD-F8500 is an evolution of last year's BD-E8500, a fact reflected in the tweaked design. It's subtle but effective, using a curved corner to lift it from black box obscurity. There's a plasticky feel to the casing, though.
The simple socket line-up includes HDMI and optical digital outputs, RF input/loopthrough and Ethernet. Wi-Fi is built in. Two USB ports let you play music, video and photo from flash drives, while a CI slot on the side is your pathway to pay TV. The absence of Scart outputs means anyone hoping to copy HDD recordings onto DVD or Blu-ray can whistle.
Inviting interface
Power up the BD-F8500 and you're greeted by Samsung's new Smart Hub interface, a budget version of its 2013 TV GUI. The home menu is slick yet surprisingly simple, using large rectangular panels, crisp cover art and bold colours – not a million miles from Windows 8's Metro desktop, in fact. There are shortcuts to online apps and the Schedule Manager, as well three icons along the top guiding you towards Movies & TV Shows, Apps and Photos, Videos & Music.
The Apps portal is richly stocked, offering a mixture of the very useful – Netflix, LoveFilm, Blinkbox, YouTube, etc – and a rarely-to-be-used plethora of games, puzzles and obscure lifestyle apps. Still, despite the dross, overall it's an unparalleled selection that should make certain rivals hang their heads in shame.
Photos, Videos & Music is where you'll find your own content, stored on USB drives, DLNA servers and discs. Finding content is long-winded – it feels like there's one menu too many in the sequence – but format support is exhaustive, especially with Samsung's Allshare software installed on your device.
The eye-catching design is backed up by lightning quick operation thanks to a dual-core processor under the bonnet. However, there's a nagging feeling that Samsung hasn't maximised the potential of having Smart TV and Freeview under one roof.
For starters, it lacks the On TV section and S-Recommendation feature found on its TVs. This would have been a huge benefit inside a PVR, allowing you to schedule Freeview recordings from recommendations, TiVo-style. It's also a pity that Samsung hasn't followed YouView's lead and blended catch-up TV into the EPG rather than keeping it separate.
Despite that, the EPG is terrific. Every scrap of information is packed into a single screen, including live TV and the programme synopsis. The Freeview info banner carries on the good work, allowing you to search the entire schedule. And when it comes to recording, the BD-F8500 matches its rivals. Dual tuners on board let you record two channels at once, all while surfing the web or calling up the EPG. Indeed, the unit brings all the recording and playback functionality we've come to expect from a Freeview PVR – series links, recording clash alerts and pausing/rewinding of live TV.
The BD-F8500's 500GB hard disk holds 124 hours of HD telly or 200 hours of SD. These days, that feels a bit meagre, so the 1TB BD-F8900 is probably a better bet, especially as it's only £50 more.
The Samsung offers no recording modes, so you can't drop the quality to make room for more content. Furthermore, the Recorded TV menu is buried within the player's UI; at least when you get there recordings are neatly arranged with thumbnails. You can display by date, title or channel, plus basic editing tools let you chop up and split them.
Picture perfect?
As a Blu-ray player the BD-F8500 is equally talented. Playback is engrossing, and there's 3D support, HD audio decoding and it boots up fast. There's also a range of other networking tricks including screen mirroring, which displays your phone's screen on to your TV (ideal for gamers) and iOS/Android remote app control. The supplied, lightweight remote does a decent job, though.
The BD-F8500's picture performance is excellent. Time-shifted HD and SD shows present no obvious difference to their live counterparts. The Samsung captures every scrap of detail in hi-def programmes, resulting in a vibrant, piercing picture. SD channels are comparatively soft, with some MPEG smudging on backgrounds and bandy shading, but that's down to Freeview's limitations.
This picture prowess, coupled with an extensive range of features and simplified user interface, make the BD-F8500 an impressive product. My only gripe is that Smart and Freeview features are kept separate – closer integration of these in the EPG (like YouView) alongside S-Recommendation for Freeview (like Samsung's TVs) would make the experience even more rewarding.
---
HCC VERDICT
Samsung BD-F8500
Price: £300 Approx
www.samsung.com/uk
Highs: Generous features; catch-up TV; solid picture quality; flexible recording
Lows: Long-winded Allshare menus; awkward web browsing; Smart and Freeview functionality could be better integrated
Performance: 4.5/5
Design: 3.5/5
Features: 4.5/5
Overall: 4/5