Q Acoustics launches Q-BT3 stereo wireless speakers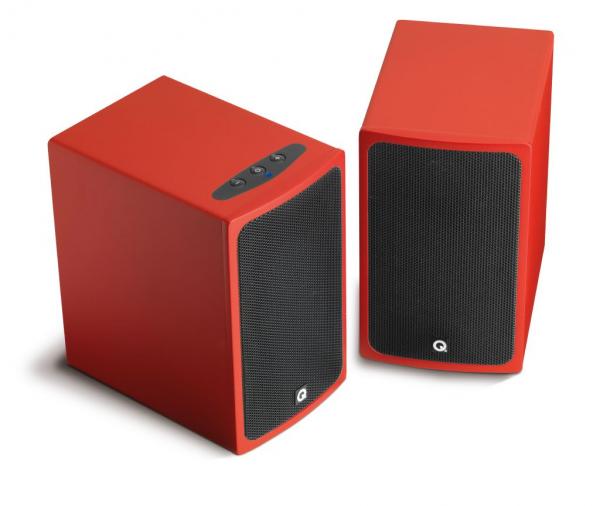 Sound quality 'leaves soundbars' far behind, apparently
Packaged as a stereo pair, the Q-BT3 speakers tote a 2 x 50W power amplifier, Bluetooth V4.0 wireless receiver with aptX capability and a 'low-distortion' DAC accessed via an optical input. Other connections are two analogue stereo line-level inputs (a 3.5mm mini jack and one pair of phono sockets). A separate subwoofer output is provided for bass heads.
The 240mm high bookshelf speakers use a 1in silk dome tweeter and 4in coated paper cone midbass driver, and can be controlled via the bundled remote control or the handset of exterior hardware, such as a Sky+HD box.
Q Acoustics says the Q-BT3 will 'auto switch' between inputs when it detects a new signal, providing swift changeover between TV audio via optical and smartphone music via Bluetooth, for example.
The brand is positioning the Q-BT3 as both a soundbar competior and high-quality stereo solution. Says Alex Munro, channel director at Q Acoustics' parent company Armour Home, 'I believe we can confidently claim that, for most people, the new Q-BT3 will be a brilliant audio solution for nearly every requirement. Connect it to the audio output from your television or set-top box and the Q-BT3 comfortably outperforms typical soundbars – but bring your smartphone into the mix and wirelessly stream Bluetooth signals and it's transformed into the equivalent of a super-quality modern "mini system".'
'The new Q-BT3 isn't a jazzed-up iPod dock or modified table radio in disguise,' adds Munro.
The Q-BT3 will retail for around £400 per pair. Available colour choices are Juice Red, Urban White and Jet black.
Check out www.qacoustics.co.uk for more info.