Pioneer lifts lid on new entry-level AVRs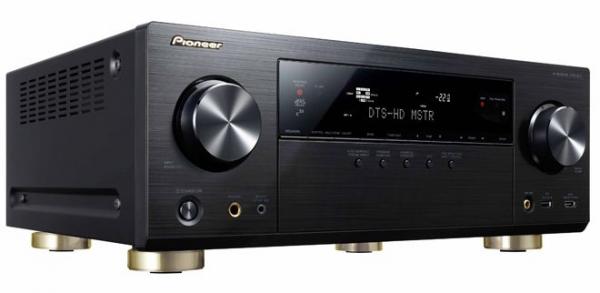 Six-strong VSX lineup includes 7.2-channel VSX-923 and VSX-1123
Pioneer has announced its 2013 range of VSX AV receivers, with six models set to hit shops in June with prices from £200 to £550.
Top-lining the new range are the 7.2-channel VSX-1123 (£550) and VSX-923 (£450 - pictured above), both of which have a dedicated HDMI 'HDZone' zone out as well as eight HDMI inputs. In addition, the two top-of the-range models have the ability to upscale HDMI video signals for 4K Ultra HD resolution when used with the latest 4K displays. Both are also compatible with the new iControlAV2013 app. The flagship VSX-1123 also offers playback of audio files stored in the Direct Streaming Digital (DSD) format through its front USB.
Geoff Loveday, product executive at Pioneer said: 'It is well-known fact that smartphones are central to our lives now and controlling home entertainment through a device in the palm of a hand is ultimately convenient. We have made the new units Android and iOS compatible along with added features, previously only found on SC-models, to deliver excellent audiovisual performance.'
Moving along the range, the 7.1 channel VSX-828 (£350) and 5.1 channel VSX-528 (£300) join the two high-end models by incorporating MHL 2.0 to use smartphones as additional sources of high quality audio and video. All four models are also HTC Connect and Apple AirPlay compatible to allow simple streaming for any smartphone users.
The four models also offer high resolution playback, with an expanded number of high resolution audio file formats, including built-in Apple Lossless and AIFF playback. Access to internet radio through vTuner is also available on the four models; both the VSX-828 and VSX-528 are compatible with the Pioneer ControlApp. All four are DLNA certified to allow the units to link up to a home entertainment system through a PC or Mac.
The 5.1 channel VSX-423 (£250) and VSX-323 (£200) complete the range and all have expanded iOS support with the ability to play tracks stored on Apple devices. As content and display resolution quality continue to improve, the complete new line-up of Pioneer receivers can pass through 4K video signals to compatible displays, offering the highest quality video image available.
The latest versions of Pioneer's 'ControlApp' and 'iControlAV2013' apps expand control over the receivers from the convenience of an iPhone, iPod touch or iPad. Dedicated versions of both apps are also available for Android users.