Philips embraces Dolby Atmos with Fidelio B8 soundbar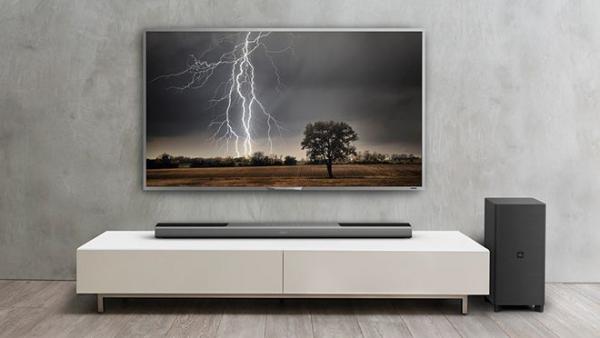 Slender 'Plug-and-play' model packs 18 drivers for object-based audio
Philips has become the latest manufacturer to squeeze Dolby Atmos technology into a soundbar. Undercutting rival Atmos 'bars from Yamaha and Samsung, the £900 Fidelio B8 is the first to offer an all-in-one 3D audio solution for less than a grand.
The B8, which is partnered by a wireless subwoofer, relies on angled top- and side-firing drivers to create its immersive soundstage. Despite being just 53mm tall, there are in total 18 speaker drivers onboard. Employing a mix of Philips' proprietary Ambisound technology with Atmos decoding, the B8 claims to deliver a 5.1.2 surround sound experience.
What's under the hood?
Of those 18 drivers, 10 (twin 'race-track' units and six tweeters) are top-mounted to create height-channel effects that reflect off a ceiling. Two more are housed at opposing ends of the bar for a wide dispersion, while there are six front-facing mid-range units, two assigned to centre channel duty to enhance dialogue clarity.
The subwoofer – a sizeable beast, itself – features a 220W amplifier and 8in downward-firing driver. A dome-shaped bass reflector is used to reduce localisation. Philips rates the total sonic output of the package at 400W.
As you'd expect considering the price point, the B8 supports Bluetooth aptX streaming and NFC, and HDMI connectivity (two inputs and one output). However, all HDMIs are v1.4 and so do not support 2160/50 or 60 fps, or HDCP 2.2 copy protection. Other connections are optical and coaxial digital audio inputs and a 3.5mm line input.
The system itself is simple to use, with no calibration EQ to setup. The only user configuration, explains System Architect Roel Reusens, is the amount of volume you can assign to the up-firing drivers. 'We are working on an algorithm to offer more control, but it's not in this soundbar,' he told HCC.
The B8 also sports an onboard DTS 5.1 decoder, but doesn't cater for DTS:X.
Big demand for small 'bar
The B8 isn't the only new soundbar coming from the Fidelio team this December. It'll be joined by the B1 Nano Cinema Speaker, a 320W 41cm sound-slinger and sub package, priced at £450.
'We've done a lot of research and found there's a demand for a smaller footprint,' explains Marketing Manager Darren Judd. 'There's been a growth in soundbars but they have to compete for space beneath a TV with Sky boxes, DVD players and games consoles. One of the concerns about a compact format is how do we get a good soundstage. We think the answer is the B1.'
To achieve the desired performance from such a small cabinet, Reusens reveals Philips has introduced 'microbeaming.' The mini-bar features four drivers, two which are angled outwards to the side, plus two cross-firing at the front. 'This creates a sweetspot of 180 degrees. We also apply different DSP processing on every channel.' There are two additional waveguided tweeters in the top of the unit.
As with the B8, the B1 is Bluetooth and NFC enabled, but only has a single (ARC-capable) HDMI.The Nano Cinema Bar also comes with an ultra-slim wireless subwoofer that can be placed horizontally under a sofa. 'We've nicknamed it the sofa sub,' says Judd.