Panasonic SC-BTT880 review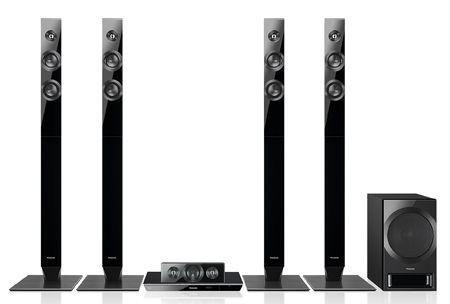 Apple fans will welcome the SC-BTT880's Lightning hookup - but does its sound also impress?
Panasonic's range-topping all-in-one system is no shrinking violet. With its tall, imposing tower speakers fashioned in space-age silver, the SC-BTT880 is a system that demands to be seen. Thankfully, it looks the part. The silver rings surrounding the drivers add glamour and the back-sloping base joint is a nice touch. The slim main unit, which combines a 3D Blu-ray deck and 1,000W LincsD amplifier, is jazzed up by angled sides and tinted fascia.
Sadly, the speakers' beauty is only skin deep. Close-up inspection reveals the cabinets are light and plasticky, lacking the heft and stability I'd like for the money. That's not unusual among all-in-one systems, but you'd expect better from a flagship model.
Some pride is restored by the excellent array of sockets. Pull down the front panel and you'll uncover a USB port and SD card slot, but the coup de gras is an iPod dock that supports the iPhone 5 and other Apple devices with the Lightning connector, something not found on the rivals here. Older Apple models can be connected to the USB port. On the back are two HDMI inputs and an ARC-savvy output. This doesn't support 4K upscaling (which isn't important) but does handle 3D (which is). Optical digital input, analogue input, Ethernet and a second USB port for Panasonic's optional Skype camera are also provided.
Hate wires? Then Panasonic's got your back. On-board Wi-Fi lets you stream music from phones, PCs and other mobile devices (directly or through a router), while the supplied wireless rear speaker kit keeps cables confined to the back of the room. But there's no Bluetooth streaming.
Viera Connect zaps internet apps direct to your TV, but Panasonic lags behind its rivals. You get Netflix, BBC iPlayer, YouTube, Facebook and Twitter, but that's where the good stuff ends. Samsung, LG and Sony have more compelling selections. The Viera Connect layout is also showing signs of age, spreading apps over a number of pages and moving with the urgency of a sloth on valium.
Format support via DLNA has a few gaps – no MKV or DivX – but you can play MKV from USB devices. On the music side, MP3, FLAC and WAV are welcomed but not WMA or AAC.
Whip open the box and you're hit by an avalanche of components. But once assembled, the system is easy to use thanks to Panasonic's friendly onscreen menus.
Put to the test
With movies, the SC-BTT880 delivers a commendable performance. Playing my …Hobbit BD, the tower speakers' voluminous cabinets and twin midrange drivers are put to good use, mustering a big, fulsome sound that easily fills the room. Smaug's attack on Erebor feels suitably epic in scale – the dragon swoops dramatically between speakers and breathes fire with a rich, full-bodied rumble, while the score pounds away with terrific intensity.
Midrange and high frequencies are generally clean and sparkly, making the dwarves' chinking gold stash sound crystal-clear, although forceful noises honk at loud volumes – something others manage to avoid.
A proprietary 3D Cinema Surround mode conjures up 25 virtual speakers to accompany the five real ones, aiming to create a wider and taller soundstage, and it's worth trying out – non-directional effects hover above the listening position and beef everything up. You do lose some precision in the surround channels, though.
The weak link is the subwoofer, which lends depth to low frequencies but not with the same degree of tightness as its rivals. Overhang makes the sound a little laggy, which affects the timing of music playback more than movies. Add this to the average Smart platform, uninspired build quality and relatively high price tag, and the SC-BTT880 has its work cut out in the competitive all-in-one market.
Specification
3D: Yes
Upscaling: Yes. To 1080p
Connections: HDMI output; 2 x HDMI inputs; optical digital input; analogue stereo input; Ethernet; 2 x USB ports; SD card slot; FM aerial
SACD/DVD-A playback: No/No
DTS-HD/Dolby TrueHD decoding: Yes/Yes
Claimed power output: 1000W
Dimensions (main unit): 460(w) x 38.7(h) x 279.3(d)mm
Weight (main unit): 2.7kg
Features: 3D Blu-ray/DVD/CD playback; 3D Cinema Surround; Audio Return Channel; wireless transmission for rear speakers; FM tuner; 5.1 channel amplification; DLNA media streaming; USB media playback; iPod/iPhone 5 dock with Lightning connector; Viera Connect portal; built-in Wi-Fi; web browser; LincsD-Amp; Digital Tube Sound; user EQ; Centre Focus