Panasonic SC-BTT590 review
Panasonic revisits noise-shaping tech of the past to give this cinema system a helping hand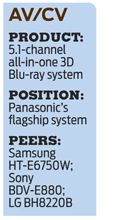 All-in-one systems are usually designed for maximum convenience and minimum cost, often with scant regard for sound quality. But Panasonic's new-for-2012 SC-BTT590 is a different kettle of fish – a one-box Blu-ray system that puts the emphasis on performance with an array of high-quality audio components.
The SC-BTT590's 'premium audio parts' (as Panasonic describes them) include innovative new speaker cones, drivers and cabinets, plus a topography inside the main Blu-ray receiver designed to keep interference to a minimum.
It's a 5.1-channel system and comes with 403mm-high tabletop satellites as opposed to floorstanding towers – if that's what you're after, opt for the alternative SC-BTT490.
Design-wise, the SC-BTT590 is attractive without going overboard. The four identical front and rear satellites are styled in a chic gloss-black finish with brushed silver bases and a back-sloping stem. True to its word, Panasonic has ensured these are sturdier than average all-in-one speakers, but they're still not up to the level of a dedicated system.
The passive subwoofer is light, but looks the part with its gloss black finish and compact dimensions. The centre speaker lies horizontally, which makes it equally easy to install.
As for the Blu-ray receiver, it's nigh-on identical to Panasonic's Blu-ray players and at 40mm it's equally as slim. The casing is tastefully finished in gloss black (natch) and build quality is excellent, with nice touches like the dappled top panel and front flap.
In a pop-out tray on the right hand side is an iPod dock. Under the flap are two more ways of playing media – an SD card slot and a USB port.
The rear panel doesn't skimp on connections. A 3D-ready HDMI v1.4 output is joined by two inputs for external sources, backed up by optical and analogue stereo inputs. A second USB port is provided exclusively for Panasonic's Skype communication camera (should you choose to buy one). The line-up is completed by Ethernet and a dock for the optional wireless rear speaker kit.
Bamboozled

So far so good, but it's inside these boxes where the real story lies. The satellites, for example, sport 80mm cones fashioned from a blend of bamboo and charcoal polypropylene, which has been developed to achieve a faster, cleaner sound than previous Panasonic diaphragms, with an uneven thickness on the rear surface to suppress resonance.
A new Double Motion Damper on the speaker unit behind it aims to improve long-stroke performance, while a film capacitor inside the tweeter cuts low frequencies to ensure untainted high-frequencies.
The new anti-jitter digital amplifier is based on the MASH noise-shaping technology used by Panasonic and Technics audio products in the past, with the goal being cleaner and more accurate music playback via HDMI. And Panasonic has also lowered the subwoofer crossover point to 100Hz for better bass integration.
Its sonic credentials are further enhanced by High Clarity Sound Plus, which shuts down separate parts of the circuitry to reduce interference.
And an all-in-one system wouldn't be complete without a shedload of sound modes to play around with. 3D Cinema Surround – the zeitgeisty new name for Cinema Surround Plus – is supposed to add 25 virtual speakers to the real 5.1 channels, to create a more enveloping soundstage, both vertically and horizontally.
The SC-BTT590 also offers Digital Tube Sound, which adds extra warmth to the sound. Unlike Samsung's HT-E6750W, which combines real valves with a digital amp, it's all done in the digital domain. There are six settings, each with a different sonic character.
Away from the audio stuff you'll also find the usual smattering of network features, including Viera Connect and DLNA media streaming. 3D features include 2D-to-3D conversion, which even works with web videos. AVCHD, JPEG, MPEG-2 and MPO are supported from SD, SDHC and SDXC cards.
Operating the SC-BT590 is blissfully simple thanks to the cleverly designed menus. The attractive Home menu is a grid of nine squares with crisp HD graphics, offering direct access to all of the system's functions. Sadly the one-touch navigation system found on Panasonic's standalone players isn't possible here, but it's still slick and easy to follow.
The supplied remote is first-rate, but for a more contemporary spin download the superb iPad/Android app. With its virtual dials and switches, you can control every aspect of the system's functionality, with animations showing what effect selected modes will bring.
Furthermore, hi-fi fans will be in hog heaven when they tip the tablet horizontally – it switches to one of three retro displays designed to look like audio gear from yesteryear. And with a tablet or smartphone connected, you can also access media on DLNA servers with the SC-BTT590 acting the middleman.
In terms of sound quality, it doesn't take long to realise that the SC-BTT590 has talent. I threw it to the lions with Thor's pulverising DTS-HD Master Audio soundtrack, and what I got in return was a thrilling large-scale sound, with a level of sonic maturity approaching that of a dedicated compact system.
Where it excels over cheaper one-box packages is the satellites' superior dynamic range – you can really hear them reaching up and tickling those high frequencies while simultaneously delving deep into the lower end of the spectrum.
Also pleasing is how crisply and cleanly they shape those mids and highs at loud volumes. The screech of alien creatures or the piercing crack of splitting rocks are forthright and aggressive yet don't curdle the eardrums. It's a smooth, composed sound that vindicates Panasonic's new driver technology.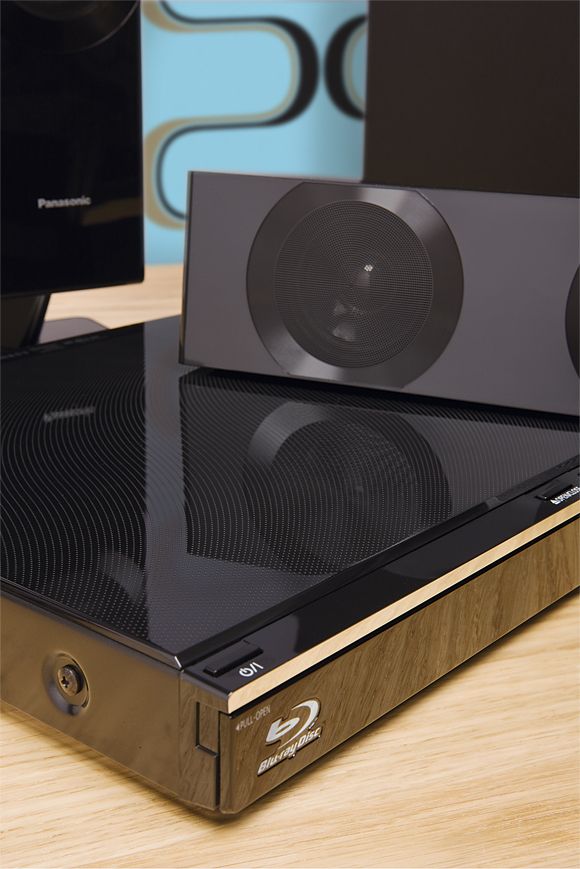 Finest to date
If pushed I'd say that Samsung's HT-E6750W valve amp system has a richer, punchier character to its sound, yet the Panasonic's high-frequency handling and subtle detail retrieval is better, making it the more polished of the two. You don't have to turn the volume dial far to make an impact, either. The system gets nice and loud when only pushed halfway, giving it plenty of headroom.
3D Cinema Surround adds a palpable sense of height to certain effects and a fuller sound, but it slightly clouds the accuracy of others. Dialogue emerges loud and clear from the centre speaker.
It's not all positive though. The subwoofer level needs taming considerably to stop it sounding bloated, but even then it's a little wild, rumbling indiscriminately throughout busy action scenes.
Music playback is enjoyable (and Digital Tube Sound is worth investigating), using the sats' smoothness and detail insight to its advantage, although that added spark you get from a good separates system is missing.
This fine audio performance is backed up by excellent picture quality, the sort I've come to expect from Panasonic's Blu-ray products. There's a depth and acuity about its 2D and 3D pictures that beggars belief, particularly with stunning discs like Avatar and Thor.
So with a stunning array of features, polished sound quality and eye-popping pictures, the SC-BTT590 is a one-box Blu-ray system worthy of its premium price tag. It's not perfect, with a subwoofer that won't behave itself and a slightly plasticky feel to the speakers, but otherwise this is quite possibly Panasonic's finest Blu-ray system to date.
---
HCC VERDICT
Panasonic SC-BTT590
Price: £630 Approx
Highs: Smooth, polished sound quality from improved drivers; lots of features; neat operating system
Lows: Passive subwoofer lacks tightness
Performance: 4/5
Design: 4/5
Features: 5/5
Overall: 4/5
---
Analysis
GUI: The onscreen menus are pin- sharp and well organised, but more fun can be had with the app controller – which includes retro display modes
Killer feature: The R&D spent on both Panasonic's new driver materials and the anti-jitter digital amplifier pays dividends, delivering a clean, dynamic sound
---
Specifications
3D: yes
Upscaling: yes to 1080p
Connections: HDMI v1.4 output; 2 x HDMI inputs; optical digital audio input; analogue stereo input; component video output; Ethernet port; 2 x USB ports; SD card slot; FM aerial input; wireless transmitter dock
SACD/DVD-A playback: no/no
DTS-HD/Dolby TrueHD decoding: yes/yes
Claimed power output: 1,000W
Dimensions (main unit): 40(h) x 430(w) x 279(d)(mm)
Weight (main unit): 3kg
Features: 3D playback; DLNA media streaming; Viera Connect with Skype & BBC iPlayer; 3D Cinema Surround; built-in Wi-Fi; iPod/iPhone dock; smartphone/tablet remote app; Digital Media Renderer; USB/SD card media playback; 2D-to-3D conversion; FM radio; Anti-Jitter Digital Amplifier; Digital Tube Sound; High Clarity Sound Plus; H.Bass; Whisper Mode Surround; Centre Focus; picture presets; noise reduction; Chroma Process; Detail Clarity; Super Resolution; optional communication camera & wireless speaker kit