Panasonic DMR-BWT740 review

Let this flexible Smart Blu-ray/HDD Freeview+ HD recorder manage your TV intake
Panasonic's 2013 Blu-ray/HDD Freeview+ HD recorder, the DMR-BWT735, was an impressive PVR, Blu-ray player/burner and multimedia machine, although some functionality clashes counted against it.
This year's model, the DMR-BWT740, shares much of its predecessor's specification, but notable new features are 4K upscaling for your Full HD Blu-ray discs, 4K JPEG playback, the ability to display content from Miracast-compatible Android mobile devices via the recorder on your flatscreen, Wi-Fi Direct compatibility and a web browser. It will naturally also play 3D Blu-ray discs and convert 2D sources to 3D. There's a roomy 1TB hard drive onboard, or you can store recordings on a USB HDD (although they can't be played on other devices).
This combi deck is heavy and rather large but looks a little smarter than the DMR-BWT735, although it's still on the conservative side in terms of styling. A power button and one for the disc tray are situated on the top and a large LED display performs multiple functions, such as displaying the name of the channel you're watching and if you're recording or timeshifting.
The front flips down (automatically when the disc tray opens) to reveal two more operating buttons, a USB port and an SD card slot. Rear connections include an RF loopthrough, HDMI output, optical and coaxial digital and stereo phono audio outputs and a Scart input for recording from external equipment. There's also an Ethernet port for networking (Wi-Fi is built-in) and another USB port on the rear.
The remote, which was handily able to also control my Panasonic TV, isn't short on buttons, but sensible grouping, use of colour and shortcuts make it fairly easy to use. The box can also be controlled using Panasonic's DIGA Player app for compatible iOS and Android devices.
Recording choices
The user interface has seen some visual improvements, in particular the Function Menu where selections zoom in and out attractively.The EPG displays information for Freeview channels in a straightforward grid format, sortable in myriad ways, such as showing HD or only those in a favourites list (of which you can have four). Employ the EPG to set recordings, including series links (you're notified if a programme is also available in HD). Alternatively, an attractive online Rovi Guide can be used for scheduling.
Recordings can also be instigated by hitting record, via a now-and-next 'channel information' bar, using a manual timer or, if you want to be really clever, via the internet using Panasonic's Remote Recording Service on a PC, smartphone or tablet.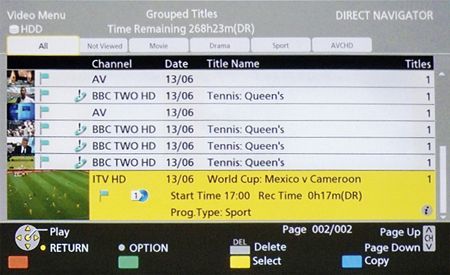 Standby for action
Up to two channels can be recorded at once from the internal tuners, including while playing a recording. You can even record while the player is in standby. Spooky.
There are numerous recording modes to consider. The default 'DR' quality setting matches that of the original broadcast. Watch-and-wipers who keep a tight rein on HDD capacity should stick to this. You can also choose from less space-intensive HG, HX, HE, HL and HM modes for hi-def or the standard-def XP, SP, LP and EP. DR recordings can be downconverted to other formats – for archiving to BD or DVD – while the box is in standby, but not while recording or playing something.
An estimated 259 hours of HD or 518 hours of SD DR-quality TV can be stored on the HDD or 1,724 hours of EP-quality recordings. Anyone who does that is obviously nuts, though.
Accessible via a Direct Navigator menu, the Panasonic allows you to protect and rename recordings, create chapters (this can be done automatically, too) and edit them by deleting bits or dividing them up. An extensive number of recordable DVD and Blu-ray formats are catered for with a (quieter but it takes longer) 'normal speed' copying option. Note that you can't record to the HDD while archiving to disc. You can utilise the 1TB drive to pause/rewind live TV for up to 90 minutes.
As a media hub, the DMR-BWT740 allows for file playback from a variety of locations: the HDD; SD card; an optical disc; USB drive; or from a networked device via DLNA. There's support for music playlists and a slideshow option for photos. Format compatibility is broad, although I was unable to stream MKV files from my networked laptop running Windows 7. Miracast functionality (you need Android 2.2 or higher) can be enabled via the Function Menu.
The box can also act as a server, streaming video – including live or recorded (SD only) TV – and photos to networked machines, including compatible TVs and Blu-ray players, with the DIGA Player app. This worked for my laptop where the PVR was recognised by Windows Media Player.
As well as the Rovi Guide and web browser, internet apps include Netflix, YouTube, BBC iPlayer, Facebook, Twitter, iConcerts and games from PlayJam. The Freetime catchup service, which Panasonic has successfully integrated into a number of its 2014 TVs, would be a welcome addition here, but is not supported. The web browser is relatively easy to navigate even from the supplied handset. Flash isn't supported, but that's less of a big deal these days.
The tuners generate crisp-looking images from HD and upscaled (to 1080p) SD TV, which was maintained in DR-quality recordings. Quality inevitably worsens when using the lower settings, though DR HD recordings converted to HM are passable. Recordings from a Scart-connected Virgin Media TiVo looked acceptable, too.
Blu-ray performance also impresses. The sharp textures of Toy Story 3 are woven without digital hiccup and details in the murkier scenes of Alien shine through.
Taking it to task
Frustratingly, as with the DMR-BWT735, multi-tasking is not this machine's strong point. I was unable to make use of the Smart apps, stream media files to the box or play them from a USB drive while recording. Considering that in this era of series links and multiple channels, we're not always aware that our PVR is in action, this is a bit of a downer. That aside, the modish feature additions, other 'tweaks' and good build quality and performance altogether make the DMR-BWT740 another likeable all-rounder. However, its appeal is very niche indeed – unless you're keen to archive TV shows to disc there's a lot here you won't need.
Specification
HDD: 1TB
Tuner: Yes. 2 x Freeview HD
Multiregion: No. Region B BD/R2 DVD
Connections: HDMI output; Scart input; optical digital audio output; coaxial digital audio output; stereo phonos; RF loopthrough; Ethernet port; 2 x USB 2.0 ports; SD card slot; integrated Wi-Fi
Upscaling: Yes. To 4K (BD)
Dimensions: 430(w) x 59(h) x 238(d)mm approx
Weight: 3.3kg
Features: Freeview+ HD recorder; BD-R (SL/DL) BD-RE (SL/DL), DVD-R (SL/DL), DVD-RW, DVD+R (SL/DL), DVD+RW, DVD-RAM, CD-R, CD-RW, CD-DA discs supported; 3D Blu-ray playback; 2D-3D conversion ability; 7-day Freeview EPG; HDD stores up to 259 hours of HD or 518 hours of SD DR-quality recordings or 1,724 hours(!) using EP setting; automatic series recording; favourites lists; remote recording scheduling; 90-minute live pause; copy recordings to disc and USB drives; editing and chapter creation; Smart feature including Netflix, YouTube, Rovi Guide, Facebook, Twitter, iConcerts, games, web browser; media playback from USB/SD card/DLNA; 4K JPEG playback; DIGA Player app compatible; Miracast support; Wi-Fi Direct support