Orbitsound unveils new A70 airSOUND soundbar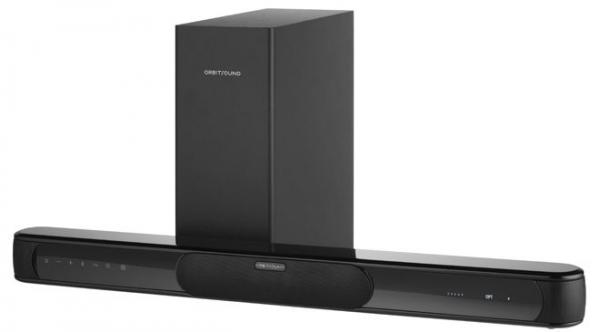 British audio brand Orbitsound has today announced the latest addition to its soundbar range, the A70 airSOUND Bar. It will be available from retailer John Lewis for £500, and features a wireless 6.25in subwoofer, apt-X Bluetooth streaming (with NFC) and a learning remote control among its specs.
The A70 uses the airSOUND technology that has become a staple of Orbitsound's lineup, where the combination of side-firing and front-facing driver and DSP work to widen the soundstage and eliminate sweet-spot issues. The A70 employs five speakers, driven by digital amplifcation. Frequency response is rated at 45Hz-18kHz; total power at 300W.
The 'bar is fairly compact, measuring 75cm wide and 6.5cm high and suitable for both wall- and table-mounting. Connectivity – in addition to Bluetooth – comprises optical digital audio and 3.5mm inputs.
As a premium-priced soundbar, the Orbitsound A70 is constructed from engineered wood with a hand-polished, high-gloss piano black exterior. A newly-designed control panel offers touch-sensitive 'hidden' controls for audio source, remote learning mode, Bluetooth, etc.
Says Orbitsound's Product Architect, Daniel Fletcher: 'The A70 airSOUND Bar is designed to cater for those who want a complete audio experience that does not contend with their living space. This soundbar is the first of our new generation of soundbars, and it's one that I am personally really proud to see brought to market.'
Check out HCC #251, on sale August 27, for a full review.