Optoma launches H114 and H183X projectors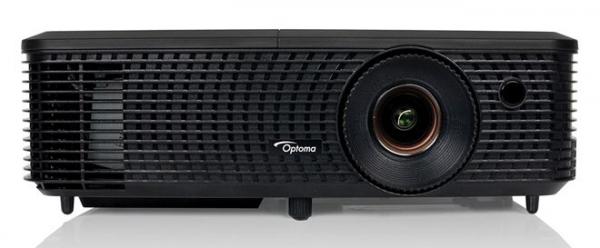 HD Ready models targeted at sports fans looking for bigscreen upgrade
As the UK prepares for a summer of sport including Euro 2016 and the Rio Olympics, Optoma has announced a pair of new HD Ready projectors priced to tempt those considering a bigscreen upgrade.
The H114 and H183X are 1,280 x 800 resolution DLP models claiming contrast ratios of 27,000:1 and 25,000:1 respectively. As part of their living room appeal, they feature in-built speakers and weigh an easily manageable 2.17kg. And both offer a high brightness output to suit well-lit environments – the H114 claims 3,400 Lumens; the H183X 3,200 Lumens.
Even running in Bright mode, Optoma suggests a 5,000-hour lamp life. Switching to Eco+ raises the figure to 8,000 hours.
Connections on both the H114 and H183X include a single HDMI input, 3.5mm audio input and output, plus composite and VGA. Installation aids are a 1.1x zoom, vertical keystone correction and a throw ratio of 1.55-1.73:1.
3D playback is supported via the addition of optional 3D DLP Link eyewear. Wireless tranmission is also an option when the PJs are partnered with Optoma's WHD200 transmitter. A 33ms input lag is quoted to lure bigscreen gamers.
Suggested price points are £370 for the H114 and £350 for the H183X. 'There has never been a better time for football fans to install a home entertainment system,' reckons the projector specialist.
Visit www.optoma.co.uk for more info.