Oppo announces two new Blu-ray players for the UK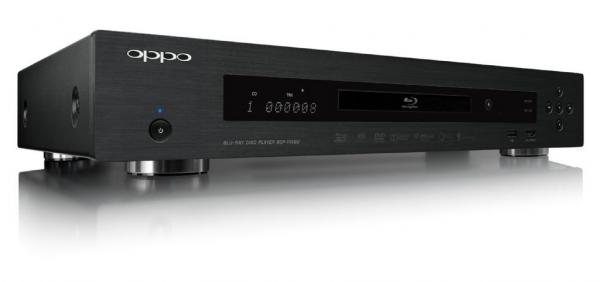 Oppo has today announced a pair of new Blu-ray decks for the UK, both sporting a wealth of cutting-edge features sure to get AV-holics salivating.
The new BDP-103EU (pictured) and BDP-105EU are universal players that support Blu-ray, Blu-ray 3D, DVD-Video, DVD-Audio, Super Audio CD, CD and HDCDs (should you own any of those). Additionally, the players feature three USB ports, as well as wired and wireless networking, to support video and audio file formats including AVCHD, MKV video, and high-resolution WAV and FLAC music.
As was the case with the previous BDP-93EU and BDP-95EU, the difference between the two new models is from the use of audiophile-grade components on the BDP-105EU, including an analog output section sporting two ESS Sabre32 Reference DACs, a newly designed Toroidal linear power supply, dedicated stereo outputs with both RCA and XLR balanced connections, and a headphone amplifier connected directly to the DAC.
Yet perhaps the most eye-catching new development from the crowd-pleasing US brand is the addition of twin HDMI inputs on both models.
'Customers have always asked for ways to take further advantage of the excellent audio and video processing functions provided by the players,' says Oppo. 'The new players answer this request by adding two HDMI input ports, one on the front and one on the back, with the front HDMI input doubling as a Mobile High-definition Link (MHL®) input. Users can connect external devices such as set-top boxes, network streaming devices, and even mobile phones to take advantage of the players' video processing power.'
The BDP-105EU takes this a step further by adding an asynchronous USB DAC input that supports the USB Audio 2.0 standard, along with additional coaxial and optical digital inputs. 'Users can stream bit-perfect audio from their computer to the BDP-105EU without worrying about the jitter performance of their computer's master clock thanks to the USB DAC's asynchronous clock mode.'
Other noteworthy features include 4K upscaling courtesy of Marvell's Qdeo video processor, 2D-3D conversion, dual simultaneous HDMI outputs, DSD output over HDMI with SACD and 7.1-channel analogue outs. Smartphone control is offered alongside the backlit remote control.
Expect the BDP-103EU to retail for around £500, with the step-up BDP-105EU hitting the £1,000 mark.

For more on the BDP-103EU, check out www.oppo-bluray.co.uk