Onkyo TX-NR709 review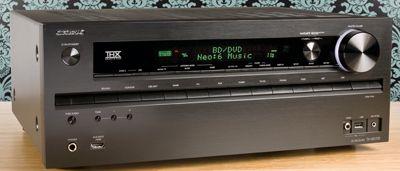 Luxury for less
Adrian Justins hunkers down in the suburbs with Onkyo's latest mid-range networkable 7.1-channel receiver that punches far beyond its weight
Onkyo's TX-NR709 ups the audiophile ante of the much-loved TX-NR609, and has a back panel busier than Oxford Street at Christmas. In come binding posts for all speaker terminals, bi-amping capability, 7.1 phono inputs and 7.2 pre-outs, which is strictly speaking 7.(1 x 2). You can hook up a grand total of 11 speakers, with the option to enjoy 7.1 sound at any one time through the usual 5.1 configuration, plus either surround back, front high or front wide expansion.
There's also an extra coaxial input, a dedicated phono input and an extra pair of 3D-ready HDMI sockets, including a second output, which enables the simultaneous connection of two displays.
An Ethernet socket allows DLNA networking and internet radio, the latter including dedicated Last.fm and Spotify portals. Sadly absent from this connectivity convention are built-in wi-fi and support for Apple's AirPlay. The latter is popping up on receivers all over the place, so the TX-NR709 looks a bit old-fashioned here.
Onkyo's amps no longer have the catwalk looks that gave them a distinctive edge in the style stakes, but the TX-NR709 is pleasant enough in appearance albeit with minimalistic black buttons and controls that are impossible to distinguish in low light. What is nice is the simple glow of the volume knob and the clarity of the 28-character dual-line display. Then again, a good amp should be heard and not seen and it's jolly satisfying to switch over to Pure Audio mode, which kills the lights and switches off the video circuitry (HDMI-excepted).
Setting up the AVR is best done by hooking up a screen using HDMI and plugging in the supplied Audyssey mic. You then choose either Quick Start for a sole listening position calibration or MultEQ XT, which uses eight positions and calculates all the normal parameters but takes 20 minutes rather than two. Using MultEQ XT resulted in severely askew distances for a couple of speakers in my listening room, possibly caused by ambient noise or interference. The QuickStart option, was bang on.
Sweet install
Manual adjustments are easy to make thanks to neat menus and a sensible remote control. Experienced enthusiasts will whizz around the system at leisure, while newcomers to the home cinema scene should find setting up no more trying than installing a Blu-ray deck or TV screen.
The only thing that feels a touch antedeluvian is the online radio experience. Vtuner, for example, provides access to an incredibly diverse array of global online radio stations, but drilling down into its complex folder structure is tedious.
Strictly speaking, the NX709 is a mid-range model, but its performance is akin to a higher-end one, balancing excitement and strength with fine control. With Master and Commander's Dolby Digital transmission on Sky+HD, the distinct clearness of a violin playing as the ship ploughs along is exquisite, while waves crashing on deck have you reaching for your waterproofs.
On Wall-E's DTS-HD MA soundtrack, the clanking and clanging during the tiny robot's courting of Eve resonates masterfully. The nuances of the robots' voices as they say their names is often lost with amps that are less capable of subtlety.,/p>
Ascendant star
While the TX-NR709 can pick out the finest detail, it lacks a touch of warmth, particularly with vocals and music. Nonetheless, the incredible clarity of Hilary Hahn's SACD of Vaughn-William's The Lark Ascending has all the sublime emotion that a warmer amplifier might also deliver.
In short, this is a feature-packed AVR from that will delight home cinema enthusiasts with its price and performance. And that's starting to sound like Onkyo's catchphrase.
---
HCC VERDICT
Onkyo TX-NR709
Price: £800 Approx
Highs: Networking including online audio access; multichannel inputs; ease of use; dynamic sound
Lows: Online interface lacks finesse; lacks Apple AirPlay and built-in wi-fi
Performance: 5/5
Design: 4/5
Features: 5/5
Overall: 4/5
---
Specifications
Dolby Digital TrueHD: yes
DTS-HD Master Audio: yes
THX: yes THX Select2 Plus
Multichannel audio: yes 7 x 170W
Multichannel input: yes 7.1
Multiroom: yes Powered Zone 2 and Zone 2 line-out (audio)
AV inputs: yes 5 x composite video,4 x S-video, 2 x optical audio,3 x coaxial
HDMI input/output: yes 8-in, 2-out v1.4
Video upscaling: yes to 3,840 x 2,160
Component input/output: yes 2-in, 1-out
Dimensions: 435(w) x 174(h) x 379(d)mm Weight: 12.2kg
Features: DeepColor; x.v.Color; three-stage inverted Darlington Circuitry; front USB for iPod/iPhone playback; Audyssey MultEQ XT; Audyssey DSX; Dolby Pro-logic IIz; DLNA certified; internet radio (vTuner, Last.fm, Napster, Spotify); Bi-Amping capability; FM/AM radio; Ethernet; universal port; 12V trigger