Onkyo confirms details of Dolby Atmos hardware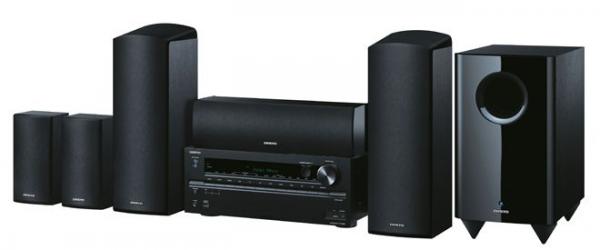 5.1.2 all-in-one system and Atmos-ready speakers due in Autumn
Following the announcement that it is to unleash a range of AV receivers with support for incoming Dolby Atmos Blu-ray releases, Onkyo has now confirmed details of additional packages that add speakers to the party, as well as a new entry-level AVR.
The £900 HT-S7705 is dubbed 'Dolby Atmos-ready' and combines a 5.1.2-channel networked AVR (that extra .2 denotes the Atmos height/ceiling channels) with five speakers and a subwoofer. Where these speakers differ to a traditional five-channel array is that the front stereo pair feature independently-powered upwards-firing drivers in a sealed top compartment. These, say Onkyo, bounce Dolby Atmos height effects from the ceiling into your listening position.
'Sounds fed via the height channels seem to originate from overhead, helping to create a sphere of sound where effects move seamlessly above and around the listener,' says Onkyo. Consider it a more consumer-friendly alternative to mounting physical speakers to your ceiling...
As well as the front speaker pair, which also feature proprietary woofers and dome tweeters, the package is completed by a two-way centre channel, 80W subwoofer and traditional surround speakers.
The AVR side of the HT-S7705 is typically on-spec, offering HDMI 2.0 connectivity, HDCP 2.2 support for forthcoming 4K content, Qdeo-powered 4K upscaling, net radio, hi-res audio playback (including DSD) and integrated Bluetooth and Wi-Fi. Power is rated at 160W per channel into six ohms (one channel driven, 1% THD, 1kHz).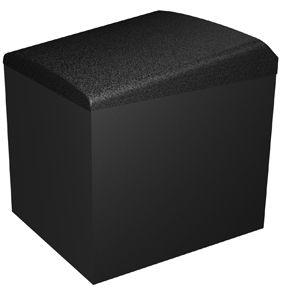 Pimp your speakers!
For those not interested in a full set of new speakers, Onkyo has unveiled its bargain-priced (£130 per pair) SKH-410 speakers, which connect to a Dolby Atmos receiver's height-channel outputs. Again, these don't mount to your ceiling – instead, it's suggested they're placed on top of floorstanding speakers (would be tricky with B&W's 800 series...) or fixed to your wall. The SKH-410s utilise a full-range upfiring cone and Dolby Atmos-certified crossover network to 'create a plane of sound above a listener.'
The SKH-410s are due in September, with the HT-S7705 set to follow in October. In August, Onkyo will also launch a non-Atmos entry-level AVR. The TX-SR333's specs include six HDMI 2.0 inputs, built-in Bluetooth and hi-res audio playback via USB, but no network streaming. It's priced at £300.
Check out www.eu.onkyo.com/en for more info.