May issue on sale now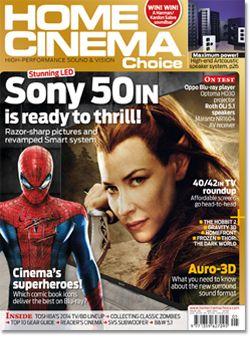 Home Cinema Choice 233 is available to buy in shops and online - and here's what's in it...
Sony 50in is ready to thrill!: KDL-50W890 LED TV impresses with razor-sharp pictures and a revamped Smart system
Auro-3D: Everything you need to know about the newest surround sound format in town
Cinema's superheroes!: We reveal which comic book icons really deliver the goods on Blu-ray
Maximum power: Artcoustic's high-end speaker array offers a mix of style and substance for dedicated cinema rooms
40in/42in TV tussle: Four flatscreens battle for supremacy in our quest to crown the king of affordable TVs
Win a Harman/Kardon soundbar: blag an ultra-thin Sabre SB35 soundbar and subwoofer combo worth £850!
Plus: reviews of Roth's OLi RA 5.1 speaker package, Optoma's formidable HD30 projector, Oppo's tweaked BDP-105D high-end Blu-ray player, SVS's mighty SB-2000 12in subwoofer, Philips' HDP1590 Screeneo ultra short-throw projector, Marantz's NR1604 slim-line AV receiver, Panasonic's SC-HTB65 low-cost soundbar and more.