Loewe joins OLED party with Bild 7 TV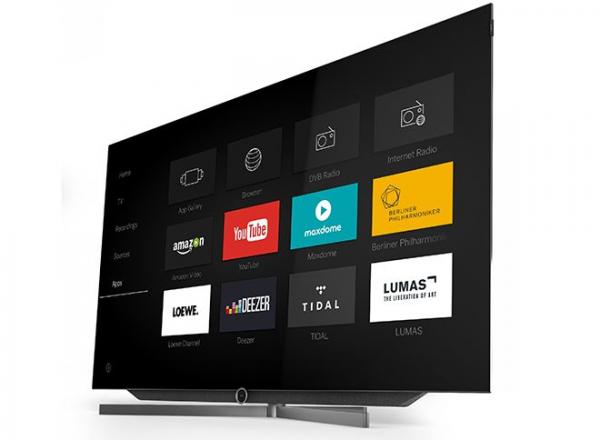 High-end Ultra HD screen supports HDR and Dolby Vision
Luxury TV company Loewe is widening the choice for those seeking an OLED TV with the launch of its Bild 7, a 4K/Ultra HD OLED screen with support for both HDR 10 and Dolby Vision content.
The Bild (German for 'picture', says our English/German dictionary), will become Loewe's flagship set when it launches in September, and will be available in 55in (Bild 7.55) and 65in (Bild 7.65) models, priced at £4,500 and £6,500 respectively.
The TV uses an OLED panel sourced from LG Display, coupled with Loewe's proprietary picture processing, user interface, design and audio embellishments. An integrated HDD brings Freeview HD PVR functionality; the set can also stream content to another networked Loewe screens.
Loewe says its TV 'may reasonably be considered the finest in the world,' and claims it is fully compliant with the Ultra HD Alliance's Ultra HD Premium standard, although it is still awaiting certification. Dolby Vision support is also something that won't be active out of the box, but will follow the launch 'shortly.'

On the audio side, the Bild 7 features an integrated soundbar that Loewe says is its 'best ever', employing six drive units powered by 120W amplification. This, it points out, is twice the power of the speaker system in LG's flagship 65in G6 OLED TV. A quartet of auxiliary bass radiatiors (ABRs) work to beef up bass response. In-built Dolby and DTS processing enables the TV to function as part of a wider multichannel setup with Loewe's active speakers.
A neat design touch is that the soundbar remains out of sight when the TV is switched off. Turn it on and the screen slides upwards, revealing 'bar underneath. Other design flourishes include a 7mm screen depth, graphite grey aluminium bezel, choice of dark or light grey soundbar fabrics and optional motorized table and floorstands.