LG HR939M review

This BD deck/PVR has more attractions than Alton Towers - so why aren't we whooping for joy?
Like string cheese and ice pops, the disc-playing PVR is surely one of life's more practical form factors. Adopting a Swiss Army knife approach to AV is a massive space-saver, and thanks to Smart functionality also provides a convenient way for older TVs to upgrade to streaming media content.
The LG HR939M is just such a multi-talented beast. Unfortunately, as a piece of home entertainment design, it's also positively Amish. A utilitarian box with stick-on transport controls, the HR939M's only claim to glitz is a glossy, angled fascia. LG's BD hardware clearly hails from a corner of the office rarely visited by the in-house design A-team.
Rear-panel connectivity comprises an aerial loop-through, HDMI, optical digital audio output, Ethernet and USB; a second USB is offered on the front panel. Wi-Fi is integrated. The recorder ships with a standard IR remote control; no Magic controller here.
This deck is one of three HR models. If its 1TB drive seems a bit over-the-top, you can opt for more affordable 500GB or 250GB versions. Setup takes just a few minutes, sped along by straightforward prompts. The user interface is the same as last year, but that's no bad thing. A home screen comprises an array of buttons for live TV, Movie/Photo/Music content, premium services, LG Apps and Settings, plus a shortcut to the recordings library.
As a PVR, the LG follows the perfectly civil Freeview+HD template. The EPG may be a simplistic Now and Next overlay, but you're helpfully prompted to watch or record in HD if you land on the SD iteration of a hi-def channel (it's a shame you can't simply remap these HD channels to their SD counterparts' positions on the grid).
Recordings can be solo or series-linked. This twin-tuner deck allows you to record two channels simultaneously, and catch them while they're still recording. There's a fuel gauge which lets you know how much space you have left for recordings, both in terms of GB as well as percentage. Invariably, image quality is transparent to the original source; HD shows look extremely good, and play back without artefacts. The presentation of the recorded library is somewhat rudimentary, though, with no thumbnails offered. On the plus side, you can avail yourself of IPTV services and catch-up while the deck is busy timeshifting.
In use, the 1TB hard drive feels positively roomy. As Freeview only offers a quartet of HD channels (BBC One and BBC Two, ITV and C4), you'll have to go some to dent the capacity. Remember, though, that the platform's HD offering may jump significantly. Freeview's top brass have indicated that an additional 10 HD channels could launch within a year or so. At this point, 1TB goes from being a luxury to a necessity.
The HR939M offers both local USB and network media playback via DLNA. File compatibility is particularly good for video, with MPEG, MOV, MKV, AVI and WMV codecs and containers supported; audio is limited to M4A (but not AAC), WAV, MP3 and WMA. Users with a large collection of such files stored on an external USB HDD can take advantage of the rear port. The deck's UI presents this second drive as a selectable option alongside the front-facing USB. While you can't record to it, it can be used as a vault.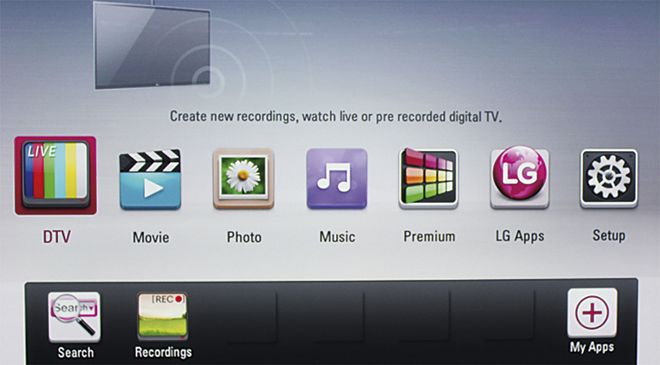 Slow going
In Blu-ray player guise, the HR939M doesn't disappoint, at least visually. It's compatible with all the usual media, including CD and DVD, and is 3D-capable. Image quality is perfectly fine, with high levels of fine detail on display. Unfortunately, the player is horribly sluggish to use. Loading times are tortuously slow, with the deck takes a leisurely 64s to get the Java-heavy Blu-ray of Goldfinger from tray to menu. The Hobbit: An Unexpected Journey requires an equally slow 51s. Even worse, disc navigation is ponderous. Perusing the chapter selection on The Hobbit... disc proves to be a stuttery trudge, as thumbnails begrudgingly emerge. The same procedure on (an admittedly more expensive) Oppo BDP-103EU BD player is silky smooth.
Helpfully, when you spin a CD the HR939M looks for sleeve art and info on Gracenote. You also have the option of ripping CDs either to the recorder's internal hard drive or a connected USB device. Using the deck as a media jukebox is actually a good idea. Turn on Media File Sharing in the menu and you'll be able to see the LG recorder from other DLNA devices, such as a media player or Smart TV. Music rips can then be played across multiple rooms. Unfortunately, you can't share the LG's timeshifted video recordings in the same way.
Overall, the LG HR939M can be regarded as a good-value multi-purpose box, with caveats. As a Blu-ray player it works well enough, but is slow to load and navigate. The Smart functionality is welcome, but the range of catch-up services could be better. It's a decent media player, too, and we like its multiroom music provision. Worth auditioning.
---
HCC VERDICT
LG HR939M
Price: £330 Approx
www.lg.com/uk
Highs: Versatile feature set; good Smart TV portal; network media sharing; integrated Wi-Fi; copious HDD
Lows: Sluggish Blu-ray disc performance with slow loading speeds; anonymous design
Performance: 3/5
Design: 3/5
Features: 4/5
Overall: 3.5/5