LG BH9430PW review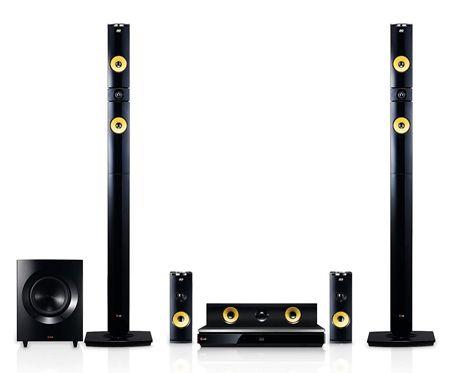 LG's tallboy setup offers heaps of features and a classy design at an affordable price

In the all-in-one system numbers game, LG outdoes its enemies by offering a package that claims a channel count of 9.1 (but from a regular 5.1 set of enclosures), using upward-facing top drivers in its tower speakers and proprietary processing to expand the soundstage vertically. Samsung does something similar with its HT-F9750W system, but only up to 7.1.
Unlike Samsung, however, LG doesn't use towers at the back – instead it supplies living room-friendly compact speakers powered from a wireless receiver plugged in at the back of the room. LG's build quality is excellent for the money, putting many of its rivals to shame. Weighty and rigid, the lofty front speakers are a world away from the hollow plastic of some rivals.
The cabinets' gloss-black finish exudes luxury and contrasts beautifully with the orange Aramid Fibre cones. The top drivers are encased in a similarly dashing metallic cap, and the chic two-tiered main unit sports a brushed-metal top panel, touch-sensitive controls and a hidden disc slot. Nice.
Connections include an ARC-compatible HDMI output and two inputs, optical digital and analogue inputs, Ethernet and two USB ports (one front, one back).
The BH9430PW doesn't skimp when it comes to features. The built-in Wi-Fi connection lets you stream media content from PCs and NAS drives, while internet content is provided by LG's Smart TV portal. The Premium selection of the latter includes BBC iPlayer, LoveFilm, Netflix, YouTube and (uniquely) the music streaming service Spotify. Format support is the best of all four systems. It happily played all my test files, including FLAC and DivX HD. The only sour note is that it will only play MKV files stored on USB devices.
Joining 9.1 processing is 3D Sound Zooming, an audio mode that aims to emulate the movement of 3D pictures. There are loads of other presets to play with including Bass Blast, Clear Voice, Game, Loudness… but I'm sticking with Bypass.
Setup takes an age and there's no automatic calibration, but LG's crisp, boldly-coloured menus make manual configuration and general operation easy enough.
Powerful delivery
The LG array proves to be an absolute blast with movie soundtracks. Its sound is incredibly powerful (the 1,460W rating is the highest claim of all four systems) and the slightly bright, treble-heavy tone makes everything sound brisk and lively, although audiophiles need not apply.
So when Smaug crashes into the dwarves' front door during The Hobbit..., or when the Stone Giants start their geological tête-à-tête, you really know about it. Crisp, forceful midrange and high-frequency effects are swept around the massive soundstage with relish, and despite the difference in size between the fronts and rears there are no jarring differences in tone as sounds travel between them. Tightly integrated bass from the subwoofer lends admirable heft to Smaug and the Stone Giants' pounding footsteps, with little boominess during explosions and collisions.
It's not always the smoothest listen, sacrificing refinement for crowd-pleasing excitement. That's not a problem most of the time, but crank the volume up high and Smaug's powerful roar has a sharp, raspy quality. And because the LG goes very loud with the volume dial a little over half way, it's easier than usual to make it distort.
Also iffy is the 3D processing, which feels a little overpowering in the rear channels. The 9.1-channel mode is more successful. During busy action scenes I could sense the added height across the front soundfield and the soundstage was certainly more immersive.
The BH9430PW is a passable music player, handling Michael Kiwanuka's delicate folk-soul with surprising sensitivity for a one-box affair, although some of the sound modes on offer make it sound awful. Yet at this price, and with its bountiful feature set, it would be churlish to complain.
Specification
3D: Yes
Upscaling: Yes. To 4K
Connections: HDMI output; 2 x HDMI inputs; optical digital input; analogue input; Ethernet; 2 x USB ports; FM aerial
SACD/DVD-A playback: No/No
DTS-HD/Dolby TrueHD decoding: Yes/Yes
Claimed power output: 1,460W
Dimensions (main unit): 446(w) x 65(h) x 294(d)mm
Weight (main unit): 2.7kg
Features: 3D Blu-ray/DVD/CD playback; Bluetooth with NFC; 9.1-channel processing; 3D Sound Zooming; Audio Return Channel; wireless transmission for rear speakers; FM tuner; DLNA media streaming; USB media playback; LG Smart TV portal; built-in Wi-Fi; Miracast; Bass Blast, Clear Voice, Game, Loudness presets